The Merciless Book of Metal Lists
By Howie Abrams and Sacha Jenkins

Brimming with list after list of observations and suppositions from its authors, as well as commentary from some of heavy metal's most notable players, The Merciless Book of Metal Lists is a no-holds-barred look into the belly of the beast. Although it is not intended to be a comprehensive look at metal (see Ian Christe's metal masterpiece, Sound of the Beast: The Complete Headbanging History of Heavy Metal) it stands on its own as a fun read that is sure to generate discussion and arguments among metal fans.

One chapter is titled: "Random Information, Thoughts, and Speculation" and that is a great descriptor for the entire book. Authors Howie Abrams and Sacha Jenkins have culled information that readers--particularly those with a sick sense of humor--will enjoy and want to pass on to friends.

"The 25 Most Fucked-Up Song Titles by CANNIBAL CORPSE" is a reminder of how over-the-line the band is in its depravity.

​ "10 Observations from Lemmy's Warts" is valuable information, especially to those who believe those carbuncles should have been carved off decades ago. According to the book, Lemmy Kilmister 's warts agree that they have no fucking idea what "Killed by Death" means either.

"Rob Halford 's Lyrics Re-Examined" is where the authors take a second look and dissect seven JUDAS PRIEST songs to assure the reader that Halford is indeed homosexual. Old news and frankly, the interpretations are a bit forced.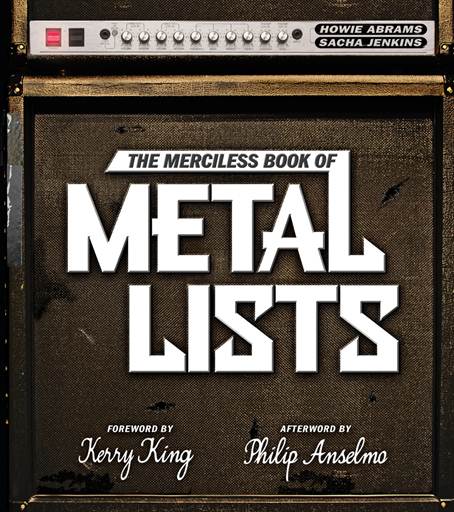 "Glorious Paul Baloff Stage Banter" is a bunch of quotes from the late EXODUS frontman, as recalled by Gary Holt and others. A standout example: "You guys just fucking rule! I said that shit last night, and last night they did fucking rule, but tonight, you fucking rule. You're just one-upping this shit all the way to hell."
There's no mention of LAMB OF GOD's Chris Adler on "The 25 Greatest Metal Drummers" list--an inexcusable oversight. But three of Adler's other bandmates are listed in other "best of" categories.
With photos marking different eras and funny illustrations throughout, The Merciless Book of Metal Lists touches on the best, the worst, the most embarrassing, and some things that just should not be in metal. Readers will discover completely unnecessary heavy metal subgenres and 200 embarrassingly bad album covers, and some non-metal artists whom, the authors declare, metalheads love. What Abrams and Jenkins describe as non-metal is sure to piss a few people off, such as SUICIDAL TENDENCIES or ROLLINS BAND. And while Dave Mustaine is noted for his musical talent in the book, and MEGADETH gets their due, the authors rip into Big Dave because he declined to participate in their book. Could this be why Rust in Peace didn't make the "The Best Metal Albums Ever!" list?
Two pages are dedicated to "The Very Best Qualities of METALLICA's Load and Reload Albums." They are blank. (In this, the authors are spot-on.)
The afterword by Phil Anselmo (PANTERA, DOWN) is absolutely sterling. His point of view is like a teenager who rips the cellophane off a KISS album because they can't wait to hear it. He is a true fan of metal and it is a great way to close out The Merciless Book of Metal Lists.
Rating: * * * * (4 out of 5)