GIGANTOUR Live In Youngstown, OH With Photos!


By Geoff Ketler, Cleveland Contributor
Wednesday, July 17, 2013 @ 6:10 PM


| | | |
| --- | --- | --- |
| | | Annual Rock Fest Kicks Ohio's Ass |
Additional Contributions By Steve Keller

The 2013 edition of Dave Mustaine's hand-picked bill of metal bands rolled into Youngstown, OH amidst severe weather, thunderstorms, and tornado warnings. Earlier in the day we received an email from DEVICE's publicist about a possible interview with vocalist David Draiman (DEVICE/DISTURBED). This was followed by a phone call from their tour manager and before we knew it we had an appointment with David Draiman on board DEVICE's tour bus prior to the first set time. A day that we had already been looking forward to for weeks just got even more exciting. You can read our interview with David HERE. The interview went on without a hitch and as we navigated through the loading dock and backstage area we managed to bump into Zakk Wylde. We exchanged hellos briefly and headed back to the thin crowd on the arena floor to catch the opening act, DEATH DIVISION.

Being an opening band for legends such as Zakk Wylde, David Draiman, and Dave Mustaine is not an easy task. Believe me when I say that DEATH DIVISION killed it. They had such a great intensity about them, that it was able to gain the attention of the metal hungry crowd. FrontmanSean De La Tour worked the crowd like an old veteran. Playing songs from their recently released EP, they definitely got the show off on the right foot.

Setlist
"I've Had Enough"
"We Are the Fallen"
"The Truth"
"Can You Hear Me Now"
"All Hope is Lost"
After a brief set change it was time for NEWSTED to take the stage. Since leaving METALLICA, Jason Newsted had been pretty much off the radar until recently when his new band, NEWSTED, released an EP and the single "Soldier Head". The quartet opened with "Heroic Dose" followed by "Soldierhead", which was very well received by the crowd. You could tell by the audience's reaction to "Soldierhead" and "King of the Underdogs" that those songs had been spinning on radio.

NEWSTED quickly thickened the scattered crowd down front despite their early set time. Jason Newsted often addressed the fans between songs, talking about how we are all part of his greater metal family, which really got a rise out of the fans. They rounded out their short but exciting set with a cover of METALLICA's "Whiplash" which really got the pit moving. I was pleasantly surprised by NEWSTED's set and would love to catch a show where they have a longer set time, but that's the nature of the beast when it comes to these larger-scale festival type tours. Sets are usually pretty abbreviated in order to cram all the bands on the bill.

Setlist
"Heroic Dose"
"Soldierhead"
"…As the Crow Flies"
"King of the Underdogs"
"Twisted Tail of the Comet"
"Whiplash" (METALLICA cover)
Of all of the bands on the bill, HELLYEAH was the most surprising. They brought the pure, raw, intensity to the arena like no other band did. Chad Gray is like a nine year old on a sugar rush. He is constantly moving, earning the energy of the audience. He works the crowd like no other. As soon as he stepped on the stage, the arena was his. Whether he was belting out lyrics to "War In Me", or being more melodic with "You Wouldn't Know". It was as if listening to the whole thing straight off the album. It was flawless.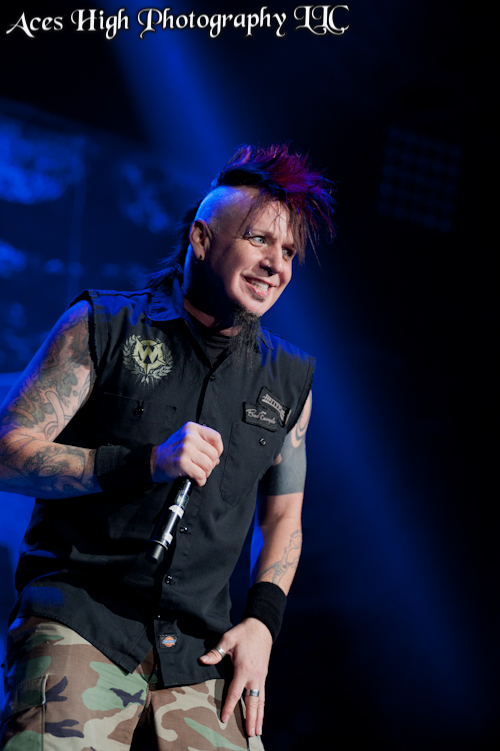 The only thing bigger than Gray's presence was that of drummer Vinnie Paul. After every few songs he would rise from behind his drum covered riser and the crowd would go crazy. Even if it was for a few seconds it was known that the fans appreciated his acknowledgment of them. Seeing Vinnie do his thing was one of highlights of the evening.
Setlist
"Cowboy Way"
"War in Me"
"Drink Drank Drunk"
"Matter of Time"
"Rage/Burn"
"You Wouldn't Know"
"Hellyeah!"
Out of all of the bands on this year's Gigantour, DEVICE would have to be the odd man out. While they are heavy rockers, they are not quite on the same level as the rest of the bands from a metal standpoint. This is in no way a bad thing. Frontman David Draiman is huge in the rock world and he is not scared of a little genre clash. Draiman came out on stage wearing his usual trench coat accompanied with his lip piercings, as he belted out that familiar voice. Playing through hits off their new self titled album DEVICE was able to gain the love from the crowd and make their set a huge success.

Before going into a cover of LITS FORD's "Close My Eyes Forever", David Draiman addressed the crowd and explained that we were all going to be part of this experiment. David sang both Ozzy and Lita Ford's parts to the song which was a hit among the fans except for one in particular who was giving David the one-finger salute. The frontman quickly singled him out and splashed a water bottle at him while telling security to please escort him out if he does it again. Besides that, the only hiccup of the night was David Draiman's microphone going on the fritz a few times, but the seasoned musician merely swapped it out with a roadie stage left and kept on going like nothing happened.
Setlist
"Penance"
"War of Lies"
"Out of Line"
"Close My Eyes Forever" (LITA FORD cover)
"Opinion'
"Haze"
"You Think You Know"
"Recover"
"Vilify"
"Wish" (NINE INCH NAILS cover)
After DEVICE wrapped up their set, a large banner dropped from the ceiling, baring the BLACK LABEL SOCIETY skull logo and the wait began for the almighty BLS. They wouldn't keep us waiting long as the banner dropped to the opening riff of "Godspeed Hellbound". Zakk Wylde is an absolute monster on stage. Towering over his mic stand, complete with skulls and a large cross, Zakk belted his lyrics. He never really addressed the crowd at all between songs. He would just walk back to the drum riser with bassist John "JD" DeServio and have a drink. He just let his guitar do the talking as we were treated to not one but two head-splitting guitar solos. Zakk moved from stage right to stage left just unleashing the furious combination of twenty five years experience and alcohol. We could do nothing but watch in amazement as he put on a clinic.

BLACK LABEL SOCIETY wrapped up their set with the hit "Stillborn". The fans were just ecstatic. As the song drew to a close, Zakk Wylde picked up his signature Gibson, held it high in the air above his head and then set it down and began beating his chest like King Kong. A moment that just put an exclamation mark on their brutal show.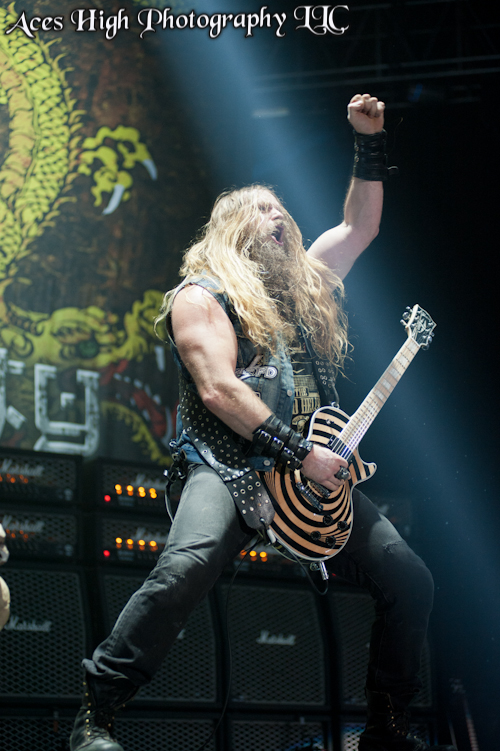 Setlist
"Godspeed Hellbound"
"Destruction Overdrive"
"Bleed for Me"
"Forever Down"
Guitar Solo
"Parade of the Dead"
"Overlord"
Guitar Solo
"Suicide Messiah"
"Concrete Jungle"
"Stillborn"
It was time for the last band on the bill…MEGADETH. Dry ice coated the stage in a fog as MEGADETH took the stage with "Trust". Dave Mustaine was last to take his place, center stage, to a roar from the audience. Three massive video monitors displayed images and video to coincide with each song. Between a few songs, scenes from movies where MEGADETH was mentioned were played on the monitors-for instance, they used the scene from one of the "Wayne's World" movies where Garth is being seduced and he asks "got any MEGADETH? This was nice, especially since Dave Mustaine doesn't really address the crowd too much between songs. This made it so that there really was no dead time between tunes and the videos made for great segues.

Now this was about the tenth time I had seen the mighty MEGADETH live and just like the nine times before, they did not disappoint me. The attention to detail and the precision of Chris Broderick and Dave Mustaine's guitar playing was on full display. The band was flawless. The surprise of the night was hearing "Poision Was the Cure" and "Architecture of Aggression". When you have a catalogue that is so vast, it tends to be difficult to fit in little surprises because the majority of your set is comprised with songs that audiences expect to hear on a nightly basis. I was delighted to here "Kingmaker" – an aggressive track off of their latest release Super Collider, as well as their cover of THIN LIZZY's "Cold Sweat" which they also recorded for that album.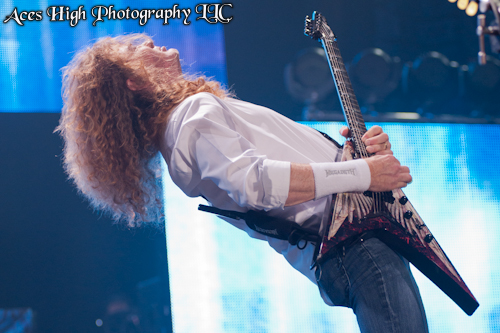 Vic Rattlehead, dressed in military officer attire, made his brief appearance during "Peace Sells" as the crowd screamed the lyrics. That concluded the set and then Dave Mustaine walked out on stage alone to thank the crowd. He made his way to each side of the stage and then to his center mic where he asked the crowd how they felt about having all of their emails and phone calls looked at by big brother. Any fan of MEGADETH knows that the focus of the lyrics has always been political in nature. He continued on to say; "I'm not a Republican, I'm not a Democrat, I'm an American." He urged the crowd to stand up, ask questions, and take back our country; a message that was pretty well received. Then he muttered the four words everyone was waiting for; "this is Holy Wars." The place erupted. With that the Gigantour 2013 stop in Youngstown, OH came to a close. I was sore, tired, bruised and beat…was it worth it? Of course it was. Gigantour 2013 brought the metal to the masses once again.
Setlist
Intro: "Prince of Darkness"
"Trust"
"Hangar 18"
"Kingmaker"
"She-wolf"
"Skin o' My Teeth"
"Architecture of Aggression"
"Sweating Bullets"
"A Tout Le Monde"
"Dawn Patrol"
"Poison Was the Cure"
"Symphony of Destruction"
"Cold Sweat" (THIN LIZZY cover)
"Peace Sells"
Encore: Check Out The Photo Gallery Below!

All Photos By Geoff Ketler & Steve Keller / Aces High Photography

Please log in to view RANTS


ROBIN MCAULEY Alive

CRADLE OF FILTH, DEVILDRIVER In Santa Ana With Photos!

KAMELOT The Awakening

ALTER BRIDGE, MAMMOTH WVH In Houston, TX With Photos!

ACID KING Beyond Vision

STEEL PANTHER On The Prowl

NIGHT DEMON Outsider

YNGWIE MALMSTEEN In Ottawa, Canada

THEORY OF A DEADMAN, SKILLET, SAINT ASONIA In Houston, TX With Photos!

OFFICER X Hell Is Coming

PERIPHERY Periphery V: Djent Is Not A Genre

INSOMNIUM Anno 1696

STEEL PANTHER, CROBOT, TRAGEDY In Houston, TX With Photos!

BABYLON A.D. Live Lightning

ROTTING CHRIST, CARACH ANGREN, UADA, GAEREA In Houston, TX With Photos!

MOTÖRHEAD Bad Magic: Seriously Bad Magic

TRAGEDY I Am Woman

ROXANNE Stereo Typical