TESLA Live in Cleveland, OH With Photos!


By Geoff Ketler, Cleveland Contributor
Sunday, July 28, 2013 @ 7:55 AM


| | | |
| --- | --- | --- |
| | | Cumin' Atcha Live in Cleveland |
The line to the doors of the House of Blues in downtown Cleveland wrapped clear around the building. The masses had come together to see one of the most talented bands to make it out of the 80's, TESLA. Too often bands like TESLA just don't seem to draw crowds in Cleveland, but this was not the case tonight!

Opening the evening was Billy Morris, an accomplished guitarist from Cleveland whose resume includes WARRANT, QUIET RIOT, and KIDD WICKED, among others. THE BILLY MORRIS BAND rocked the crowd with their double leads and face-melting solos but the highlight of their set was an appearance by Eric Oswald, brother of the late John Kennedy Oswald…whom you may have known as Jani Lane. The Oswald family is originally from northeast Ohio and anytime Jani Lane or WARRANT came to town, Jani's brother Eric would make an appearance to play the intro to "Uncle Tom's Cabin". Billy Morris explained to the audience that the intro was actually just a recording of Eric warming up. While WARRANT was recording the Cherry Pie album, they brought in Jani's brother Eric to play the opening that you hear on "Uncle Tom's Cabin". While in the studio he was being recorded as he warmed up and the sound engineer explained to Eric that he already had the track done once he was ready to play.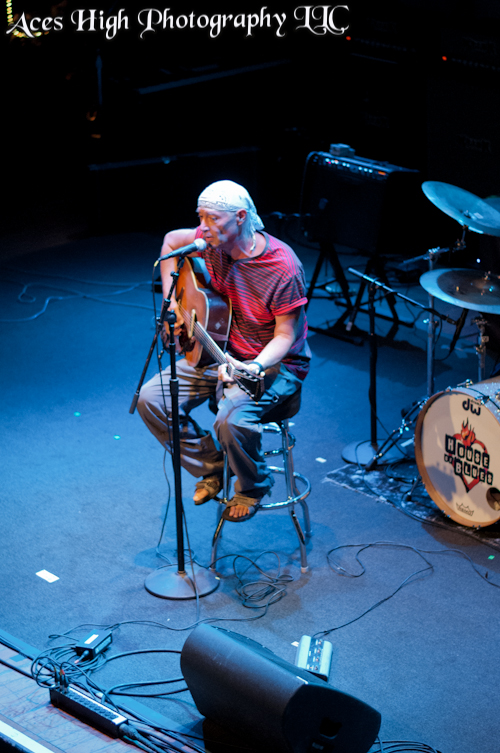 Eric Oswald went on to cover WARRANT's "Blind Faith" as a tribute to his fallen rock star brother. He had the full attention of the crowd…you could have heard a pin drop. Eric also played the intro to "Uncle Tom's Cabin" to huge roars from the packed house. He then left the stage and THE BILLY MORRIS BAND finished the classic WARRANT tune. It was one of those moments that you will keep with you and never forget. This was such a treat for all of the fans there and I am happy to have been there to witness it.
After a short set change it was time for TESLA. The band kicked things off with "I Wanna Live" off of their 2008 release Forever More. There is no denying that Frank Hannon is an extremely talented guitar player but he is also quite the showman as well. He often interacts with individuals in the crowd. At one point Frank handed a pick to a fan and held out the guitar for her to play. TESLA performed a precise show which included a small acoustic set much like what you hear on their Five Man Acoustical Jam album. The "unplugged" set included hits like "Cumin' Atcha Live" and "Paradise" but hearing "Into the Now" was interesting. The title track off of their 2004 release is a really heavy song and having to listen to it the way it was presented was a little disappointing. Nonetheless the mini Five Man Acoustical Jam was short lived and TESLA was plugged back in and rocking…sort of.
After the acoustic set TESLA kept it a little on the soft side and continued their show with the fan favorite "Signs". This trend would continue on with their hit ballads "What You Give" and "Love Song", until the final two songs of the set – "Lazy Days, Crazy Nights" and "Modern Day Cowboy". I know that TESLA has an extremely diverse catalogue but the set could have used one or two less ballads and one or two more rockers in my humble opinion. In their defense, all of their songs were well received by the near-capacity crowd and many times the singing from the audience would almost drown out the band. I guess I am just a little partial to the heavy stuff. TESLA came back for one encore, "Little Suzi".
Altogether it was a solid performance. I don't think anyone could be disappointed after seeing that show. It was the band members that really made the set energetic - always engaging the audience. The mixture of songs in their set really showed off the many musical talents of everyone in the band. Twenty seven years after releasing Mechanical Resonance, TESLA still leaves it all on the stage. After the show drummer Troy Luccketta came out to the merch booth to sign autographs and talk to fans.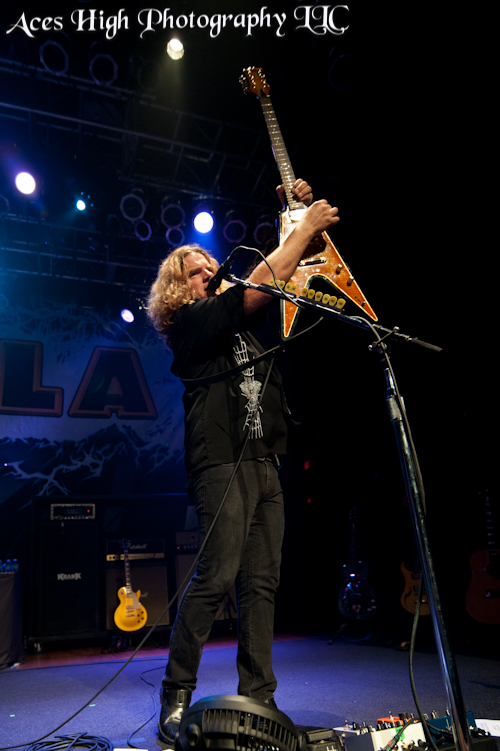 Setlist:
"I Wanna Live"
"Hang Tough"
"Taste My Pain" (Brand New Song)
"Heaven's Trail (No Way Out)"
"Mama's Fool"
Acoustic:
"Cumin' Atcha Live"
"Truckin'" (GRATEFUL DEAD Cover)
"Into the Now"
"Paradise"
Electric:
"Signs" (FIVE MAN ELECTRICAL BAND Cover)
"The Way It Is"
"What You Give"
"Summers Day / Love Song"
"Lazy Days, Crazy Nights"
"Modern Day Cowboy"
Encore: Check out the photo gallery from the show!

All photos by Geoff Ketler/Aces High Photography

Please log in to view RANTS




AVATAR, ORBIT CULTURE, THE NATIVE HOWL In Houston, TX With Photos!

THE DEAD DAISIES In Hollywood, CA With Photos!

KILL DEVIL HILL Seas Of Oblivion

THE DEAD DAISIES In Ottawa, Canada

MAMMOTH WVH In Santa Ana, CA

UADA Crepuscule Natura

BARONESS Stone

KAMELOT, BATTLE BEAST, XANDRIA In Houston, TX With Photos!

CRYPTOPSY As Gomorrah Burns

RAY ALDER II

GHOST, AMON AMARTH In Houston, TX With Photos!

U.D.O. Touchdown

DETHKLOK Dethalbum IV

STEVE VAI In Ottawa, Canada

PANTERA, LAMB OF GOD In Houston, TX With Photos!

OVERKILL, EXHORDER, HEATHEN In Los Angeles With Photos!

PUPIL SLICER Blossom