BUCKCHERRY w/ GIRL ON FIRE & SCREAMING FOR SILENCE Live In Akron, OH With Photos!


By Geoff Ketler, Cleveland Contributor
Wednesday, August 28, 2013 @ 4:50 PM


| | | |
| --- | --- | --- |
| | | BUCKCHERRY brings the party to the Rubber City |
It was a typical Tuesday in Akron, OH but the all-new concert club in the heart of down town, The Rock Factory, had booked their hottest act to date. BUCKCHERRY was here to show us a good time and we couldn't wait. We arrived extra early for an exclusive interview with lead vocalist Josh Todd who welcomed us aboard their tour bus for a little chat. You can read the entire interview HERE. Afterwards we settled in and took our place down front for a great night of hard rock.

Up first was the Nebraska-based band SCREAMING FOR SILENCE. The boys from the land of the corn huskers really got the crowd into it early. I am not gonna lie…I was pleasantly surprised by this group. It is difficult to place a label on SCREAMING FOR SILENCE. All I can say is that they are really aggressive but with delightful vocal harmonies and guitar melodies they sort of balance things out. The audience really enjoyed the cover of EDDIE MONEY's "Take Me Home Tonight", which got everyone involved and their single "Separate" also received a great response. After the show I was happy to pick up a copy of their EP, Relentless.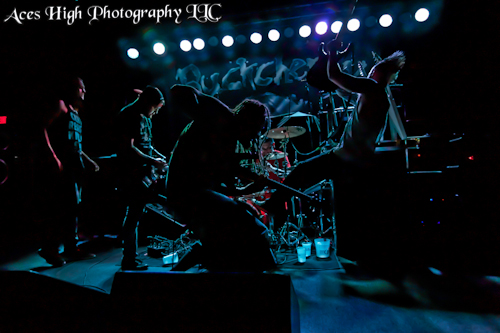 www.screamingforsilence.com
facebook.com/screamingforsilenceband
Setlist
"You Play I Deal"
"Never Wanted"
"Betrayal"
"Pieces"
"Helpless"
"Take Me Home Tonight" (EDDIE MONEY Cover)
"Separate"
After a quick set change it was time for GIRL ON FIRE to take the stage. Earlier in the day we had a chance to catch up with a few of the band members to talk about their debut album, Not Broken, due out on September 3rd. The impression I got from the band was that this had been a long road and they were excited to have finally reached this point. Guitarist Nick McMahan said; "Everything has lead up to this." They seemed relieved that all of their hard work was finally going to pay off in a full-length studio album.

As far as being out on the road with BUCKCHERRY, the group felt as though the crew had really taken them under their wing and given them full support. Bassist Josh Mouser talked about how touring with BUCKCHERRY was really their first chance to show audiences what they are capable of on a much broader scale. As far as future plans, you can catch them touring with BUCKCHERRY through next month, playing the Aftershock Festival in Sacramento, and hitting the road once again this fall.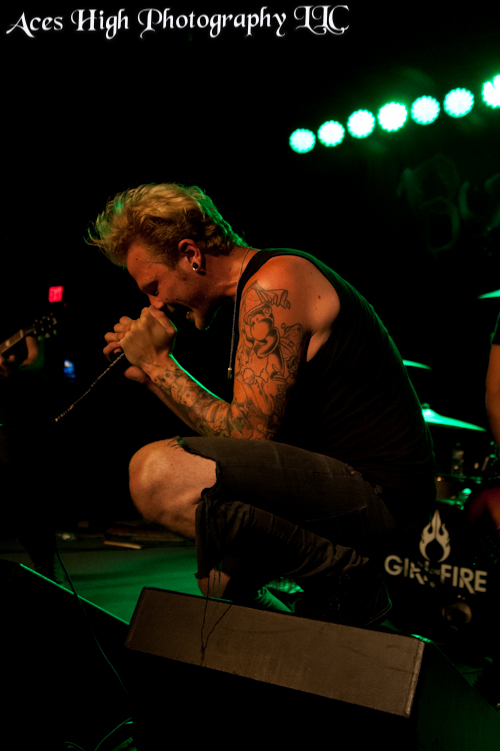 GIRL ON FIRE hit the stage with their new single "The Takedown" from their upcoming Century Media Records release. The crowd was into it right from the beginning. Their performance was tight and the show went on without any hiccups. The set was musically diverse; showing that GIRL ON FIRE is not some one-trick-pony. From heavy rockers to melodic ballads and everything in between, the band lived up to the hype and kept the part rolling.
facebook.com/girlonfiremusic
Setlist
"The Takedown"
"Break These Chains"
"Losing My Identity"
"Reminds Me of You"
"Ready to Fight"
"Automatic Hurt"
"One Step Away"
"Monster"
"Believe"
"Not Broken"
After the fastest set change for a headliner I had ever seen in my concert-attending career, BUCKCHERRY was primed to turn the place upside down. Really, hats off to the road crew. I literally saw stage hands sprinting to get things prepped for the final act of the evening. Opening with "Lit Up" may come as a surprise for some, but with such a catalogue of hits, why not? Guitarist Stevie D strummed the opening chords and we were off. During a breakdown in the song vocalist Josh Todd explained to the crowd what the song was about…and if you couldn't gather it from the lyrics, it's about the first time he tried cocaine.

BUCKCHERRY served up a great set that incorporated plenty of new songs from their latest release, Confessions, as well as the usual suspects of hits that encompass their entire career. With a tambourine in one hand and the microphone in the other, Josh Todd commanded the audience's attention. I don't think he hit a flat note all night…just sounded perfect vocally. The group just looked like they were having a great time on stage and the crowd was eating it up.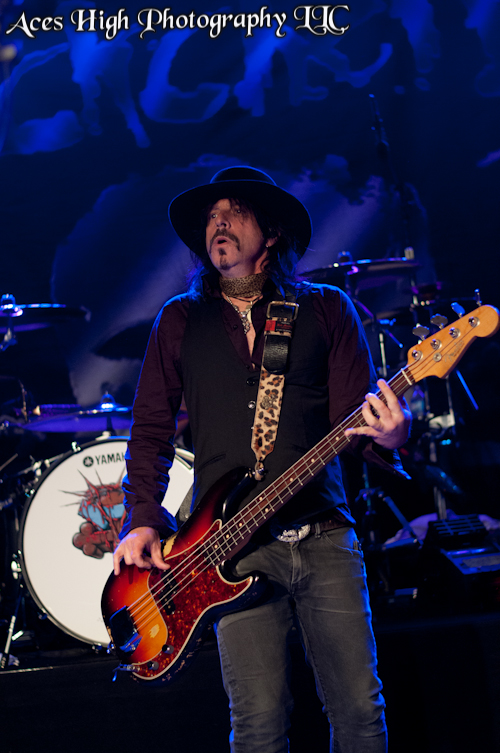 The show was rounded out by "Crazy Bitch". "Do you have pussy control?" -asked Josh Todd before kicking off their huge hit song. For an encore, BUCKCHERRY returned to play two songs off of their new album - "Greed" and "Wrath" finished off an amazing night of rock n' roll and partying. Afterwards BUCKCHERRY came out to their merch table to sign copies of Confessions.
Setlist
"Lit Up"
"Rescue Me"
"All Night Long"
"Seven Ways to Die"
"Everything"
"Sorry"
"Dead"
"Porno Star"
"Ridin'"
"Gluttony"
"Nothing Left But Tears"
"Carousel"
"Crazy Bitch"
Encore: Check out more photos from the show below!

All Photos By Geoff Ketler/Steve Keller Of Aces High Photography




Please log in to view RANTS

If you don't have a username, click here to create an account!






THE END MACHINE In Los Angeles Photo Gallery

TRUTH CORRODED Bloodlands

THE IRON MAIDENS In Houston, TX Photo Gallery

THE RAVEN AGE In Paris, France With Photos!

ENFORCER Zenith

NOTHING MORE In Houston, TX With Photos!

KISS Live In Ottawa, Canada With Photos!

KIX In New Bedford, MA With Photos!

PERIPHERY IV: Hail Stan

GARY HOEY Neon Highway Blues

BLOODBOUND Rise Of The Dragon Empire

ANTROPOMORPHIA Merciless Savagery

AS STRANGE AS ANGELS Mirror Mirror EP

HYPOCRISY, FLESHGOD APOCALYPSE In Dallas, TX

ARCH ENEMY In Bangkok, Thailand

WHITECHAPEL The Valley

THE RAVEN AGE Conspiracy

TYGERS OF PAN TANG Hellbound, Spellbound Live 1981

SPIRITS OF FIRE Spirits Of Fire

EXUMER Hostile Defiance

BURNING RAIN Face The Music

MOTLEY CRUE's The Dirt Movie

MIKE TRAMP In New Bedford, MA

DEVIN TOWNSEND Empath

QUEENSRŸCHE The Verdict

MEGADETH Warheads On Foreheads

QUEENSRYCHE, FATES WARNING In Worcester, MA

Y&T In New Bedford, MA With Photos!

EXPERIENCE HENDRIX In Clearwater, FL With Photos!

OVERKILL, DESTRUCTION, FLOTSAM & JETSAM In Munich, Germany

TORA TORA Bastards of Beale

THE ELYSIAN FIELDS New World Misanthropia

IRON SAVIOR Kill Or Get Killed

BEAST IN BLACK From Hell With Love