MUSHROOMHEAD 20th Anniversary Tour With ONE EYED DOLL Halloween Bash In Cleveland, OH With Photos!


By Geoff Ketler, Cleveland Contributor
Monday, November 4, 2013 @ 3:38 PM


| | | |
| --- | --- | --- |
| | | MUSHROOMHEAD Comes Home To Cleveland To Celebrate 20 Years Of Mayhem |
When I think of Cleveland, I think of the Rock n Roll Hall of Fame (or Shame), a population of sports fans that have been repeatedly let down, and I think of MUSHROOMHEAD. MUSHROOMHEAD has been gracing stages since 1993 and every year they put on a huge Halloween bash at the historic Cleveland Agora Theater. The fact that this was part of their 20th anniversary tour and also that vocalist J Mann had reunited with the band made this show even more special.

There were several acts that played on two stages at the Agora; rendering reviewing all of them impossible, but I do want to mention that another Cleveland-based band, THE X MEMBERS put on one hell of a show. The self-proclaimed Metal-Billy group made you want to dance and mosh all at the same time. They are sort of like a heavier NEKROMANTIX with a punk vibe. If you are a fan of rockabilly check out THE X MEMBERS, you will not be disappointed.

https://www.facebook.com/thexmembers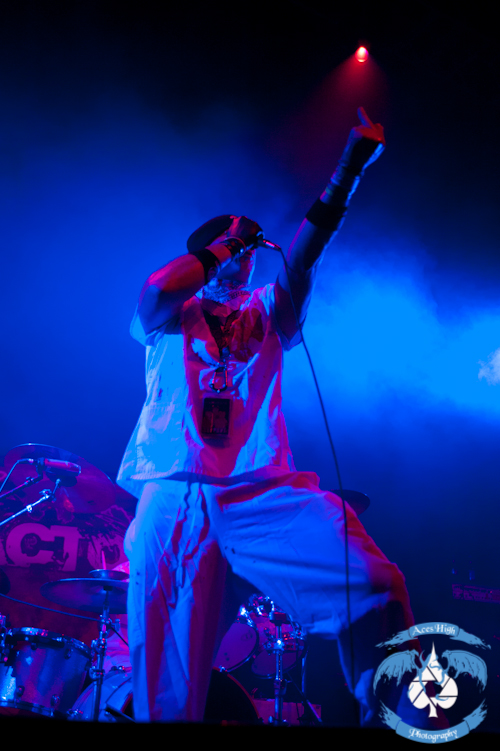 After THE X MEMBERS wrapped up their set it was time for XFACTOR1. The Columbus, OH Ė based rockers put on an enthusiastic show. Vocalist QBall was wearing hospital scrubs adorned with bloody hand prints while other band members wore clear-plastic masks. They ended their set like they always do; with a killer cover of THE ROLLING STONESís "Paint It Black". For more information on XFACTOR1 hit up their official facebook page.
http://www.facebook.com/xfactor1official
Once the stage was cleared it was time for the antics of ONE-EYED DOLL. Hailing from Austin, TX, the duo puts on a high-energy experience. I say experience because crowd participation, jokes, and conversations between songs are just as much a part of their set as the songs themselves. Vocalist/Guitarist Kimberly Freeman is a sight to see; dressed in a skeleton outfit, complete with face paint and her tub of hats. She has twice been on Revolver Magazineís hottest chicks of hard rock list and letís just say she is easy on the eyes, but she backs it up with a ferocious voice and skilled guitar play.
ONE-EYED DOLL opened their set with the single "Committed" off of their yet-to be released new album. Prior to the show I had the chance to sit down with Kimberly as well as drummer Junior to discuss touring with MUSHROOMHEAD and all things ONE-EYED DOLL. I was informed by Kimberly that their set would concentrate on the heavier end of the spectrum in order to better fit in with the likes MUSHROOMHEAD. She was right. Donít let the fact of ONE-EYED DOLL being a duo influence you in the wrong way. Between diving in the crowd, jumping over the drum set, and whipping around the several feet of hair emanating from her head, Kimberly Freeman entertains more than most four or five piece bands.
http://www.oneeyeddoll.com
Setlist
"Committed"
"Break"
"Plumes of Death"
"Nudie Bar"
"Be My Friend"
"Fight"
Shortly after ONE-EYED DOLL left the stage it was time for the industrial metal group MUSHROOMHEAD. Twenty years after forming in the warehouse district of Cleveland, the masters of theatrical metal had come home to Cleveland to put on their annual Halloween show. A partially see-through curtain covered the view of the audience. You could make out shapes of people in complete realistic zombie costume as they slowly moved around on stage. As the intro to "43" played, the curtain was dropped to show a huge stage setup including people in cages behind the riser and two individuals with ropes around their necks on all fours Ė like dogs on a leash. It was like a seen from a horror flick.

There was no shortage of confetti, CO2, and bubbles Ė yes bubbles, that enhanced the spectacle. The theatrics of a MUSHROOMHEAD show are unbelievable. Whether it was the water drums, the masks, the giant walking pumpkin (see photos), the stage actors in movie-quality makeup, or the endless supply of confetti that rained down on the audience, the only comparison that comes to mind is IRON MAIDEN - yes, IRON MAIDEN. I spoke to people in the audience that traveled from the likes of Maryland, Kansas, New York, and even Australia to see MUSHROOMHEAD in all of their glory at their special hometown show.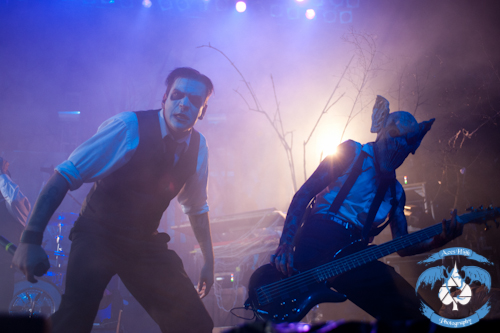 Highlight of the set was hearing "Come On" from their most recent release, Beautiful Stories For Ugly Children. It is by far one of their heaviest tracks that really gets the pit turning. With all three vocalists, J Mann, Waylon, and Jeffrey Nothing at the helm, MUSHROOMHEAD covered material spanning their two decades. The set flowed effortlessly without any hiccups. It was an amazing experience that any fan of hard rock or metal should make the effort to get to. I received word that this tour is going to continue into December out on the west coast. Check out the official MUSHROOMHEAD facebook page for more details. This is one not to miss. After living in Ohio my entire life, I can finally check that one off of the list, but you better believe I will be back next year!
http://www.facebook.com/mushroomheadofficial
http://www.mushroomhead.com
Setlist
"Fear Held Dear"
"43"
"Kill Tomorrow"
"Bwomp"
"Come On"
"Sun Doesnít Rise"
"Save Us/Embrace the Ending"
"Never Let It Go"
"Solitaire/Unraveling"
"One More Day"
"Damage Done"
"Simple Survival"
"Becoming Cold (216)"
"The Dream is Over"
Encore:
"Empty Spaces" (PINK FLOYD Cover)
"Born of Desire"
Check out more photos from the show!
All Photos By Geoff Ketler/Aces High Photography

Please log in to view RANTS