VANDEN PLAS
Chronicles Of The Immortals, Netherworld
Frontiers Records





Impressed is one word that comes to mind , to be honest, I have never heard of VANDEN PLAS. It's impossible to know all music and all styles and sometimes you come across a gem.

This plays like a medieval movie, complete with dragons and sorcery and I am the better for listening to it. Upon further research I found out that this amazing band has been playing for over 30 years and this latest release is part one of a two part rock opera that was originally a full production play based on the works of Wolfgang Holbein and it sold out theaters to delighted fans.

The album Chronicles of The Immortals, Netherworld is the bands attempt to capture that magic as a VANDEN PLAS record and that they did. The first track, "Ne", is really interesting with high and lows and really great guitar work. The second track is "The Black Night" and has amazing guitars and a powerful melody with a chilling effect. If the band SAVATAGE was from Europe they very well may have progressed in this genre.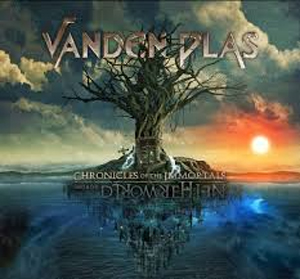 Up next is "Godmaker", a dark brooding song with beautiful piano and heavy riffs . A side note that all of the musicians are in top form and work beautifully together. "Misery Affection Prelude" starts off as stated, a very sad melody but it really weighs in with a message of hope and determination.
The next song, "A Ghosts Requiem", continues the emotional turmoil with the flutes having a subtle but strong presence along with the chorus. "New Vampyre" is the closest song that may be considered radio friendly with just a hint of AVENGED SEVENFOLD stylings, but just a hint.
"The King And The Children Of The Lost World" may be the longest title of a song I ever reviewed but it has a quick catchy guitar groove that really moves you.The harmonic guitar opening of "Soul Alliance" quickly turns into heavy song with a great bass line and an angry groove. The last song on the release is "Inside" and it hard to place and confine into a simple style. It goes thru the gambit of human emotions, love, loss, hate and anger.
The band features:
Andy Kuntz (Vocals)
Stephan Lill (Guitar)
Günter Werno (Keyboard)
Torsten Reichert (Bass)
Andreas Lill (Drums)
The album is available via Frontier Records and the bands official website is http://www.vandenplas.de
5.0 Out Of 5.0