KILLER DWARFS Live In Ottawa, Canada


By Andrew Depedro, Ottawa Corespondent
Saturday, February 15, 2014 @ 11:21 AM


| | | |
| --- | --- | --- |
| | | Start At One: KILLER DWARFS And SCARECROWZ Keep The 80's Metal Spirit Alive At Obsession Live Lounge, Ottawa, January 31, 2014 |
Okay, so the header didn't sound all that inspired here but it's my first review for 2014 so this show should provide some creativity here....

The Obsession Live Lounge recently played host to Oshawa's famous murderous and height-challenged hard rock/metal band from the 80's who were short on anything but grade A song material and a local hard rock band that have been playing the proverbial touring field for some time. Taking the stage would be SCARECROWZ whose blend of hard rock and southern rock have been a staple on the local music scene since their inception in 2000. And yes, it's taken me roughly that same amount of time to finally rein the band in for a KNAC.COM review. Fronted and managed by founding member Ger Madden and featuring the soulful and crunching guitar work of Kevin Mazurek, SCARECROWZ have attracted a sizeable following both in Ottawa and abroad with their sound drawing comparisons from METALLICA and KISS to CLUTCH and CORROSION OF CONFORMITY. Frequent lineup changes over the years had often brought the band down at times but never out and they've been consistent with putting out new albums on a timely schedule, their most recent disc being 2012's Uprising (their sixth). This show at first seemed to be a marginal draw mostly because of the crappy weather but once Ger and Kevin fired up some solid blues/doom metal riffs leading into tracks such as "Creepsmoke" and "Rock 'N Roll All Over You" the floor was filled in no time. They even dedicated a new song, the fast-paced road rager "D.U.I.", to Justin Bieber in light of the latter's too-highly-publicized arrest for illegal drag racing though playing the song itself without the dedication would've been just as ideal. Still, closing out their set with "Burning Bridges" and "One For The Road" further demonstrated how one can still count on these Crowz to murder the stage 14 years on.

https://myspace.com/scarecrowzband

They may not have brought the wooden crate or the red tricycle for Russ to play with onstage but headliners the KILLER DWARFS still brought lots of charisma and good-natured humor to back up their catchy fun-driven metal sound. And given that their early years were ones of tumultuous struggle and hardship before their breakthrough album Stand Tall finally saw the band actually make a reasonable living for a few years (including touring North America and Europe with IRON MAIDEN in the mid-to-late 80's) the Dwarfs can allow themselves to delicately balance the serious with the funny. Opening with "Coming Through", frontman Russ Dwarf was resonating lots of energy akin to that of a hyperactive doberman chasing its tail and rarely let up or slowed down during their entire set. Now you know why he didn't need the tricycle. "Hard Luck Town" and "Last Laugh" showcased the Dwarfs' infamous fight-or-flight attitude that has toughened yet never diluted their rock 'n roll spirit since their slow-paced comeback from 2001 onwards. Luckily Russ has kept it fresh since the Dwarfs' initial split in 1995, touring actively as a solo artist as well as joining 70's Canuck rock legends MOXY in 2008 while in between KILLER DWARFS reunion shows. His bandmates including drummer Darren Dwarf and guitarist Gerry Dwarf have also kept busy in the music scene; in fact Darren drafted in his bass player John Fenton from his band AUTOMAN.CA to replace Ron Mayer, a.k.a. Ron Dwarf. The resulting chemistry has since yielded new interest in the Dwarfs and the launch of a new album, Start @ One, which was initially a follow-up to their last actual studio release titled Methods To The Madness back in 1992 before Epic Records shelved the recordings and dropped them. Russ Dwarf makes no apologies for the love lost between the Dwarfs and their former record label in between songs and even plays the title track off the new disc to great applause.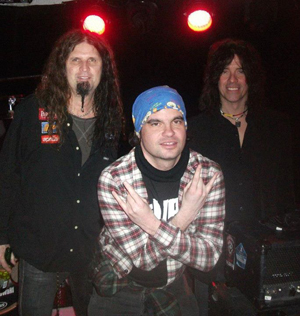 But while Start @ One was a true testimonial of the Dwarfs' David-versus-Goliath relationship with record company moguls twisting the band into an uncomfortable form, it was the classic hits like "Keep The Spirit Alive" and "Stand Tall" that resonated with fans the most. Plus the Dwarfs ended the show on the best note possible with their 1983 hit "Heavy Mental Breakdown" and that was when all bets were officially off on whether or not they were still a good draw. Because they totally still are even with the odd couple of slower songs tossed into the setlist like "Doesn't Matter" and it's not like those songs will get 'em confused with Hunter Hayes or DASHBOARD CONFESSIONAL just because there's an acoustic guitar in the mix.
So while offers for opening for IRON MAIDEN's next world tour aren't pouring in as much these days the KILLER DWARFS still have earned lots of adulation for standing tall and sticking to their guns some 30 years later. And making audiences run a bit faster to their shows after time away from the limelight. Here's to 2014 belonging to Dwarf Nation.
http://www.killerdwarfsband.com
http://www.RussDwarf.com
Setlist:
"Coming Through"
"Hard Luck Town"
"Believe In Me"
"Last Laugh"
"Driftin' Back"
"Union Of Pride"
"Doesn't Matter"
"All That We Dream"
"Nothing Gets Nothing"
"Start @ One"
"Keep The Spirit Alive"
"Stand Tall"
Encore:
"Dirty Weapons"
"Heavy Mental Breakdown"




Please log in to view RANTS

If you don't have a username, click here to create an account!





ALICE COOPER, ACE FREHLEY In Nashville, TN With Photos!

CARNIFEX Graveside Confessions

BLOOD RED THRONE Imperial Congregation

GUS G. Quantum Leap

BILLY IDOL The Roadside EP

AVATAR, MAGIC SWORD In Houston, TX With Photos!

APRIL WINE, MONKEYJUNK At The Ottawa Bluesfest

MINISTRY Moral Hygiene

CRYPTA Echoes Of The Soul

SKILLET In Houston, TX With Photos!

Immortal Axes: Guitars That Rock Book

IRON MAIDEN Senjutsu

GRINDER BLUES El Dos

GEORGE LYNCH Seamless Review #2

IN THIS MOMENT, BLACK VEIL BRIDES In Houston, TX With Photos!

WARLANDO Festival 2021 Photo Gallery

KISS In Ridgefield, WA With Photos!

LAURENNE/LOUHIMO The Reckoning

TREMONTI Marching In Time

ROCKLAHOMA 2021 Day 3 Photo Gallery

ROCKLAHOMA 2021 Day 2 Photo Gallery

ROCKLAHOMA 2021 Day 1 Photo Gallery

CARCASS Torn Arteries

SETH La Morsure de Christ

GEORGE LYNCH Seamless

POWERWOLF Call of The Wild

BRAINSTORM Wall of Skulls

THE BLACK CROWES, DIRTY HONEY In Ridgefield, WA With Photos!

ARMORED SAINT Symbol of Salvation Live