BOBAFLEX Live In Akron, Ohio With Photos!


By Geoff Ketler, Cleveland Contributor
Thursday, March 27, 2014 @ 5:27 PM


| | | |
| --- | --- | --- |
| | | Road Warriors Return To The Rock Factory |
Once again, the road warriors BOBAFLEX made their way to downtown Akron for a Saturday night show. I was much more pleased with the draw compared to other recent shows in the area. Ever since I encountered the band on Gigantour 2005, I have been trying to raise awareness of the boys from Point Pleasant, WV and get them to the level that they deserve. It seems as though their material is really starting to gain some traction.

In the wake of the demolition of Peabody's-the popular and historical concert club in Cleveland; multiple clubs are beginning to finally step up and fill the void. The Rock Factory is one of them. Peabody's was the go-to stop for most rock and metal bands that aren't quite popular enough for the House of Blues or larger arena-sized venues. Along with the Cleveland Agora, The Rock Factory has begun to attract more talent and hopefully this very capable club will continue to bring shows to the rubber city.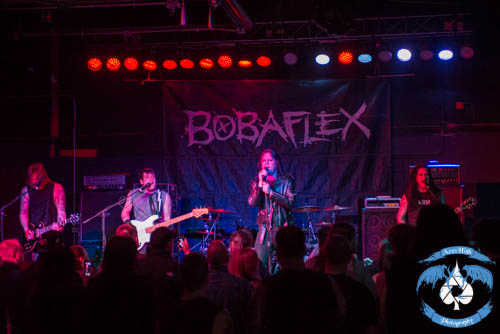 After countless local opening acts it was finally time for BOBAFLEX. Prior to the show I hopped on the band's bus to interview vocalist/guitarist Marty McCoy. After the interview I asked the band if they would care if I got up behind the drum kit and the side stage area to get some cool pictures with a different perspective. I was given the green light, so as the band headed out on stage, I made my way up there as well.
BOBAFLEX is a live band through and through. Their albums are great, but until you see them live, you just won't have the same appreciation for their music and their energy. Like a fine wine, the band has matured and become more complex over the years. With every new album, BOBAFLEX seems to bring more to the table. Bassist Jerod Mankin along with the McCoy brothers trade lead vocal duties back and forth throughout the set. Essentially there are three lead singers in the band. This really makes performing vocal harmonies and adding depth a breeze. It also finally appears that BOBAFLEX has found their solution to lead guitar. For years the position has been a revolving door and BOBAFLEX seemed to be on the hunt for a new guitar player about every 6-8 months. Dave Tipple has rounded out the quintet nicely and it doesn't look like he is leaving any time soon. He cruised through the set without any issues and he really seems to gel with his band mates on stage.
The set was made up entirely of songs from the last two BOBAFLEX albums; Charlatan's Web and Hell In My Heart. Highlights included "Strangle You" and "Losing My Mind". The audience serenaded the band to their sing-a-long anthem of sorts, "Home". Once again, BOBAFLEX leaves it all onstage. You will never feel cheated at a BOBAFLEX show. The set was rounded out by their latest single, "Glad You're Dead", which has been getting lots of attention on satellite radio as of late. Check out the links below.
https://www.facebook.com/Bobaflex
http://www.youtube.com/watch?v=4XO-8SmOQ84
SETLIST
"Chemical Valley"
"Lowlife"
"Rise"
"Strangle You"
"Pretty Little Things"
"Never Coming'
"Vampire"
"Slave"
"Bad Man"
"Home"
"Losing My Mind"
"Sound of Silence"
"Bury Me With My Guns On"
"Glad You're Dead"
Check out some more pics from the show!

All Photos By Geoff Ketler/Steve Keller - Aces High Photography




Please log in to view RANTS

If you don't have a username, click here to create an account!