OZZY OSBOURNE guitarist and FIREWIND mastermind GUS G. recently completely an exclusive interview for Fuse.tv's series Metalhead to Head. Joined by Mark Heylmun (SUICIDE SILENCE), GUS G. discusses trying out for OZZY OSBOURNE's band while showing off some signature guitar licks. To watch the video, head over to Fuse.tv:

http://www.fuse.tv/videos/2014/03/metalhead-to-head-mark-heylmun-gus-g

On Mar. 31, GUS G. will take part in an "Ask Me Anything" chat on Reddit.com. Fans are welcome to submit questions from 9PM CET//12PM PST//3PM EST to 10:30PM CET//1:30PM PST//4:30PM EST.

GUS G. comments:
"Wanna know why and how I created my debut solo album? Wanna know how I got the gig with OZZY OSBOURNE? Funny tour stories? Wanna talk about cats? Tattoos? Guitars? Gear and playing tips? Heavy Metal? Action heroes? Guitar heroes? Join me on Reddit on March 31st and Ask Me Anything."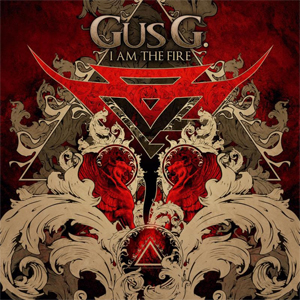 GUS G. recently released his solo debut, I Am The Fire, worldwide via Century Media Records. To purchase the album, please visit iTunes for a digital copy or CM Distro for a variety of physical formats.
GUS G. w/ Marty Friedman / "Guitar Universe 2" Co-Headline Tour:
May 1 - Tampere (Finland) - Klubi
May 2 - Helsinki (Finland) - Nosturi
May 3 - Stockholm (Sweden) - Stockholm Rocks Festival
May 5 - Gothenburg (Sweden) - Trädgårn
May 7 - Malmö (Sweden) - KB
May 9 - Krakow (Poland) - Lizzard King
May 10 - Warsaw (Poland) - Progresja
May 12 - Munich (Germany) - Backstage
May 14 - Hannover (Germany) - Musikzentrum
May 15 - Essen (Germany) - Turock
May 16 - Zoetermeer (The Netherlands) - De Boerderij
May 17 - Hasselt (Belgium) - MuziekoDroom
May 18 - Uden (The Netherlands) - De Pul
May 20 - Savigny Le Temple (France) - L' Impreinte
May 21 - London (UK) - O2 Islington Academy
May 22 - Nuneaton (UK) - Queens Hall
GUS G. online:

http://www.gusgofficial.com
https://www.facebook.com/officialgusg
https://twitter.com/gusgofficial
http://www.youtube.com/firetv