WAYNE STATIC, DOPE and SMILE EMPTY SOUL Live In Pomona, California


By Charlie Steffens aka Gnarly Charlie, Writer/Photographer
Saturday, May 31, 2014 @ 10:47 AM


| | | |
| --- | --- | --- |
| | | At The Glass House, May 20, 2014 |
At the Pomona stop of the 2014 Civil Unrest Tour, three bands were keeping disco evil and rocking The Glass House. Two of the bands, DOPE and WAYNE STATIC, were an obvious pair-up with their nu-metal credentials and party sensibilities. SMILE EMPTY SOUL, with a more subdued and melodic approach to music, was not such an obvious choice.

In support of their new album Chemicals, SMILE EMPTY SOUL performed to a small and somewhat sluggish audience. The trio powered on, and attempted to resuscitate the inattentive listeners. Yet, several SMILE EMPTY SOUL fans sang along as singer/guitarist Sean Danielsen belted out "Carve" a la Kurt Cobain, complete with crunchy power chords. Bassist Ryan Martin and drummer Jake Kilmer provided a solid foundation.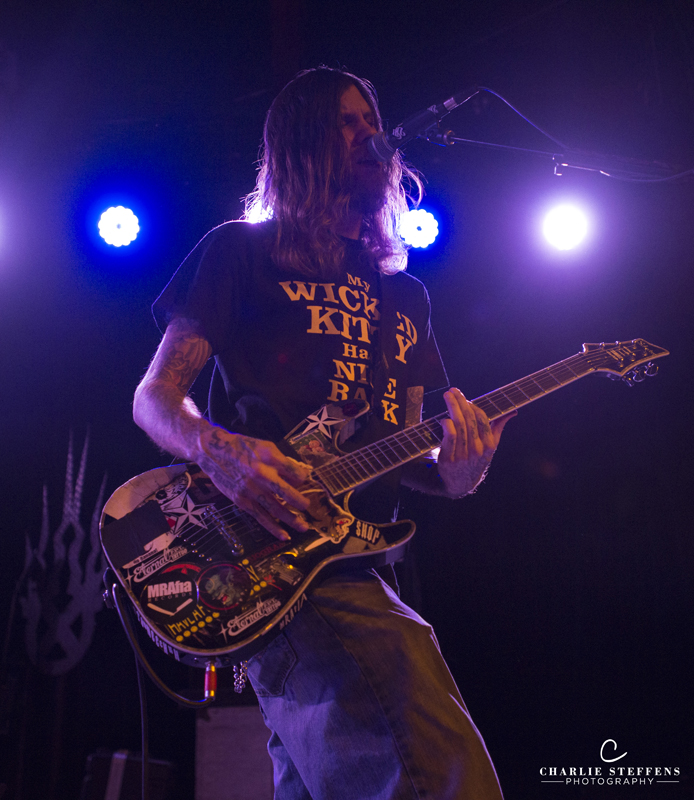 Musically, DOPE brought something a little closer to the expectations one might have of the overall lineup. When the band broke into its first song, "Violence", it seemed the whole room had been jolted by a nu- metal cattle prod. Front man Edsel Dope told the crowd that he and Wayne Static (STATIC-X) hadn't shared the stage at the Glass House since 1999. Guitarist Nikk Dibs and bassist Jeremy "Jerms" Genske worked tirelessly during the set, including frequently jumping off their stage pedestals. Dan "Dubs" Fox, a relatively-unknown drummer, hit the skins hard, dexterously keeping DOPE in time, spinning his sticks between swings. Edsel Dope cracked jokes between songs and expressed appreciation to the fans. A fan handed Dope a hand-rolled, non-tobacco cigarette which the singer lit and drew on a few times, before going into the next song. Now, that's dope. The set list included covers of N.W.A.'s "Fuck Tha Police" and BILLY IDOL's "Rebel Yell", and closed with "Bitch".
Commemorating the 15th anniversary of the debut release Wisconsin Death Trip from STATIC-X, Wayne Static and his band played the album in its entirety, followed by a few other tracks from the STATIC- X catalog. Surrounded by talented musicians with great sound and a colorfully-lit stage, Static seemed to be in his element, offering his fans an impressive performance. Stylishly-attired in electrical tape, actress Tera Wray (Mrs. Static) served up mystery shots, keeping the longstanding Static party tradition alive.
SETLISTS
SMILE EMPTY SOUL
"Black and Blue"
"Not Alike"
"Carve"
"False Alarm"
"Don't Ever Leave"
"Bottom of a Bottle"
"Chemicals"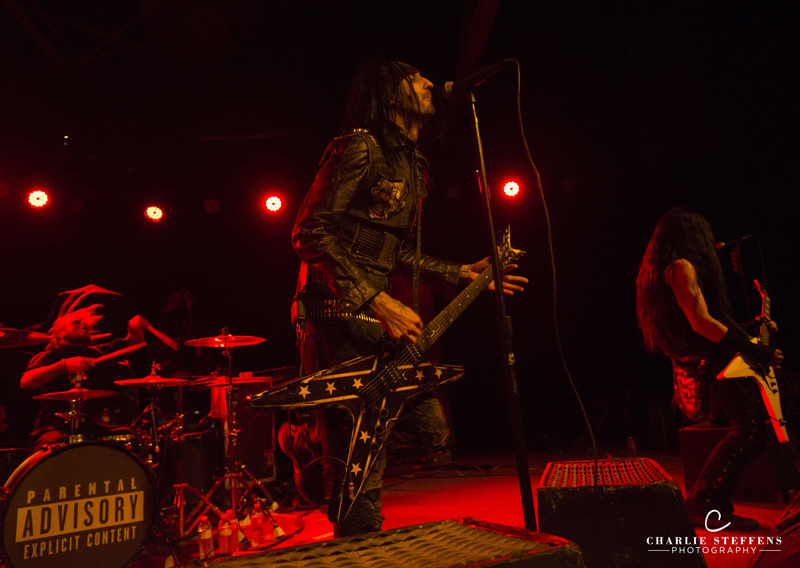 DOPE
"Violate"
"Bring It On"
"Motivation"
"Die Motherfucker Die"
"Boom, Bang, Burn"
"Fuck the Police"
"Rebel Yell"
"Addiction"
"Bitch"
WAYNE STATIC
"Push It"
"I'm With Stupid"
"Bled for Days"
"Love Dump"
"I Am"
"Otsegolation"
"Stem"
"Sweat Of The Bud"
"Fix"
"Wisconsin Death Trip"
"The Trance Is The Motion"
"December"
"This Is Not"
"The Only"
"Cold"
"Black And White"
"Destroy"
"Cannibal"
Check out some more photos from the show!

All Photos By "Gnarly" Charlie Steffens




Please log in to view RANTS

If you don't have a username, click here to create an account!






KILLER BEE Remember The Times

OVERKILL The Wings of War

SWALLOW THE SUN When A Shadow Is Forced Into The Light

LAST IN LINE II

HERMAN FRANK Fight The Fear

DARKEST HOUR, UNEARTH, TRIPLE MURDER In Ottawa, Canada

AMON AMARTH The Pursuit Of Vikings - 25 Years In The Eye Of The Storm DVD

TAME FURY A New Reason

TREMONTI, SEVENDUST In Saint Petersburg, FL W/ Photos!

WINGER In New Bedford, MA With Photos!

EVERGREY The Atlantic

ANGEL BLACK Killing Demons

METALLICA In Cleveland, OH With Photos!

JETBOY Born To Fly

QUIET RIOT One Night In Milan

AVANTASIA Moonglow

KING DIAMOND Songs For The Dead Live

STEEL PANTHER In Portland, OR With Photos!

AMARANTHE Helix

SOILWORK Verkligheten

THE THREE TREMORS The Three Tremors

IRON MAIDEN Album By Album Book

ALTITUDES & ATTITUDE Get It Out

FLOTSAM AND JETSAM The End Of Chaos

WARRIOR SOUL In Ottawa, Canada

BILLYBIO, THY WILL BE DONE In Ottawa, Canada

ALCATRAZZ Parole Denied: Tokyo 2017

VOIVOD The Wake

HALESTORM, IN THIS MOMENT, NEW YEARS DAY In Orlando, FL With Photos!

ACCEPT Symphonic Terror - Live At Wacken 2017

GENERATION AXE Tour In Clearwater, FL With Photos!

JOE SATRIANI In Sydney, Australia