The Hellacopters
Cream Of The Crap!


By Frank Meyer, Contributing Editor
Monday, July 29, 2002 @ 11:01 PM


| | | |
| --- | --- | --- |
| | | (Universal/Polar/Psychout Reco |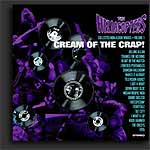 While hipper, younger bands like Detroit's The White Stripes, New York's The Strokes and fellow Swedes The Hives may be getting all the press for leading the garage rock revolution, Stockholm's The Hellacopters are really the true torchbearers of this genre. Along with Nashville Pussy and Electric Frankenstein, the 'Copters started pounding out double fisted, ball crunching, garagey punk rock n' roll in the mid-'90s and have only been getting stronger and better ever since. Lead by former Entombed drummer Nicke Royale, now on lead vocal and guitars, the 'Copters fuse the soul drenched sounds of '50s soul with the proto punk wallop of '60s icons the MC5 and the Stooges, and crank it through Marshall stacks, adding some '70s style KISS sheen for good measure. In Europe they have grown from a novelty side project (the band also featured Backyard Babies mad axeman Dregen) to a full-fledged arena act, whereas here in the States they are regarded as underground heroes, toiling away in clubs and bars. Although the band has released four official studio albums (all powerhouses to be sure), they have also spewed out countless singles, EPs, live albums, and side projects, as well recorded a number of exclusive tracks for compilations, tributes, and so on. Well, Cream Of The Crap! is Volume 1 in an attempt by the band (and the good folks at Gearhead Records) to harness all these hard to find nuggets into one mighty package…and the result is nothing short of pure rock justice! …And oh what a package it is… You get 18 songs that cover the bands entire career and features and multitude of ultra cool covers and way out of print original songs. Highlights include all three tunes from the band's super-rare Killing Allan debut single that finds them sounding more like Nicke's former cohorts Entombed than, say, the Dead Boys. "I Want A Lip" is an ass shakin' little number that struts right along with a nice Motown swagger and hints at the more R&B drenched sound the band headed into later on (i.e. – now). Really though, "Misanthropic High," "1995," and "Tilt City" are pretty much the kinda music this band is known for -- hellbent, pedal to the metal, high octane rock n' roll ala Motorhead or AC/DC. "Rock Hammer" and the closer, "Lowered Pentacles (Anything At All)," are among the heaviest tracks here and show that the band can be every bit as hard and heavy as their European metal compadres, but still retain some bluesy swagger and punk energy to keep the rock rolling all the way home. The songs the band chooses to cover are very telling and reveal much about their sound. "Gimme Shelter" by the Stones, "Television Addict" by The Victims, "I Got A Right" by the Stooges, and "The Creeps" by Social Distortion. All given the 'Copters buzzsaw treatment, yet the band stick pretty much to the arrangements and sounds of the originals all around. The few special guests that pop in throughout the tracks are also very revealing. Detroit legend Scott Morgan (Sonics Rendezvous Band, Rationals, Scott's Pirates), lends his pipes and six string to a coupla tunes ("Down Right Blue" and "Thanks For Nothing"), as do Gucifer's Captain Poon and Turbonegro's Euroboy, who step in on "Crimson Ballroom." A hint of the old and a dash of the new. Current yet retro. A healthy mix, I say. If all this sounds like a little too much metal stimuli or rock n' roll overdose to you, then start with the more tightly wound Payin' The Dues, a solid addition to any rockers collection. Either ways, you're set. Now go rock. ****




Please log in to view RANTS

If you don't have a username, click here to create an account!






AS I LAY DYING, AFTER THE BURIAL, FROST KOFFIN In Houston, TX With Photos!

A KILLER'S CONFESSION The Indifference Of Good Men

SLAYER The Repentless Killogy

FIT FOR AN AUTOPSY The Sea Of Tragic Beasts

BELPHEGOR, SUFFOCATION, NECRONOMICON, ABIOTIC In Los Angeles With Photos!

TYGERS OF PAN TANG Ritual

BABYMETAL, THE HU In Portland, OR With Photos!

MACHINE HEAD Live in Dublin, Ireland

MAYHEM Daemon

ALICE COOPER In Orlando, FL With Photos!

SLAYER In Springfield, MA

AGNOSTIC FRONT Get Loud!

LACUNA COIL Black Anima

BLACKTOP MOJO Under The Sun

ROB HALFORD Celestial

SEBASTIAN BACH In St. Petersburg, FL With Photos!

HELLOWEEN United Alive In Madrid

HAMMERFALL's Halloween Ball In Ottawa, Canada

ANGEL WITCH Angel Of Light

BLUE OYSTER CULT, UFO In New York City

TOOL, KILLING JOKE In Houston, Texas With Photos!

L.A. GUNS, JOHNNY SOLINGER In Houston Photo Gallery

NIKKI STRINGFIELD Harmonies For The Haunted

JON ZAZULA Heavy Tales: The Metal. The Music. The Madness. As Lived By Jon Zazula

MICHAEL SWEET Ten

LAST IN LINE In Houston Photo Gallery

THE DEFIANTS Zokusho

NILE Vile Nilotic Rites

SONATA ARCTICA Talviyö

RINGS OF SATURN Gidim

ARCH ENEMY In Denver, CO

ENTRAILS Rise Of The Reaper

MURDERBIRD Pillars of Creation

ALTER BRIDGE Walk The Sky

EXHUMED Horror

AIRBOURNE Boneshaker

MOTORHEAD 1979 Box Set