STEEL PANTHER and FUTURE VILLAINS Live in Cleveland, OH With Photos!


By Geoff Ketler, Cleveland Contributor
Tuesday, June 3, 2014 @ 4:22 PM


| | | |
| --- | --- | --- |
| | | Final Show Of The All You Can Eat United States Run |
It was a rather quiet commute into downtown Cleveland. The Tribe was off, the streets were empty, and parking was abundant…that is of course, unless you headed towards East Fourth and Euclid where hoards of spandex-clad, wig-wearing, metal heads had gathered to celebrate the 80's and all of that decade's excesses of the music scene in it's most pure and bluntly-put form; without any apologies. STEEL PANTHER was in town.

With photo credentials in-hand, I quickly headed down to the pit to dial in my cameras and chat with the folks in the front row. Although the video screen was down, blocking most of my view of the stage, I could see several roadies taping down pieces of cardboard covered with tour stickers that were sticky-side up. Once those were in place they returned to leave long pieces of duct tape just strewn around everywhere. Once again, it was sticky-side up. One of the roadies must have seen my intrigue and decided to tell me that since this was the last show of the tour before STEEL PANTHER hits the festival circuit, they decided to pull a prank on tour mates FUTURE VILLAINS. As the Los Angeles based rockers hit the stage, they were immediately engulfed in stickers and tape, however, besides looking at the roadies that were stage-left to flip them the bird occasionally, the prank didn't seem to phase FUTURE VILLAINS.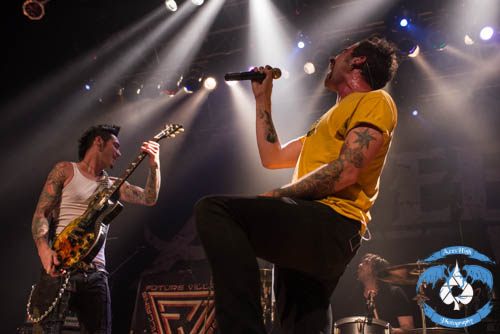 The band had a straight-up, in-your-face, hardened rock and roll vibe to them. Their influences were easy to identify, especially since they covered AC/DC's "If You Want Blood (You've Got It)" and DEEP PURPLE's "Highway Star", which featured Michael Starr as guest vocalist. After hearing vocalist Dusty Bo belt out lyrics from center stage, the best comparison to his voice in my humble opinion has to be Jason McMaster of DANGEROUS TOYS fame. FUTURE VILLAINS went on to pound out song after song as the crowd began to get riled up, but the pranks were not over. As Dusty Bo told the audience that this was their last song, the roadies started to tear down drummer KENNY DALE's set. By the time the song had ended, all that was left was his kick, snare and high hat. FUTURE VILLAINS went on to pull off a very energetic set that complimented the headliner. Check them out.
https://www.facebook.com/futurevillains
http://futurevillains.com/
As the lights went down, the curtain parted and the recorded intro to "Pussywhipped" played. Vocalist Michael Starr was situated right in the center of the stage, in front of the drum riser with one hand up in the air. Guitarist Satchel and bassist Lexxi Foxx were flanking drummer Stix Zadinia on the riser. STEEL PANTHER had arrived! After "Pussywhipped" the band went right into "Tomorrow Night" before doing their usual extensive band introductions. Early on in the set, Michael Starr brought out a woman they had met earlier in the day who happens to have 36-I cups. Yes…'I' cups. Needless to say, the men in the audience frenzied at the thought of seeing those bulldogs and yes, she obliged. After "If I Was King", guitarist Satchel melted faces with a screaming and intense solo. The former instructor at the Guitar Institute of Technology at Hollywood's Musicians Institute absolutely blazes up and down the fret board of his custom Kramer guitar painted up like George Lynch's ESP custom tiger. On a more serious note, I think that although STEEL PANTHER rose to fame primarily because of their crude and raunchy lyrics and image carving out a niche in the current music scene; people need to know that these guys are all fantastic musicians and skilled song writers as well.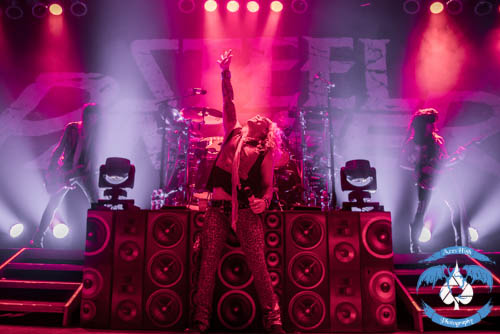 The set was peppered with new material off of All You Can Eat as well as many of the fan favorites such as "Asian Hooker" and "Just Like Tiger Woods". After slowing it down for a handful of songs that included a shortened version of "Stripper Girl", "Girl From Oklahoma" and another tune off of All You Can Eat titled "The Burden Of Being Wonderful", the band asked for any of the hot girls down front to make their way up on stage. Quickly the stage was filled with women as the band went into "17 Girls In A Row" off of Balls Out. The chicks remained up there as STEEL PANTHER wrapped up their set with "Glory Hole" and "Death To All But Metal". The band returned to encore with "Community Property" and "Party All Day (Fuck All Night)" which included tons of crowd participation. At times it was even difficult to hear Michael Starr over the audience as they screamed out the lyrics. As the show came to an end, Michael Starr reminded everyone that if they had been drinking, don't drive until you do a line of cocaine first.
Setlist
"Pussywhipped"
"Tomorrow Night"
"Asian Hooker"
"Just Like Tiger Woods"
"Eyes Of A Panther"
"Gangbang At The Old Folks Home"
"If I Was The King"
Guitar Solo
"Turn Out The Lights"
"Party Like Tomorrow Is The End Of The World"
"Stripper Girl" (Abbreviated)
"Girl From Oklahoma"
"The Burden Of Being Wonderful"
"17 Girls In A Row"
"Gloryhole"
"Death To All But Metal"
Encore:
"Community Property"
"Party All Day (Fuck All Night)"
Check out some more photos from the show!

All Photos By Geoff Ketler/Aces High Photography




Please log in to view RANTS

If you don't have a username, click here to create an account!