NOVEMBERS DOOM
Bled White
The End Records





After the release of Aphotic in 2011 and the rave reviews it received, it would be difficult to top the heaviest release yet, Bled White from NOVEMBERS DOOM. However, there is only one word to describe this latest release from the masters and founders of Death/Doom Metal: MASTERPIECE! This is NOVEMBERS DOOM at its finest. Most bands tend to keep sounding the same throughout most if not all their careers. Not Paul Kuhr and company. Changing it again with Bled White, Paul shows his true vocal ability. This album is filled with his best death growls yet, and there's no mistaking that distinctive voice. Mix that in with the best clean vocals and haunting harmonies… Goddamn is he pissed! Bled White also seems to give way to a more guitar oriented release than previous albums. This is good because the talent of Larry and Vito mixed on this album are their best, with longer solos that seem more meaningful and passionate than before. Noteworthy is the addition of drummer Garry Naples and the departure of Sasha Horn. Sasha did an outstanding job on Aphotic, so I was leery that Garry couldn't perform as well or have a very different style. Wrong. Garry does an outstanding job with the constant changes in tempo. Hell, kind of sounds like Sasha playing, so it was a little hard to tell it wasn't him at first.

No musical intros, no fade in, no warning on the first and title track "Bled White", it gets right to the point: Hang on for a heavy fuckin,'doom ridden, melancholy journey that only NOVEMBERS DOOM can take you on. Things seem to be taking a more progressive death doom feel to them judging by this and the whole album with more emphasis on the musical creativity.

"Heartfelt" brings a little change for Paul with another depth of his vocal range. Something between a death growl and screams. It's a pretty damn good addition that shows how just little tweaks to the way they have been recording, gives a whole new dimension to the album. There is one or two more tracks that take on this additional style of singing.

"Just Breath" takes on a very familiar OPETH quality but still keeps the NOVEMBERS DOOM unique sound. By far one of the best songs that shows the talent of the bands ability to play such an emotional and deep song with such passion. Kind of has a Jim Morrison feeling to it in the middle, but a very powerful song nonetheless.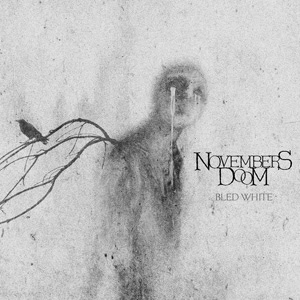 Then you have the instrumental "Scorpius" almost in the middle of the album that seems to divide the first and second half, with the second sounding more like old school DOOM with cleaner harmonies and more emphasis on the guitar work from Larry and Vito.
Blasting into "Unrest", NOVEMEBERS DOOM unleash the full fury of what they do best: Punch your fucking teeth in and you just say "Give me more!" Classic DOOM sound with crunching rhythms and kick ass harmonies mixed in. Garry keeps up with the constant changes at lightning speeds, and Larry and Vito crunch out powerful riffs and the solos are just brilliant. I have never heard them sound tighter.
"Animus" is another powerful song with a creepy intro that leads into classic NOVEMBERS DOOM riffs with a little speed thrown in. Clean harmonies once again that leads into a chorus that is pure anger: "I live in Animus. To tear your world apart. I breathe the hate, and my hate is pure. I'm hunting you down! That you can be certain of! And when I find you, may your god…have…mercy… on your soul!" Awesome! Just fuckin' awesome!
Other noteworthy songs are… well…let's see… They're all fuckin' noteworthy! Period.
NOVEMBERS DOOM have been around for 25 years and they seem to only get better with each release. I personally have been a fan since first hearing The Novella Reservoir, but it didn't take long to discover they were now one of my new favorites bands of all time. This is by far their best release yet and is highly recommended for any true metal head whether you're a fan of the death/doom genre or not. This is just great fuckin metal. Look for NOVEMBERS DOOM on tour later this year in North America and Europe.
Rating: 5.0 Out Of 5.0
Preorder your copy of Bled White in the KNAC.COM More Store right HERE.