Former ARCH ENEMY guitarist Christopher Amott and his band ARMAGEDDON have revealed the artwork for their upcoming album, Captivity & Devourment.

Says the band: "Paolo Girardi visual master, created this oil painting for our cover art. After reading the album lyrics and story written by Sara Claudius, he took his own inspiration and painted a scene of Total Destruction as described across the album. Visit his page and gaze into his visions of nightmarish hell and beauty. We thoroughly enjoyed our collaboration with him. We strictly did not want the uninspired digital photoshop album art that is so prevalent these days, this is hand painted visions of a man inspired by music."

ARMAGEDDON issued the following update earlier this month: "We present for you a teaser showcasing the intro of a forthcoming song named "Fugitive Dust" and showing the band in action in the studio and rehearsal. We have a new full track coming in the next few days, so get ready to bang your headz and digest some of the tasty fresh guitarmageddon licks we cooked up for you.

Fun Fact: This video shows Nick Bunczk on drums, amazing Philadelphia area drummer and friend who recorded all of the drum tracks on this album. Search him up on YouTube, you won't be disappointed! Márton Veress is a recent addition to the lineup and we will be showcasing his drum skillz live!"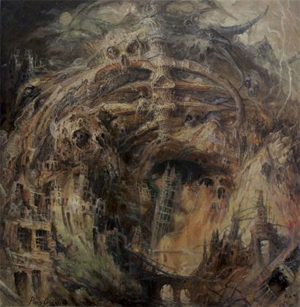 ARMAGEDDON first came to life in Sweden in 1997 as a studio project, with the cult album Crossing The Rubicon, a sci-fi themed concept album. Two more albums followed, Embrace The Mystery in 2000 and Three in 2003, both featuring different line-ups and different musical directions, Christopher Amott being the sole original member.
ARMAGEDDON is now resurrected in its most powerful form. The band is based out of New York City, and has brought unto itself a crushing lineup of musicians. Together they have once again conjured up the force that is ARMAGEDDON.
The new album, Captivity & Devourment, consists of 10 awe-inspiring and ingeniously crafted songs, full of devastating riffs, soaring guitar leads and fist pumping choruses. Heavy, melodic, technical, and groovy: this is creative metal songwriting with one foot in deep in the classics and and one eye gazing towards the distant future.
ARMAGEDDON lineup:
Matt Hallquist - Lead vocals
Christopher Amott - Guitars and clean vocals
Joey Concepcion - Guitars
Sara Claudius - Bass
Márton Veress - Drums