NIGHT RANGER Live In Kinder, Louisiana With Photos!


By Larry Petro, News Monkey
Wednesday, July 2, 2014 @ 9:38 AM


| | | |
| --- | --- | --- |
| | | At Casino Coushatta Pavilion |
Review And Photos By Duane Vickers

There isn't an 80's soundtrack out there that doesn't include the smash hit "Sister Christian" by NIGHT RANGER. It's one of the songs that defined the decade and one that most people identify the band with. Then there's the NIGHT RANGER that the NIGHT RANGER fans know, the band with the blazing twin guitar assault originally made up of Brad Gillis and Jeff Watson and the heart felt lyrics and vocals of bassist Jack Blades and drummer Kelly Keagy, that racked up a string of hits and put out in your face rock n' roll tracks that have given the band a career spanning 34 years now. The lineup now made up by original members Blades, Keagy and Gillis with guitarist Joel Hoekstra and Eric Levy on keyboard released their 11th studio album, High Road, on June 10th and are currently on tour in support of the album. NIGHT RANGER brought their High Road tour to the Coushatta Pavilion at the Coushatta Casino and Resort in Kinder, Louisiana Friday June 27th as the first night of a two night "80's Rock Weekend". Having recently interviewed guitarist Brad Gillis (Check out the interview HERE) and having first seen the band roughly 30 miles up the road in Lake Charles on their Midnight Madness tour some 30 years ago and being a huge fan ever since, I was very excited about this show. Getting to the show wouldn't be easy for anyone. A massive band of thunderstorms came thru the area Friday afternoon and brought flooding and tornado warnings, making getting to the show a challenge for everyone, but by 6:00 pm the skies had cleared and it was time to rock.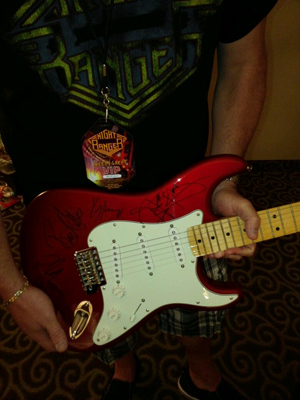 The meet and greet didn't seem to be very well coordinated. We were instructed to meet the band's representative at the box office at 7:45 sharp, show time was 8:00 so any chance of seeing opening band LA ROXX (an 80's hair metal cover act and touring band for the Broadway musical Rock Of Ages) was out. The representative showed up around 8:00 pm and the group for the meet and greet (around 20 people) were shuttled over to the pavilion where we were escorted backstage for the meet and greet. I had cleared getting a guitar signed with the band's management prior to the show and that went off without a hitch and the guys in the band were all great and were really personable with the fans. There was some confusion with some of the people at the meet and greet and there were some fans that were unable to get anything signed due to time constraints, but everyone did get a photo with the band so in all a great experience.
After the meet and greet we made our way to our seats which were all general admission and there were plenty to be had. The weather being a factor that night, as the pavilion was about a quarter full. At 9:10 the lights went out and the familiar nursery rhyme chime began to play as the band blasted on the stage with "Touch Of Madness" from their 1983 release Midnight Madness. Brad Gillis finished the song with his ridiculously awesome display of "whammy bar" guitar play. Let me just tell you, I've seen a lot of concerts and out of all of the bands that have been around for 30 plus years that are still going, none of them match the energy on stage of NIGHT RANGER. Jack Blades, seemingly ageless not only in voice, but he's all over the stage. Apparently Jack didn't get the memo that guys in their fifties can't do this stuff anymore. Next the band went right into "Sing Me Away", from their 1982 debut album Dawn Patrol and like Jack's, Kelly Keagy's vocals were as strong as ever. Next they seamlessly went into "Rumors In The Air", a fan favorite. As a NIGHT RANGER fan for 30 plus years, there are of course some favorite songs that I'd love to hear in their live set that I haven't heard in years and I've been on the fence when it comes to the band including DAMN YANKEES tunes in their set. DAMN YANKEES obviously was a big part of Jack's career and they had some great songs, but there are some great NIGHT RANGER songs that are left out in favor of the DAMN YANKEES' covers. That having been said, when Jack announced that he was in a band called DAMN YANKEES and "here's one called "Coming Of Age", the crowd loved it and I've heard them play it several times before but this night, they rocked it and so it's probably best to say that the boys know what they're doing when they put their set lists together.
Next up was the only track played from the 7 Wishes album, the hit "Sentimental Street". This was drummer Kelly Keagy's opportunity to get up in front of the crowd to stretch his legs for the opening verse before returning to the drum kit to finish the song. Jack then asked the crowd "How many of you knew that Brad Gillis played with Ozzy?" The crowd roared and Jack said "yeah after <>Randy Rhoades tragic death, Ozzy recruited Brad for the tour, and Brad actually recorded the live album (>Speak Of The Devil) and then flew back to California to cut Dawn Patrol and never left NIGHT RANGER". Then Brad chimed in with "Job Security" as he threw down the signature opening riff to "Crazy Train" and the band joined in. I'll just throw this in here, there are a lot of great guitarists to come out of the 80's, but few that match the versatility and stage presence of Brad Gillis. The band then played "Secret Of My Success" from the movie soundtrack of the same name and their album Big Life.
It was then time for the band to introduce their new album High Road. Jack told the crowd "I know when band's go to play their new stuff, everybody just kind of rolls their eyes, but here's the deal, when you stop creating, you start dying and NIGHT RANGER is going to keep creating, and putting out new albums because we have more to say, we're not done yet". To the crowd's approval the band then played the title track from their new album High Road. Next up it was time for some dueling guitars between Brad Gillis and Joel Hoekstra as they went into "Eddie's Coming Out Tonight" and the two traded leads back and forth, putting on a clinic for everyone.
They finished their set with the DAMN YANKEES cover "High Enough", "When You Close Your Eyes" and an amped up version of "Don't Tell Me You Love Me" that included verses from DEEP PURPLE's "Highway Star" and "Hotel California" by THE EAGLES.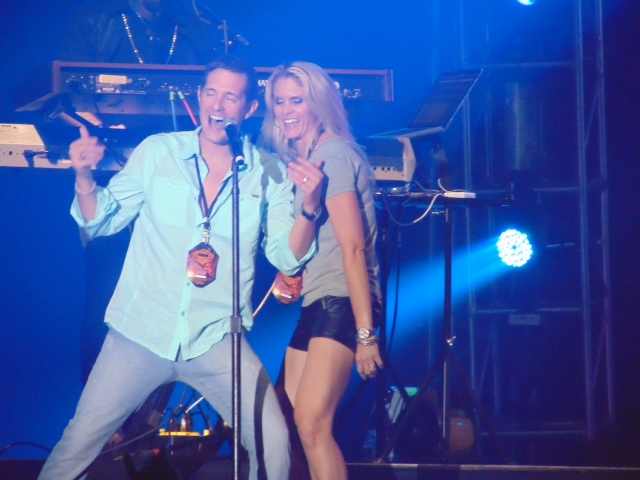 Before the band exited the stage Jack told the crowd "We could walk back stage and wait for you to call us out but that's ridiculous, so we'll just stay out here and finish up", much to the crowd's approval. Jack then announced that there was a couple in attendance that were celebrating their 15 year anniversary and that they were going to help them sing the next song. It was time for "Sister Christian" and as soon as Eric Levy laid down the opening keys, the crowd recognized the band's signature hit. The band was offering a special option as part of their meet and greet packages, where you could purchase the opportunity to help sing the chorus to "Sister Christian" on stage with them. What a great way to celebrate your anniversary! Then came the closer for every NIGHT RANGER show, "You Can Still Rock In America", complete with the American flag back drop as the band finished their one hour and forty five minute set. There are a lot of veteran bands touring the world, still making a living but none that seem to enjoy it as much as NIGHT RANGER. They've had a few personnel changes over the years like most bands, but the core of the band (Blades, Keagy and Gillis) has remained. The band is as tight as they ever have been and they're still rocking America and every other corner of the world. When I interviewed Brad Gillis a couple of weeks back, I asked him if they had ever considered doing a return to Midnight Madness tour and playing the album in its entirety and he modestly responded by saying that it had been discussed but they don't think of themselves as being big enough for that kind of tour and they're not an "A" band, but rather a glorified "B" band. If that is in fact the case, then this "B" band still brings their "A" game and certainly did tonight.
Setlist:
"Touch Of Madness"
"Sing Me Away"
"Rumors In The air"
"Coming Of Age"
"Sentimental Street"
"Crazy Train"
"Secret Of My Success"
"High Road"
"Eddies' Comin' Out Tonight"
"High Enough"
"When You Close Your Eyes"
"Don't Tell Me You Love Me" ("Highway Star"/"Hotel California")
"Sister Christian"
"You Can Still Rock In America"
Check out some more photos from the show!




Please log in to view RANTS

If you don't have a username, click here to create an account!