DOKKEN, WARRANT, FIREHOUSE Live In Houston, Texas With Photos!


By Larry Petro, News Monkey
Thursday, July 3, 2014 @ 4:31 PM


| | | |
| --- | --- | --- |
| | | Part Of The Blackhorse Limo Free Concert Series |
On Friday, June 27th, Houston area fans were treated to a blast from the 80's and 90's in the form of a concert from hard rockers DOKKEN, WARRANT and FIREHOUSE. This was yet another installment in the Blackhorse Limo Free Concert Series. The Houston based limousine company started doing these free concerts a year or so ago as a nonconventional way of advertising their company, and it certainly has been beneficial to the fans. Once an announcement is made for a show, all the fans had to do was email the company with a ticket request and their name and address and the company then sent out the tickets a couple of weeks in advance. It's just that simple. Previous concerts have included SKID ROW and FASTER PUSSYCAT last December and about a month or two ago we had POP EVIL and AMERICAN FANG, which I sadly had to miss.

Located on the south side of downtown Houston, Warehouse Live has seen its share of good concerts over the years, from STRYPER, RATT, GEOFF TATE, SEVENDUST to SCOTT WEILAND, UFO and Y&T, just to name a few. The venue actually has 2 different staging areas, one called The Studio, which is a small room with a stage set in the corner and generally holds the smaller bands that come through, though bands like LILLIAN AXE, UFO and Y&T have played there. Then there's The Ballroom which is far bigger and holds about 1,600 people, and this is where the large bands and free concerts take place. As one would expect, with it being a free show, the place was sold out.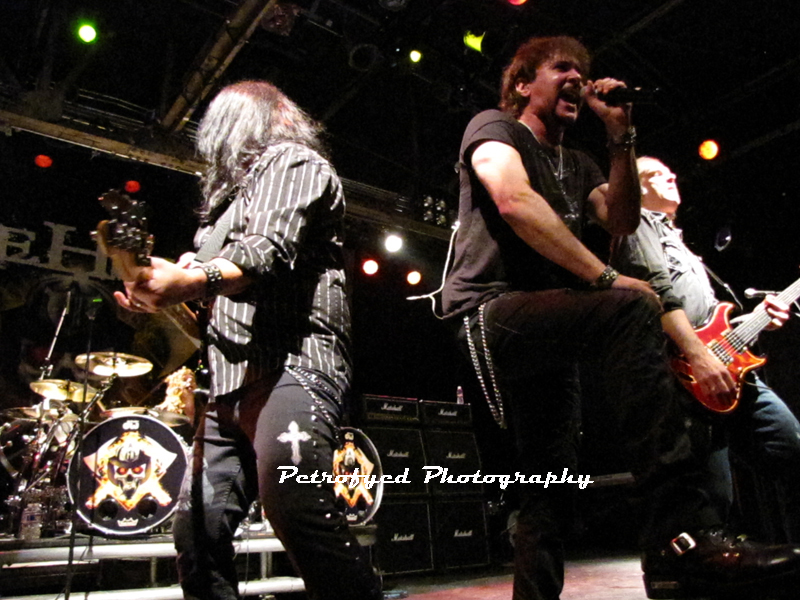 First up on the night was 90's hair rockers FIREHOUSE. It had been a number of years since they had been to H-Town and quite a large section of those attending were very much looking forward to their performance. One nice thing about this whole 'free' show was that the bands on this night all got 11-12 songs, which meant all 3 bands got to play what almost amounted to headline sets, again another bonus for those attending. Now, the show had an original start time listed of 8 pm and as such, my wife and I were having dinner at one of the eateries across the street prior to show time. As we were crossing the street at 7:50 I could hear music coming from inside the venue. They started early! Luckily, it didn't take long for us to get inside to hear FIREHOUSE kicking off their set with "Shake And Tumble" from the band's 1990 debut, self titled CD as I made my way to the photo pit. The original FIREHOUSE lineup of vocalist CJ Snare, guitarist Bill Leverty and drummer Michael Foster is largely intact save original bassist Perry Richardson, who departed the band in 2000 and was replaced several times until current bassist Allen McKenzie took over around 2004. Though the majority of their popularity is derived from the somewhat sappy ballads that have been overplayed, the band has some great rocking material, the kind that is most suited to play in a live arena environment. Great riffs with harmonious vocals and there was no shortage of this material as the band carried on with "All She Wrote" before juming to 1992's Hold Your Fire album for "You're Too Bad". Even though the band has 8 albums to their credit, their entire set consisted of material from the first 2 albums, and rightly so as these 2 were arguably their best. Of course, the aforementioned ballads would have to be included in any FIREHOUSE set and "When I Look Into Your Eyes" was the first to make an appearance.
The band still plays shows quite often and they were certainly in very tight for throughout their performance. Vocalist CJ Snare has lost little, if any of his vocal range over the past 30 years and certainly can still respectfully reach some of the higher notes, as evidenced by the opening scream in the track "Overnight Sensation". CJ also has a new band he's a part of now with FURYON guitarist Chris Green called RUBICON CROSS, which is definitely worth checking out! Guitarist Bill Leverty is a seriously underrated player, probably because of his association in this "hair" band, but he still has the chops and pulled off his solos with ease and he performed his duties effortlessly. The band rocked the house for a solid 45-50 minutes, closing out their opening slot with "Love Of A Lifetime", "Reach For The Sky" (my favorite tune) and their smash hit "Don't Treat Me Bad", which included a little segue into the chorus of the EDGAR WINTER GROUP song "Free Ride" before returning to finish off the song and their evening. From a sound and performance standpoint, FIREHOUSE was probably the most impressive band of the night.
www.firehousemusic.com
Setlist:
"Shake And Tumble"
"All She Wrote"
"You're Too Bad"
"Rock On The Radio"
"When I Look Into Your Eyes"
"Hold Your Fire"
"Don't Walk Away"
"Overnight Sensation"
"Love Of A Lifetime"
"Reach For The Sky"
"Don't Treat Me Bad"
After a fairly quick changeover, it was time for WARRANT, another band that still contains nearly all of it's original members. Vocalist Robert Mason (LYNCH MOB) has taken over for original singer Jani Lane, who tragically passed away in August of 2011. Like FIREHOUSE, WARRANT was another of those bands whose popularity largely rested on the ballads like "Heaven", "I Saw Red" and "Sometimes She Cries", but also had some nice hard rock tunes. The band hit the stage with "DRFSR (Dirty, Rotten, Filthy, Stinking Rich)", the title track from their 1989 debut release and, whether intentional or not, Mason came out sporting long, blonde locks which certainly gave him a resemblance to the late Jani Lane. With no time to breathe the band launched into another track from the DRFSR album, "Down Boys". From where we were standing there seemed to be something off a little on the sound mix as it was difficult to understand Mason's vocals and the overall sound appeared to be too loud. That's right, it was too loud, almost to the point of distortion, but whatever the issue was, it got resolved and the rest of the show went off without a hitch.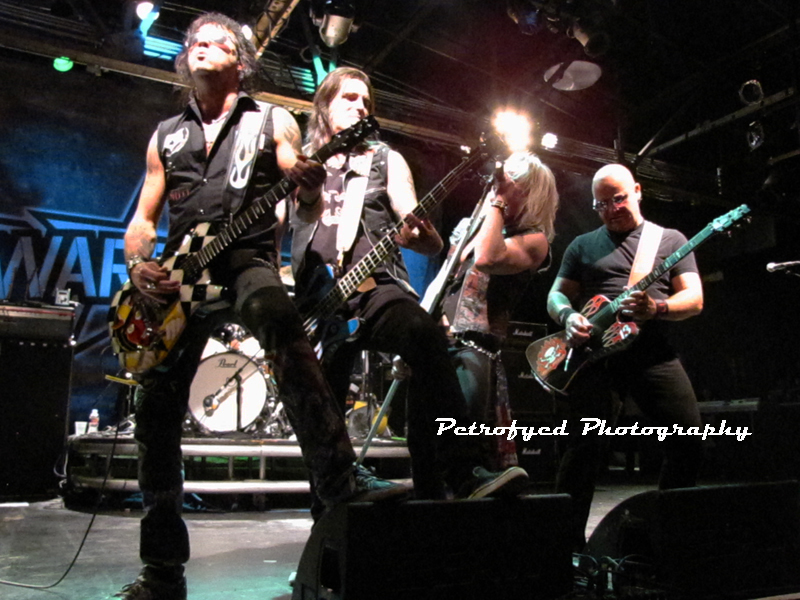 Like FIREHOUSE before them, WARRANT was in top form, the twin axe attack of Joey Allen and Erik Turner blistering up the riffs and leads while bassist Jerry Dixon and drummer Steven Sweet held down the foundation in admirable fashion. The band also relied heavily from the first 2 albums for the bulk of their set, though they did throw in 2 from their newest release and first with Mason on vocals, Rockaholic, from which they played "Last Straw" and "Sex Ain't Love". The rest of the set was comprised of such WARRANT classics as "Sometimes She Cries", "So Damn Pretty", "Bed Of Roses" and my personal favorite, "Uncle Tom's Cabin". WARRANT closed out their night with the baked-goods hit, "Cherry Pie".

www.warrantrocks.com

Setlist:
"DRFSR"
"Down Boys"
"The Last Straw"
"Sometimes She Cries"
"So Damn Pretty"
"Blind Faith"
"Sex Ain't Love"
"I Saw Red"
"Bed Of Roses"
"Heaven"
"Uncle Tom's Cabin"
"Cherry Pie"
Once again, a quick changeover and it was time for the headliner of the evening, DOKKEN. This choice of headliner left me somewhat perplexed. I'm not real sure if the folks at Blackhorse Limo had checked into DOKKEN before choosing them to be the top act of the night, but surely if they had, they might have rethought their decision. Vocalist Don Dokken has been on a downhill slide for years now and based on the number of people that left this show before the band even hit the stage certainly left the impression that those folks had either seen him in the past or at least heard by word of mouth. DOKKEN certainly is not in it's original incarnation, now comprised of bassist Sean McNabb (GREAT WHITE), guitarist/attorney Jon Levin and drummer "Wild" Mick Brown, who was not with the band the last time I saw them in 2011, as he is also the touring drummer for Ted Nugent and was out on the road with him at that time. It was a great setlist that was set to be played and the band kicked off their set with "Kiss Of Death", from the 1987 album Back For The Attack. And then Don opened his mouth to "sing". God bless him, he looks like he's still having fun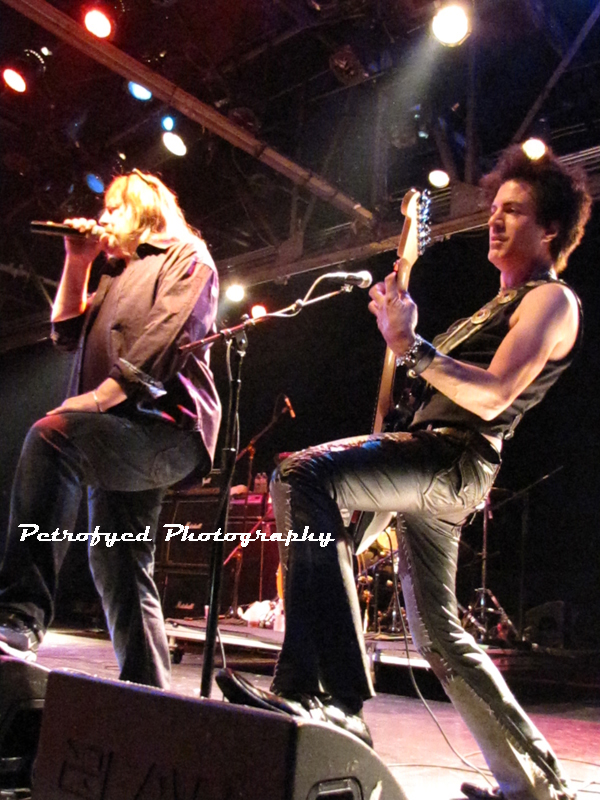 and he's trying, but it was a complete embarrassment. The man simply cannot sing anymore, let alone trying to hit any high notes that are classic to the DOKKEN catalog. He either spoke through or sang in monotone throughout their set and the people that did stay quickly realized that it was a trainwreck in the making. Don was a shell of his former self, looking more like MEATLOAF than Don Dokken. Still, the band carried on, playing a set full of the hits like "The Hunter", "Breaking The Chains", "Into The Fire" and "Tooth And Nail", that under other circumstances would have been absolutely fantastic, but fell way short. The rest of his band played admirably, though at times guitarist Levin seemed like he was trying too hard to emulate original guitarist George Lynch. Mick Brown was his wild self and bassist McNabb was spot on, but had it not been for the band's backing vocals the show would have been a total disaster. Still, it was disaster enough that we, along with many others, left about half way through the set. It was a shame, really, coming from a band that has sold over 10 million albums in their career and one has to wonder how much longer Dokken will delude himself into thinking that the band is still relevant. Still, it was a free show and I guess in some sense, you get what you pay for. A big thanks to Justin Ellerton and the folks at Blackhorse Limo for continuing to bring these great shows to Houston.

www.dokkencentral.com

Setlist:
"Kiss Of Death"
"The Hunter"
"Dream Warriors"
"Just Got Lucky"
"Breaking The Chains"
"Into The Fire"
"Heaven Comes Down"
"Alone Again"
"Too High To Fly"
"It's Not Love"
"In My Dreams"
"Tooth And Nail"
Check out some more photos from the show!
All Photos By Larry Petro




Please log in to view RANTS

If you don't have a username, click here to create an account!






BEAST IN BLACK Dark Connection

MASSACRE Resurgence

DREAM THEATER A View From The Top Of The World

JAY JAY FRENCH Twisted Business: Lessons from My Life in Rock 'N' Roll

BLACK LABEL SOCIETY, PRONG And OBITUARY In Portland, OR With Photos!

GEMINI SYNDROME 3rd Degree - The Raising

DORO/WARLOCK Triumph And Agony Live

BETWEEN WORLDS Between Worlds

ALCATRAZZ V

BEHEMOTH Sventevith (Storming Near the Baltic) Reissue

ALICE COOPER, ACE FREHLEY In Nashville, TN With Photos!

CARNIFEX Graveside Confessions

BLOOD RED THRONE Imperial Congregation

GUS G. Quantum Leap

BILLY IDOL The Roadside EP

AVATAR, MAGIC SWORD In Houston, TX With Photos!

APRIL WINE, MONKEYJUNK At The Ottawa Bluesfest

MINISTRY Moral Hygiene

CRYPTA Echoes Of The Soul

SKILLET In Houston, TX With Photos!

Immortal Axes: Guitars That Rock Book

IRON MAIDEN Senjutsu

GRINDER BLUES El Dos

GEORGE LYNCH Seamless Review #2

IN THIS MOMENT, BLACK VEIL BRIDES In Houston, TX With Photos!

WARLANDO Festival 2021 Photo Gallery

KISS In Ridgefield, WA With Photos!

LAURENNE/LOUHIMO The Reckoning

TREMONTI Marching In Time

ROCKLAHOMA 2021 Day 3 Photo Gallery

ROCKLAHOMA 2021 Day 2 Photo Gallery

ROCKLAHOMA 2021 Day 1 Photo Gallery

CARCASS Torn Arteries

SETH La Morsure de Christ