SEVENDUST, GEMINI SYNDROME Live In Cleveland, Ohio With Photos!


By Geoff Ketler, Cleveland Contributor
Friday, August 1, 2014 @ 4:56 PM


| | | |
| --- | --- | --- |
| | | Tour Kicked Off In Cleveland |
After the success of their fan-funded acoustic album Time Travelers & Bonfires and subsequent acoustic tour, SEVENDUST was ready to hit the road once again, only this time they are plugged back in. We arrived several hours before doors opened because we were scheduled to sit down with drummer Morgan Rose. Click for the interview HERE. After taking the last month off with little rehearsing or practicing the band was planning on a long sound check to tidy things up and polish up the yet to be completed setlist according to Rose. However, based on their performance, I would have been easily fooled.

Kicking things off was the Los Angeles–Based, GEMINI SYNDROME. Frontman Aaron Nordstrom (formerly of OTEP) made his way around the stage with his white hair flowing. They reminded me so much of old DISTURBED, but maybe a little less refined, which is a good thing. They have that industrial, sort of dark, grinding appeal to them. Drummer Brian Steele Medina was extremely animated, especially since his kit was spread so far out that he was clearly visible at all times. GEMINI SYNDROME ripped through song after song off of their debut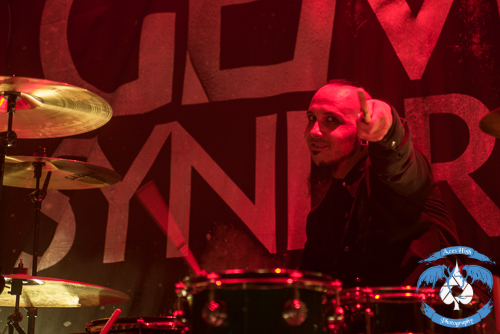 release Lux. I was happy I finally was able to catch them. They really complimented SEVENDUST and I hope to see them again in the future.
http://www.geminisyndrome.com/
Setlist:
"Lux"
"Resurrection"
"Falling Apart"
"Basement"
"Left Of Me"
"El Diablo"
"Mourning Star"
"Pay For This"
"Stardust"
"Pleasure And Pain"
Cameras in hand, I headed back into the photo pit as the lights dimmed. SEVENDUST started things off by ripping into "Pieces". Like I said before, I would have never known that the band basically showed up cold without rehearsing and just plowed right in. Even vocalist Lajon Witherspoon took notice and stopped the show at one point to turn around and tell the guys how tight they sounded. Just like riding a bike, I guess. Usually the first date of a tour means that there are kinks to iron out, but like a well-oiled machine the show went on smooth and timely. Still riding on the success of their acoustic tour, SEVENDUST decided to give us a taste by throwing in a mini, two-song, acoustic set with "Got A Feeling" and "Angel's Son", which was serenaded to Lajon by the audience. I could really see them doing a much larger acoustic set inside of their usual material, much like TESLA does. I am usually a plug in or go home kind of guy, but the acoustic material just seems to sit so well with the band and the fans; plus drummer Morgan Rose holds nothing back during the toned down songs. It was seriously the heaviest acoustic set I had ever heard live.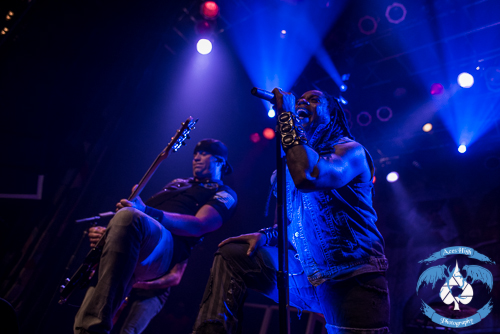 SEVENDUST finished up their set with the single "Decay" off of their latest electric release, Black Out The Sun before returning to encore with "Splinter". SEVENDUST has always been one of my favorite live acts to see. They never hold anything back and are one of the most accessible bands out there today. If this tour rolls through your town, don't miss it.
http://sevendust.com/
Setlist:
"Pieces"
"Face To Face"
"Till Death"
"Denial"
"Praise"
"Karma"
"Enemy"
"Got A Feeling"
"Angel's Son"
"Black"
"Strong Arm Broken"
"Decay"
Encore: Check out some more photos from the show!
All Photos By Geoff Ketler & Steve Keller/Aces High Photography




Please log in to view RANTS

If you don't have a username, click here to create an account!






BEAST IN BLACK Dark Connection

MASSACRE Resurgence

DREAM THEATER A View From The Top Of The World

JAY JAY FRENCH Twisted Business: Lessons from My Life in Rock 'N' Roll

BLACK LABEL SOCIETY, PRONG And OBITUARY In Portland, OR With Photos!

GEMINI SYNDROME 3rd Degree - The Raising

DORO/WARLOCK Triumph And Agony Live

BETWEEN WORLDS Between Worlds

ALCATRAZZ V

BEHEMOTH Sventevith (Storming Near the Baltic) Reissue

ALICE COOPER, ACE FREHLEY In Nashville, TN With Photos!

CARNIFEX Graveside Confessions

BLOOD RED THRONE Imperial Congregation

GUS G. Quantum Leap

BILLY IDOL The Roadside EP

AVATAR, MAGIC SWORD In Houston, TX With Photos!

APRIL WINE, MONKEYJUNK At The Ottawa Bluesfest

MINISTRY Moral Hygiene

CRYPTA Echoes Of The Soul

SKILLET In Houston, TX With Photos!

Immortal Axes: Guitars That Rock Book

IRON MAIDEN Senjutsu

GRINDER BLUES El Dos

GEORGE LYNCH Seamless Review #2

IN THIS MOMENT, BLACK VEIL BRIDES In Houston, TX With Photos!

WARLANDO Festival 2021 Photo Gallery

KISS In Ridgefield, WA With Photos!

LAURENNE/LOUHIMO The Reckoning

TREMONTI Marching In Time

ROCKLAHOMA 2021 Day 3 Photo Gallery

ROCKLAHOMA 2021 Day 2 Photo Gallery

ROCKLAHOMA 2021 Day 1 Photo Gallery

CARCASS Torn Arteries

SETH La Morsure de Christ