POP EVIL Live in Canton, Ohio With Photos!


By Geoff Ketler, Cleveland Contributor
Tuesday, August 5, 2014 @ 8:06 AM


| | | |
| --- | --- | --- |
| | | Headlining The Pro Football Hall Of Fame Festival |
Around this time every year the city of Canton is flooded with tourists, NFL stars, music and ribs. The local radio stations always bring in a mixed bag of rock, pop, and country artists to perform at the festival grounds in Stark county. I have seen numerous bands perform there; BLUE OYSTER CULT, COLLECTIVE SOUL and TOM KEIFER to name a few. This year was a little different as POP EVIL rolled into town. POP EVIL was an excellent choice in my opinion. Someone had the guts to call up a band with a harder edge rather than using the same old "safe – easy listening" bands of the past.

It was a family affair. I saw fans of all ages pile into the grandstands as we got closer to set time. I also took part in that thinking. My three-year-old son has been requesting I play "POP EAGLE" (that's how he refers to them) every single time we get in the car for over a year now. What can I say? I must be doing something right! So my wife and I decided that this was the right opportunity to introduce him to live music (with the necessary ear protection, of course).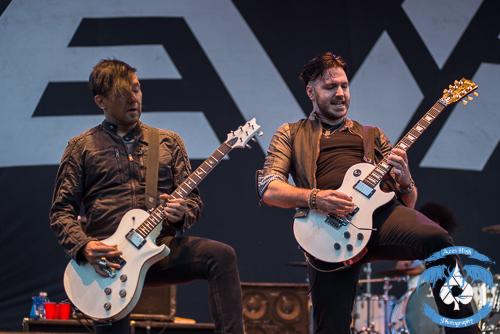 As the sun set behind us, POP EVIL took the stage with "Flawed", off of their latest release, Onyx. Onyx has produced three number one hits since its release on May 14, 2013 and has propelled the band into rock stardom. I appreciated the fact that POP EVIL elected to spread out their acoustic tunes amongst the rockers instead of lumping them altogether into a 3-4 song acoustic set. It makes the whole set flow a little easier and appeases the dynamic audience at the same time. After having the past month off, the group looked refreshed and rejuvenated. Drummer Chachi Riot lived up to his name as he pounded away on the skins. He would often stand up during certain points and tossed sticks back and forth between roadies and guitarist Nick Fuelling. Vocalist Leigh Kakaty seemed to get better and better as the night went on. During the song "Goodbye My Friend" he grabbed a security guard and asked him to take a guitar pick over to my wife who was in the front row. He then said through the microphone; "that is for your son." It was one of those moments that I will always remember. It only occurred because while I was in the middle of interviewing bassist Matt DiRito (check out the interview HERE), my wife and son were hanging out near the buses where they ran into Leigh Kakaty before the show. During the show Leigh took the time to thank the parents for bringing out their youngsters. He mentioned how passing on the torch was vital to the survival of rock n' roll.
The set continued on before concluding with their three number one singles. They first played the crowd favorite "Torn To Pieces" and then encored with "Deal With The Devil" and "Trenches". After seeing them three times in the last year POP EVIL are quickly becoming one of my favorite live acts. Whether bassist Matt DiRito is up on the monitors spinning his hair, or guitarist Dave Grahs is flipping his guitar behind his back, the band is very engaging, animated, and entertaining. What more could you ask for? Musically they are always top notch and this night wasn't any different. My only complaints were that the vocals were a little buried in the mix and Chachi's snare was muddy sounding – both things that could have been completely out of the band's hands. Be sure to catch POP EVIL later this month as they hit the road with the Uproar Festival.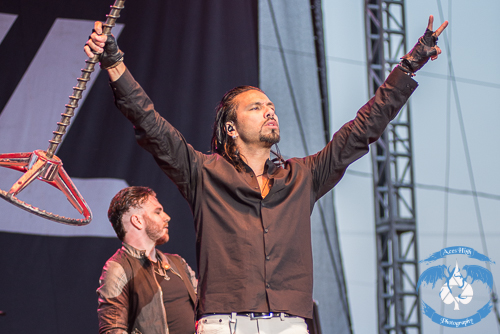 "Rock n' Roll is a lifestyle." - Leigh Kakaty
http://popevil.com/home/
https://www.facebook.com/popevil
SETLIST:
"Flawed"
"Hero"
"100 in a 55"
"Behind Closed Doors"
"Divide"
"Monster You Made"
"Boss's Daughter"
"Last Man Standing"
"Goodbye My Friend"
"Sick Sense"
"Torn To Pieces"
Encore:
"Deal With The Devil"
"Trenches"
Check out some more pics from the show!
All Photos By Geoff Ketler/Acess High Photography

Please log in to view RANTS



STRYPER The Final Battle

TALAS 1985

QUEENSRYCHE Digital Noise Alliance

MOTÖRHEAD Iron Fist 40th Anniversary Edition

TESLA, KURT DEIMER In Houston, TX With Photos!

CLUTCH Sunrise On Slaughter Beach

SCORPIONS, THUNDERMOTHER In Houston, TX With Photos!

BEHEMOTH Opvs Contra Natvram

IRON MAIDEN, TRIVIUM In Austin, TX With Photos!

AEROSMITH, EXTREME In Boston, MA With Photos!

SAMMY HAGAR, GEORGE THOROGOOD, QUEENSRYCHE In Ridgefield, WA With Photos!

KINGS OF MERCIA Kings of Mercia

OZZY OSBOURNE Patient Number 9 In-Store Record Signing In Long Beach

ALICE IN CHAINS, BREAKING BENJAMIN, BUSH, THUNDERPUSSY In Ridgefield, WA With Photos!

GOATWHORE, INCANTATION, BEWITCHER In Los Angeles With Photos!

SKID ROW The Gang's All Here

FALLUJAH Empyrean

FIVE FINGER DEATH PUNCH, MEGADETH, THE HU, FIRE FROM THE GODS In Houston, TX With Photos!

DEICIDE, KATAKLYSM, INHUMAN CONDITION In Los Angeles With Photos!

KING'S X Three Sides Of One

BLIND GUARDIAN The God Machine

BUTCHER BABIES, UNCURED In Los Angeles

STYX, REO SPEEDWAGON, LOVERBOY In Mansfield, MA With Photos!

AT THE GATES, MUNICIPAL WASTE In Los Angeles With Photos!

OCEANS OF SLUMBER Starlight and Ash

A-Z A-Z

MACHINE HEAD ØF KINGDØM AND CRØWN

MY CHEMICAL ROMANCE In Nashville, TN With Photos!

BELPHEGOR The Devils

THE DEAD DAISIES Radiance

SANTA CRUZ The Return Of The Kings

THE STADIUM TOUR In Houston Photo Gallery