POP EVIL Live in Canton, Ohio With Photos!


By Geoff Ketler, Cleveland Contributor
Tuesday, August 5, 2014 @ 8:06 AM


| | | |
| --- | --- | --- |
| | | Headlining The Pro Football Hall Of Fame Festival |
Around this time every year the city of Canton is flooded with tourists, NFL stars, music and ribs. The local radio stations always bring in a mixed bag of rock, pop, and country artists to perform at the festival grounds in Stark county. I have seen numerous bands perform there; BLUE OYSTER CULT, COLLECTIVE SOUL and TOM KEIFER to name a few. This year was a little different as POP EVIL rolled into town. POP EVIL was an excellent choice in my opinion. Someone had the guts to call up a band with a harder edge rather than using the same old "safe – easy listening" bands of the past.

It was a family affair. I saw fans of all ages pile into the grandstands as we got closer to set time. I also took part in that thinking. My three-year-old son has been requesting I play "POP EAGLE" (that's how he refers to them) every single time we get in the car for over a year now. What can I say? I must be doing something right! So my wife and I decided that this was the right opportunity to introduce him to live music (with the necessary ear protection, of course).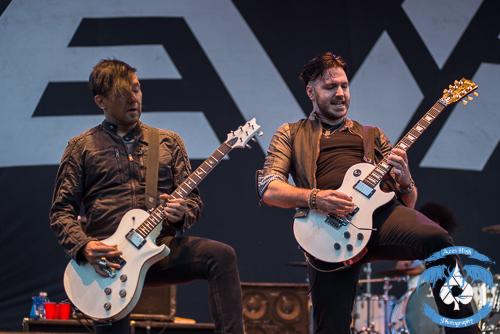 As the sun set behind us, POP EVIL took the stage with "Flawed", off of their latest release, Onyx. Onyx has produced three number one hits since its release on May 14, 2013 and has propelled the band into rock stardom. I appreciated the fact that POP EVIL elected to spread out their acoustic tunes amongst the rockers instead of lumping them altogether into a 3-4 song acoustic set. It makes the whole set flow a little easier and appeases the dynamic audience at the same time. After having the past month off, the group looked refreshed and rejuvenated. Drummer Chachi Riot lived up to his name as he pounded away on the skins. He would often stand up during certain points and tossed sticks back and forth between roadies and guitarist Nick Fuelling. Vocalist Leigh Kakaty seemed to get better and better as the night went on. During the song "Goodbye My Friend" he grabbed a security guard and asked him to take a guitar pick over to my wife who was in the front row. He then said through the microphone; "that is for your son." It was one of those moments that I will always remember. It only occurred because while I was in the middle of interviewing bassist Matt DiRito (check out the interview HERE), my wife and son were hanging out near the buses where they ran into Leigh Kakaty before the show. During the show Leigh took the time to thank the parents for bringing out their youngsters. He mentioned how passing on the torch was vital to the survival of rock n' roll.
The set continued on before concluding with their three number one singles. They first played the crowd favorite "Torn To Pieces" and then encored with "Deal With The Devil" and "Trenches". After seeing them three times in the last year POP EVIL are quickly becoming one of my favorite live acts. Whether bassist Matt DiRito is up on the monitors spinning his hair, or guitarist Dave Grahs is flipping his guitar behind his back, the band is very engaging, animated, and entertaining. What more could you ask for? Musically they are always top notch and this night wasn't any different. My only complaints were that the vocals were a little buried in the mix and Chachi's snare was muddy sounding – both things that could have been completely out of the band's hands. Be sure to catch POP EVIL later this month as they hit the road with the Uproar Festival.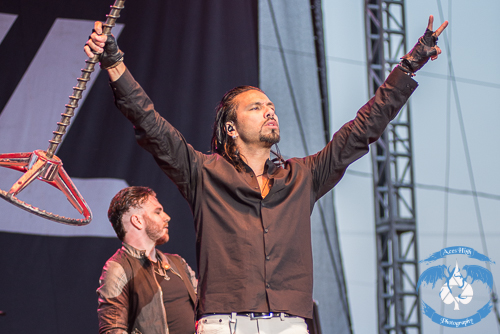 "Rock n' Roll is a lifestyle." - Leigh Kakaty
http://popevil.com/home/
https://www.facebook.com/popevil
SETLIST:
"Flawed"
"Hero"
"100 in a 55"
"Behind Closed Doors"
"Divide"
"Monster You Made"
"Boss's Daughter"
"Last Man Standing"
"Goodbye My Friend"
"Sick Sense"
"Torn To Pieces"
Encore:
"Deal With The Devil"
"Trenches"
Check out some more pics from the show!
All Photos By Geoff Ketler/Acess High Photography




Please log in to view RANTS

If you don't have a username, click here to create an account!






ALICE COOPER In Houston Photo Gallery

ICARUS WITCH Goodbye Cruel World

TARJA, STRATOVARIUS, SERPENTYNE In Cologne, Germany

CLUTCH, SEVENDUST, TYLER BRYANT & THE SHAKEDOWN In Portland, OR With Photos!

ACCEPT In Houston, TX With Photos!

U.D.O. Steelfactory

SKULL FIST Way Of The Road

SOULFLY Ritual

ANTHRAX State of Euphoria 30th Anniversary Deluxe Edition

FIFTH ANGEL The Third Secret

STEVE GRIMMETT'S GRIM REAPER In New Bedford, MA

ANAAL NATHRAKH A New Kind of Horror

PRIMAL FEAR Apocalypse

BEHEMOTH I Loved You At Your Darkest

DORO Forever Warriors, Forever United

SLASH FEATURING MYLES KENNEDY AND THE CONSPIRATORS In Houston, TX Photo Gallery

BILLY MORRIS AND THE SUNSET STRIP Holdin' All The Aces

VINCE NEIL In Houston, TX Photo Gallery

DEE SNIDER For The Love Of Metal

UNLEASH THE ARCHERS, STRIKER, HELION PRIME In Houston, TX W/Photos!

CLUTCH, SEVENDUST In Houston, TX

KING KOBRA Sweden Rock Live

DREAM CHILD Until Death Do We Meet Again

SCORPIONS, QUEENSRYCHE In Tampa, FL With Photos!

HUMBLE PIE Live At The Ottawa CityFolk Festival

BEHEMOTH Album Listening Party In Los Angeles For I Loved You At Your Darkest

THE DEAD DAISIES, HOOKERS 'N BLOW In Ottawa, Canada With Photos!

DRAGONLORD Dominion

STONE BROKEN Ain't Always Easy

BRANT BJORK Mankind Woman

KORPIKLAANI Kulkija

BRAINSTORM Midnight Ghost

SLEAZY WAY OUT, INSUFFICIENT FUNDS In Ottawa, Canada

DEEP PURPLE, JUDAS PRIEST In Jacksonville, FL W/Photos!

HELLOWEEN In Worcester, MA With Photos!

RED TIGER Evolution

ALTER BRIDGE Live At The Royal Albert Hall Featuring The Parrallax Orchestra

CLUTCH Book Of Bad Decisions

ANGRA In Winter Park, FL With Photos!

TALES FROM THE PORN H.M.M.V.

CARRY THE STORM i/E

PIG DESTROYER Head Cage

SAXON Strong Arm Of The Law Reissue

THE DEAD DAISIES In Houston, TX Photo Gallery

ALICE IN CHAINS, BUSH, THE CULT, STONE TEMPLE PILOTS In Ridgefield, WA W/Photos!

SUICIDAL TENDENCIES STill Cyco Punk After All These Years

OPERATION:MINDCRIME, TILL DEATH DO US PART In Portland, OR With Photos!

TNT XIII

DC4 Atomic Highway

CAL JAM '18 POP UP In Los Angeles With Photos!

SLAYER, LAMB OF GOD, ANNTHRAX, TESTAMENT And NAPALM DEATH In Ridgefield, WA With Photos!

JIZZY PEARL OF LOVE/HATE All You Need Is Soul

NIGHT DEMON Live Darkness

RAVENSCROFT Rebel

NASHVILLE PUSSY Pleased To Eat You

QUIET RIOT In Houston Photo Gallery

WARRANT, STEELHEART In Houston Photo Gallery