LIZZY BORDEN Live In Houston, Texas With Photos!


By Larry Petro, News Monkey
Wednesday, August 20, 2014 @ 6:37 AM


| | | |
| --- | --- | --- |
| | | Shock Rockers Swing Through Texas To Give 'Em The Axe |
80's rockers LIZZY BORDEN have been out on the road celebrating the band's 30th anniversary for about a year now and as part of that celebration the Master Of Disguise, Lizzy Borden, and his band of miscreants from the Appointment With Death lineup, bassist Marten Andersson, drummer Joey Scott and returning guitarist Ira Black (who replaced guitar prodigy Dario Lorina when he joined BLACK LABEL SOCIETY) brought their American Metal road show to the Concert Pub North on August 15, 2014. Having slaughtered the crowd the night before in Fort Worth, it was now Houston's turn to be ruled with a Rod Of Iron. Their last appearance in Houston 6 years ago was somewhat of a clusterfuck as they were set to open for LORDI at the House Of Blues when that band allegedly arrived into town too late to properly 'prepare' for the show and they cancelled, which left LIZZY BORDEN scrambling to find an alternate location. They ended up playing at a local strip club, DB Coopers, on the north side of town, but unfortunately not enough word got around and there were only about 10-15 people in attendence. A few of us that were there actually helped the band load all their gear up to the second floor of the establishment where they played on a tiny ass 'stage' in the corner of the upstairs sports bar. We were treated to a basically private, shortened set (about 30 minutes) before helping load out their gear once again. Hopefully things would be better this time around, and they were.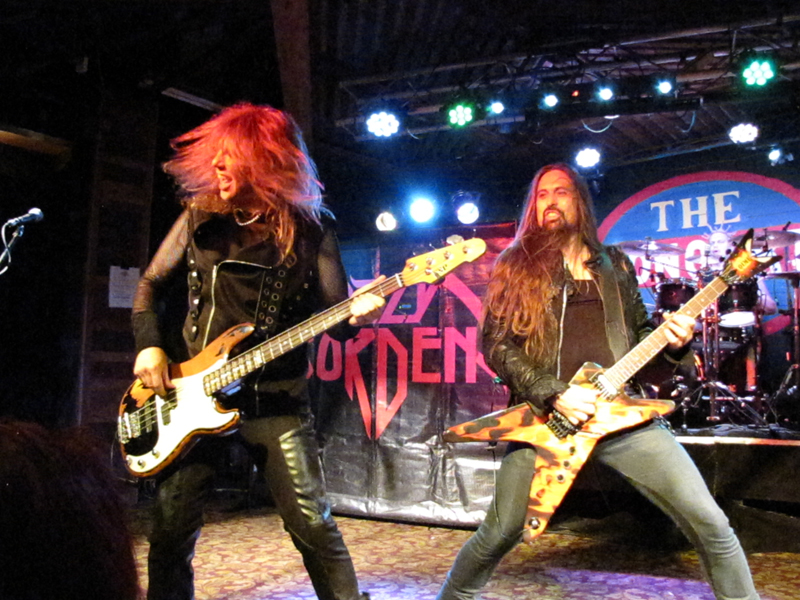 Getting things started this night were 3 local openers, AMONG SILENCE, NOCTURNAL MADDNESS and APOCALYPTIC. All of these bands provided great hard rock sets but the one that caught my attention was the first band, AMONG SILENCE. Comprised of what could only be described as youngsters who didn't look much older than 21, if that, they displayed a lot of poise and talent and definitely got he crowd rocking early. NOCTURNAL MADDNESS and APOCALYPTIC followed up with solid sets of their own and by the time LIZZY BORDEN took the stage the crowd was ready to rock!
LIZZY BORDEN was slated to begin at 11:30 but due to unknown delays the band didn't actually start until around midnight, a circumstance that would factor in to the band's after show meet and greet later on. It had been announced weeks prior to the show that LIZZY BORDEN would be bringing their 'full stage show' with them to this performance but given the fact that they were playing in a club as opposed to a European stadium or festival, one had to wonder how much the 'full' meant.
Lizzy and company jettisoned into their hour+ set with the classic song "Master Of Disguise", the title track from the iconic 1989 album. Frontman and band namessake Lizzy Borden strolled out sporting a torn bloodstained spandex outfit and a mask that appeared to show 3 faces, one of many wardrobe changes on the night. The band dug way back in the catalog as metal onslaught continued with "Notorious" from 1986's Menace To Society, then back to Master Of Disguise once more for "Roll Over And Play Dead". It was American born metal at its finest on display as they rolled through hit after hit like "Rod Of Iron" and "Eyes Of A Stranger" before taking a brief breather so Marten Andersson could take center stage and show the crowd why he's one of the masters of the 4 string.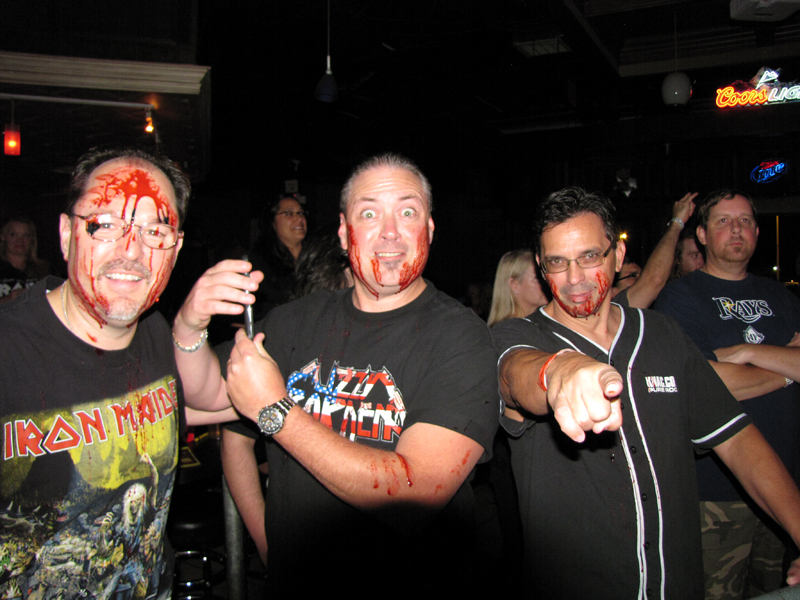 The bass solo led straight into a pair of tracks from the band's most recent offering, 2007's Appointment With Death, cranking out the absolutely kick ass track "Tomorrow Never Comes" followed by "Under Your Skin". When one of the road crew handed Lizzy a large vessel and skull mask the crowd knew what was coming next, "There Will Be Blood Tonight". Lizzy hopped down off the stage into the barricaded 'VIP' area of the crowd and proceeded to smear 'blood' on the faces of all those within reach as he belted out the lyrics. Yours truly escaped the bloodbath mostly unscathed, most probably due to the fact that I was shooting pics of the 'festivities'.
Guitarist Ira Black took the spotlight next for a blistering solo. How he can manage to play like he does with all that hair is beyond me. From there it was back to the metal classics that made LIZZY BORDEN famous, the anthemic "Me Against The World" and yet another costume change, this time Lizzy being draped in an American flag for, you guessed it, "American Metal" and the set closer, "Red Rum". The band left the stage only to return a short time later for two encores that were preceded by a Joey Scott drum solo, probably the only time I have ever seen encores begin with such a thing. Lizzy wielded an axe to finish the metal pummeling of the crowd with "Give 'Em The Axe" and then closed the night with their version of the STEPPENWOLF track "Born To Be Wild".
LIZZY BORDEN went on the next night to slay San Antonio in their final Texas date. It was a real treat to catch these guys live again and very refreshing to see that they still carry the torch of American heavy metal. Thanks to Lizzy and the guys for the Texas Metal Massacre!
Setlist:
"Master Of Disguise"
"Notorious"
"Roll Over And Play Dead"
"Rod of Iron"
"Eyes of a Stranger"
Bass Solo
"Tomorrow Never Comes"
"Under Your Skin"
"There Will Be Blood Tonight"
Guitar Solo
"Me Against The World "
"American Metal"
"Red Rum"
Encore:
Drum Solo
"Give 'em The Axe"
"Born To Be Wild"
Check out some more pics from the show!
All Photos By Larry Petro




Please log in to view RANTS

If you don't have a username, click here to create an account!