Finland-based symphonic metal storytellers NIGHTWISH are pleased to announce a VERY prestigious show at the internationally renowned Greek Theatre in Los Angeles (known for hosting artists such as Robert Plant, Ringo Starr, Elton John, Paul Simon and the TALKING HEADS) this upcoming May 1st, 2015.

Equal parts cinematic storytelling and gothic symphonics, NIGHTWISH continue to expand the breadth and scope of their artistic vision with each successive studio release. With more than 7 million albums sold worldwide and over 60 Gold and Platinum awards, the keyboard-driven compositions by band leader & song composer Tuomas Holopainen surpass that of some of the most dynamic film scores and work brilliantly alongside the band's engaging and electrifying Dutch frontwoman Floor Jansen. All told, this will be an absolutely electrifying performance and is an evening under the stars not to be missed.

Checking in from Europe's Land of a Thousand Lakes, NIGHTWISH vocalist Floor Jansen shares her thoughts on the special upcoming L.A. show:

"It's a great honor for NIGHTWISH to play in this legendary theatre! A fantastic location that will surely enhance the magic of the music. We can't wait to start touring with this new album we're recording now! New and old songs, it will be special to play them live at this amazing place."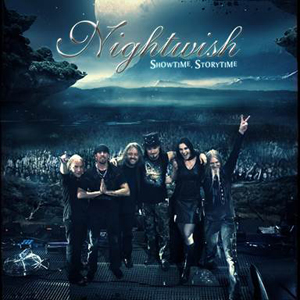 VIP Meet & Greet tickets (which includes early entry + an official tour program) for this very special night at the Greek Theatre go on sale exclusively today at EnterTheVault.com.
On September 12th, tickets will be available via Ticketmaster.com.
NIGHTWISH are currently recording demos with producer Tero "TeeCee" Kinnumen for their as-yet-untitled eighth studio album featuring new frontwoman Floor Jansen. Longtime drummer Jukka Nevalainen will sit out on the recording sessions due to health issues; Kai Hahto (WINTERSUN, SWALLOW THE SUN, TREES OF ETERNITY) will replace him.
Follow the band's progress on the Nuclear Blast YouTube channel right HERE.
Last December, Nuclear Blast released NIGHTWISH's live Blu-ray/DVD & tour documentary Showtime, Storytime containing the band's entire live Wacken Open Air Festival 2013 set + a 2-hour documentary that includes "Please Learn The Setlist In 48 Hours". Directed by Ville Lipiäinen (30 SECONDS TO MARS, HIM), it was shot with seventeen cameras in front of 85,000 fans.