Motörhead's Motörboat regrets to announce that thrash metal trailblazers MEGADETH have been forced to withdraw from the September 22-26 cruise due to medical reasons. Heavy metal all-star band METAL ALLEGIANCE – including MEGADETH's David Ellefson and Chris Broderick – has been added to the Motörhead's Motörboat music lineup.

METAL ALLEGIANCE promises Motörboaters the rare opportunity to see a diverse group of metal legends interacting and performing together on the same stage. Singers Philip Anselmo (DOWN, ex-PANTERA), Joey Belladonna (ANTHRAX) and Chuck Billy (TESTAMENT), guitarists Chris Broderick (MEGADETH), Jon Donais (ANTHRAX, SHADOWS FALL), Scott Ian (ANTHRAX), Mark Zavon (KILL DEVIL HILL), bassists Frank Bello (ANTHRAX), Rex Brown (KILL DEVIL HILL, ex-PANTERA) and David Ellefson (MEGADETH) and drummers Charlie Benante (ANTHRAX) and Mike Portnoy (THE WINERY DOGS, ex-DREAM THEATER) will put their spin on a scorching set of heavy metal's most influential and recognizable songs. For more details on METAL ALLEGIANCE, visit:

https://www.facebook.com/metalallegiancetour
https://twitter.com/metalallegiance
http://instagram.com/metalallegiance

MEGADETH issued the following statement about their unfortunate cancellation: "Due to complications arising from a previous cervical spine surgery, and upon his doctor's strict recommendations, Dave Mustaine has cancelled all performances for the next 8 weeks. With rest and treatment, he is expected to recover and resume performing soon. The band was looking forward to the concerts and cruise, and is disappointed that they will not be able to see their fans. MEGADETH expects to return to the road and will see their fans soon!"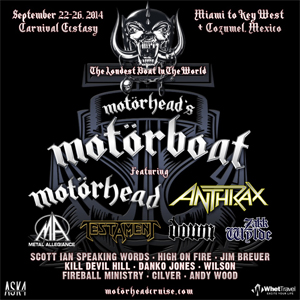 "You can't replace a band like MEGADETH, who have done so much to change the landscape of heavy music over the past 30 years. We wish Dave Mustaine all the best in his recovery," says event producer Alan Koenig of ASK4 Entertainment. "But we're excited that MEGADETH's David Ellefson and Chris Broderick will still be joining us. The whole reason to do these music cruises is to give fans an experience that they can't get anywhere else – and bringing METAL ALLEGIANCE onboard with metal's most loyal fans fits that bill."
MEGADETH's David Ellefson comments, "I'm really looking forward to being together with our friends and fans on Motörboat. METAL ALLEGIANCE is a great way to continue our brotherhood of all things metal."
"I always love getting together with my brothers and throwing down. The ALLEGIANCE jam is sure to be the best jam I've been involved with yet," says Philip Anselmo.
Rex Brown of KILL DEVIL HILL says, "We have jammed at some big metal events in the past, but METAL ALLEGIANCE is gonna blow EVERYONE on the Motörboat cruise right out of the water!!! Let her rip!"
Mike Portnoy agrees: "I've been honored to have been part of some previous metal jams over the years and there's something very special and (Goddamn) electric that happens when you put this group of guys together in a room or on a stage. Myself and my brothers in metal on the Motörboat are metal lovers through and through and we love to get together to jam, have fun and pay tribute to the music that we all love so much."
A limited number of cabins are still available for Motörhead's Motörboat at www.MotorheadCruise.com.