Wanna be in AC/DC's new music video? The Aussies are offering their fans just that chance.

A message from states: "UK Fans - Will you be in Central London Saturday, October 4th from noon to midnight? Want to be part of the next AC/DC music video? If so, enter for a chance to be a part of the shoot at: http://sweeps.acdc.com/. No transportation to London will be provided. All entrants MUST be able to be in London by 12 PM, October 4th."

Columbia Records has announced the North American release of Rock Or Bust, the highly anticipated new studio album from AC/DC, available December 2nd. The album will be released in the band's homeland, Australia, on November 28th.

Rock Or Bust is the band's first studio album in six years and features 11 new tracks. Rock Or Bust follows the immensely successful Black Ice album, which debuted at #1 in 31 countries upon its release in 2008 and has gone on to sell nearly 8 million copies worldwide. Rock Or Bust was recorded in spring 2014 at Warehouse Studio in Vancouver, BC and finds AC/DC once again working with producer Brendan O'Brien and mixer Mike Fraser.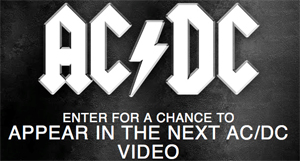 Starting September 27th, Turner Sports will provide fans a sneak peek of the new track "Play Ball" as part of the 2014 Major League Baseball Postseason campaign. The content will run for several weeks across TBS, the exclusive home to this year's American League Postseason coverage, as well as leading media brands within the Turner portfolio.
A sample of "Play Ball" can be heard below, in the post-season promotional trailer for TBS' American League baseball playoff coverage.
Rock Or Bust is the first AC/DC album in the band's 41 year history without founding member Malcolm Young on the recordings.
Rock Or Bust Tracklisting:
"Play Ball"
"Sign Of The Times"
"Ain't The Way"
"Rock Or Bust"
"Done Her Good"
"Steal My Meal"
"Watching Games"
"Cardhouse Blues"
"Bulletride"
"Rumble"
"Back In The Zone"
AC/DC will undertake a world tour in support of Rock Or Bust in 2015. Stevie Young, nephew of founding members Angus and Malcolm Young, plays rhythm guitar on Rock Or Bust and will accompany the band on tour.