STEELHEART Live In Houston, Texas With Photos!


By Larry Petro, News Monkey
Saturday, November 1, 2014 @ 12:28 AM


| | | |
| --- | --- | --- |
| | | First Performance In The Bayou City In 25 Years |
Rocktober shaped up to be quite a musical month for citizens of Houston, Texas. The month had such a plethora of acts to choose from, there was sure to be something for everyone. For hard rock fans this was especially true. Bands coming through during October included MOTLEY CRUE, LITA FORD, HELLION, SALIVA, THE FOUNDRY, GWAR, AMARANTHE and STEELHEART, just to name but a few off of the top of my head.

The weekend of Friday, October 10th kicked things off for me, with the STEELHEART show on Friday and LITA FORD on Sunday. Sandwiched in between the two on Saturday was the MOTLEY CRUE Final Tour, but I had to forego that show because it also happened to be the day my youngest son was getting married. Still, it was a very busy weekend nonetheless.

Those of you that remember STEELHEART probably only remember them as one of the multitudes of "hair bands" theat proliferated the music scene in the 80's and early 90's. The band's biggest hit during that time was "I'll Never Let You Go (Angel Eyes)", a power ballad that every band of that era seemed to have as a requirment on any of their albums that got released. Following a couple of album releases, a severe onstage accident in 1992 and a brief hiatus, the band reemerged again in '96 with another album, a couple more releases in the 2000's and a seemingly endless revolving door of lineup changes, bringing us to this show in 2014.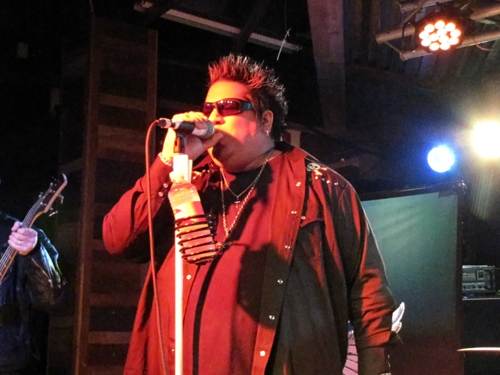 The main support act for this show was local heroes TAME FURY, a band that has been on the Houston circuit for a while now and have been tapped for more than their share of opening slots for national acts that have come through. This night was doubly special for them as they got to open for one of their favorite bands (at least for a couple of the band members), but also because it was the release party for their official debut EP, Taste Of Fury, a review for which you'll be reading about soon here on KNAC.COM. In very typical fashion the guys played a very solid, enthusiastic set, including all the songs from their EP like "Hell No", "Leave It All Behind", "Let It Go" and "Time To Rock". Frontman Michael McVey was his ever cocky, er confident self (just kidding, love ya bro!), guitarist Mark Banskton was ripping off great solos, while bassist Troy Cummins and drummer Phred Williams held down the foundation. And if you ever get to catch these guys live, Williams is a whole source of entertainment unto himself. Between his actions and facial expressions while playing, he makes the band's set thta much more enjoyable.
www.reverbnation.com/tamefury9
www.facebook.com/tamefurymusic
Next Up was STEELHEART. Now, let's be honest here and admit that this band in 2014 is really just the Miljenko Matijevic Project since he's the only remaining member from the initial heyday of the band, but he is the one to use the STEELHEART name. As mentioned earlier, the band has been a revolving door of sorts for its members and the current lineup consists of vocalist Matijevic, guitarist (for the 3rd time now) Uros Raskovski, drummer Mike Humbert and bassist Rev Jones, who is quite the journeyman himself, having played with more bands than I have fingers, most notably playing in MOUNTAIN, MICHAEL SCHENKER GROUP, BLACK SYMPHONY and KOTTAK. According to my sources, STEELHEART had not played Houston since 1989, a fact which probably added more than a few members to the large crowd that has assembled for the show, yours truly included. Cross another one off the bucket list.
One thing Miljenko was known for was his wide vocal range and his ability to hit the high notes (again, think "I'll Never Let You Go" song). If there was any doubt whether or not he still had it after all these years, it was erased handily as the band launched into their set with "Blood Pollution", a track you may remember from the 2001 Mark Wahlberg film Rock Star. A fun fact is that Miljenko wrote a number of songs for that film, with at least 3 of them actually being used. In addition, he also was the voice for most if not all of the STEEL DRAGON tunes in the movie. "Blood Pollution" was a killer song to open with and it definitely grabbed everyone's attention and set the energy tone for the rest of the set.
The band went back to the first, self-titled debut album next for the song "Gimme, Gimme", and they were off and running. The remaining 10 songs of the set were a pretty good cross section of the band's material, with a good 1/4 of the set devoted to STEELHEART/STEEL DRAGON material from the Rock Star flick, a fact that no one in attendence seemed to mind (I personally loved the music from the soundtrack, so it was fine with me). The band played two LED ZEPPELIN covers, "Black Dog" and "Immigrant Song" as well as other STEELHEART classics like "Cabernet", "Everybody Love Eileen", "She's Gone" and, of course, the band's best remembered hit, "I'll Never Let You Go (Angel Eyes)". Vocalist Miljenko showed his vocal prowess throughout the set, including "Angel Eyes" and it's myriad of high notes and he nailed them all with virtual ease, though it was just a bit disappointing to learn after the fact that some backing vocal tracks were piped in through the PA system, something I felt was unneeded as his voice sounded as great as it always had.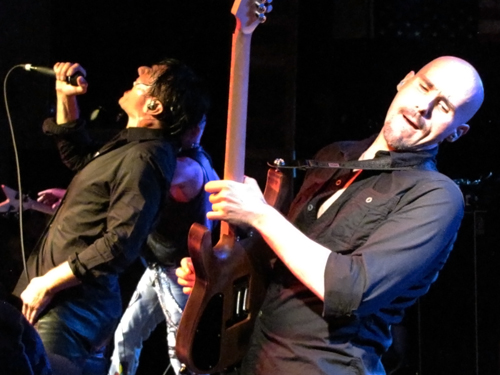 Nonetheless, the band was having a great time and other than a minor sound glitch around the midway point, the show went off without any major hitches. Bassist Rev Jones is a pleasure to watch play and has actually played in Houston already this year with Michael Schenker. I had perused the STEELHEART website prior to the performance to familiarize myself with the current lineup and it appeared that original guitarist Chris Risola had rejoined the band, but when they hit the stage, the guy playing guitar didn't really look like Chris, but then again I thought, maybe he just cut all his hair off. In a total gaffe on my part, after the show as they were doing a meet and greet, I called him Chris, but then would later find out that Chris had evidently left the band again sometime recently (it had to be recently because Chris' picture was still on the band's official website) and was replaced by another returning member, Uros Raskovski. Sorry Uros, my bad, you should have corrected me!
As previously noted, they did include several other STEEL DRAGON tunes in the set such as "Living The Life" and "Stand Up" before finishing their night with the song "We All Die Young", another track from the movie which in reality was a STEELHEART song, appearing on the 1996 release, Wait. It was nice to finally catch this band live and hopefully it won't be another 25 years before they come back to Houston.
www.steelheart.com
www.facebook.com/officialsteelheart
www.facebook.com/milispage
Setlist:
"Blood Pollution" (STEEL DRAGON)
"Gimme Gimme"
"Living The Life" (STEEL DRAGON)
"Black Dog" (LED ZEPPELIN Cover)
"Immigrant Song" (LED ZEPPELIN Cover)
"Cabernet"
"Buried Unkind"
"Stand Up" (STEEL DRAGON)
"I'll Never Let You Go (Angel Eyes)"
"Everybody Loves Eileen"
"She's Gone"
"We All Die Young" (STEELHEART/STEEL DRAGON)
Check out some photos from the show!
All Photos By Larry Petro




Please log in to view RANTS

If you don't have a username, click here to create an account!