GUNS N' ROSES Biography Being Made Into A Movie


By Larry Petro, News Monkey
Monday, November 17, 2014 @ 4:10 PM


| | | |
| --- | --- | --- |
| | | Reckless Road: Guns N' Roses And The Making Of Appetite For Destruction |
The GUNS N' ROSES BIOGRAPHY Reckless Road: Guns N' Roses And The Making Of Appetite For Destruction, which was released in 2012 and authored by Marc Canter, is being made into a movie. Cantor confirmed this in a series of posts in the fan forum on the unofficial GUNS N' ROSES site MyGNRForum.com.

Canter offers up some details, including that the film is not a documentary:

"It's been on the works for about 4 months.

If I'm involved in a GUNS N' ROSES project, then you know I have their backs. There is a great story about the birth of the band which I was very much involved in. This has nothing to do with where the band is today. The history is very important and that's why Axl was the one who was most supportive of me documenting what they were doing when thay first started out. The people I'm working with are the best ones to do this project. There is so much detail in the way it all came together that tells the killer rock n' roll story of the best band around. Why hide it? I have all the resources to help make it right.

I'm not making the movie. The book Reckless Road is being made into a movie by people that will do it right. No short cuts, it will be very detailed. I do have a big say so on the script which is still being put together now but so far looking cool. I am going to see that everyone in the cast is doing their job and doing justice to the band. Since I was there, I know what the dialogue was between the band for many of the events that took place. When you find out who is making the movie, you will then understand that it will be very cool. I'm proud of all the hard work that was put into this project and it's just going to KICK ASS! In no way will it be a cheesy movie like Rock Star. There really is such a great story here that even the outtakes will be great.

No one has been cast at this point but I would expect to see a few A list people in the cast. Just working on the perfect script. Then they will move on to the next step and yes, it will bring in a whole new slew of fans and sell a shitload of records for the band. Also the band will do well on the music used for the movie."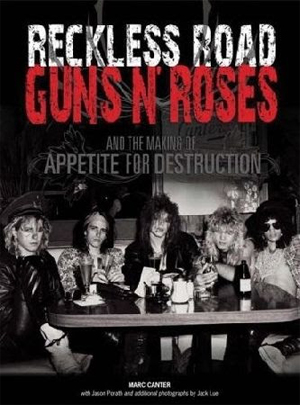 Marc Canter is an amateur photographer and the owner and general manager of the legendary rock 'n' roll hangout, Canter's Deli, in Los Angeles, California. He has been friends with Slash for over 34 years and, has had unlimited access to the formative years of one of the greatest rock bands of all time, GUNS N' ROSES. An avid collector, Canter is proud and excited to share his memories with the public for the first time. When teenager and amateur photographer Marc Canter set out to document his best friend Saul Hudson's rise as a rock guitarist in 1982, he never imagined he was documenting the genesis of the next great rock 'n' roll band. His friend became the legendary guitarist Slash, and Canter found himself witnessing the creation of GUNS N' ROSES front and center.
The candid shots contained in Reckless Road, taken as the band toured in 1985-1987 and made the legendary album Appetite For Destruction, capture their raw, blood-sweat-and-tears performances as well as their intimate moments. Containing original gig memorabilia including show flyers, ticket stubs, set lists, press clippings, and handwritten lyrics as well as in-depth interviews with band members and the people closest to them, Reckless Road offers an explicit, first-person perspective readers won't find anywhere else.




Please log in to view RANTS

If you don't have a username, click here to create an account!