RED DRAGON CARTEL With THE ETHAN BROSH BAND Live In Cleveland, Ohio With Photos!


By Geoff Ketler, Cleveland Contributor
Wednesday, December 24, 2014 @ 2:16 AM


| | | |
| --- | --- | --- |
| | | |
After a short run of dates earlier in the year and the release of their debut album, RED DRAGON CARTEL - the new band formed by legendary guitarist Jake E. Lee, was finally coming to Cleveland. Everyone knows the history; the time spent in Ozzy's band, subsequent firing by Sharon Osbourne and the eventual formation of BADLANDS, but since the mid-90's Jake had been laying-low, occasionally releasing solo material or collaborating on albums here and there. So I headed north, braving the ice storm, simply because this was an opportunity that I could not miss. Who knows…it could be another twenty-years before this chance comes around again.

Touring mates THE ETHAN BROSH BAND opened the show. The Israeli-born guitar virtuoso, Ethan Brosh wowed the small crowd. The four-piece only sported vocals from 19-year-old drummer Dan Whitelock on a handful of songs, including a cover of WHITESNAKE's "Is This Love?". Otherwise it was a constant barrage of ripping solos commanded by Ethan Brosh almost effortlessly. If it were possible for George Lynch and Yngwie Malmsteen to procreate, I'd imagine their offspring would be much like Ethan Brosh. The former student and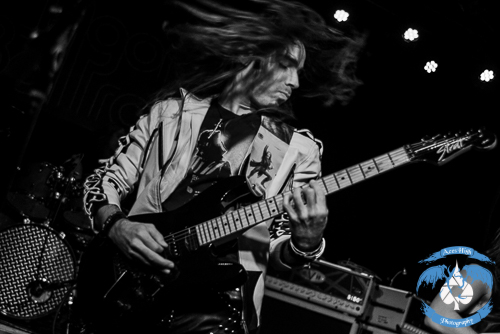 teacher at the Berklee College of Music put on a clinic for those in attendance. I know he caught my attention. Although the WHITESNAKE cover seemed really out of place, the rest of the set was tight and captivating.
https://www.facebook.com/pages/Ethan-Brosh/88968151778
After a swift set change it was time for the great Jake E Lee and RED DRAGON CARTEL. The set kicked off with "The Ultimate Sin". Several reviews of the last tour had made the band sound like they were pretty rough around the edges. Maybe they needed the first tour to loosen up and knock off the rust because I found zero evidence of this whatsoever. Maybe it was the addition of former BADLANDS bandmate Greg Chaisson on bass that helped to strengthen the group. Whatever it was, it worked, because I was blown away by their performance. The set moved between OZZY material, to BADLANDS material and peppered in several songs off of RED DRAGON CARTEL's debut release, including the single "Deceived". Vocalist Darren James Smith sounded fantastic; hitting all of the right notes and drummer Jonas Fairly never missed a beat. Besides being a freak of the guitar, Jake E. Lee is also quite the showman. He was constantly spinning, dancing, high-stepping, and posing as he attacked the guitar. And I do mean attacked. I don't think I have ever seen someone play so aggressively.
"In A Dream" was dedicated to the late, great, Ray Gillen, former vocalist of BADLANDS, BLACK SABBATH and many more, who passed away in 1993 from an AIDS-related illness. Vocalist Darren James Smith respectfully complained that Ray had made his job "so difficult". It was the kind of dedication that gives you goose bumps. The set ended with "Feeder" off of the new album, but it was Greg Chaisson's bass that stole the spotlight since one of the tuning machine heads had snapped loose leaving tons of slack in the string. It was impossible to continue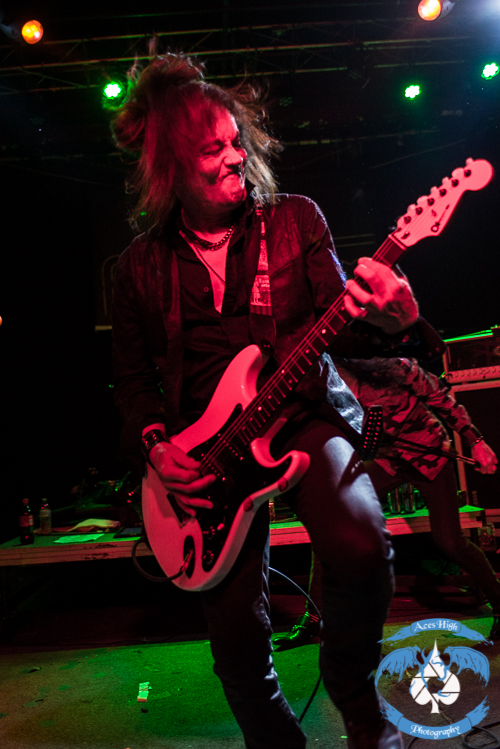 without another bass, so the roadie headed out to the trailer while we were all left to chat with the band. Jake asked if we had ever seen a "bark at the moon-walk" before as he moon-walked across the stage. Once another bass was attained, the band quickly jumped into their encore which ended with none other than "Bark At The Moon".
It was a fantastic set performed to the tee. On RED DRAGON CARTEL's facebook page a recent post claims that 2015 is going to be a huge year for the band. I sure hope so because I don't think I can wait another 10, 15, 20 years or so to catch them live again.
https://www.facebook.com/reddragoncartel
Setlist:
"The Ultimate Sin" (OZZY OSBOURNE Cover)
"Wasted"
"Healer"
"Shout It Out"
"Now You See It (Now You Don't)" (OZZY OSBOURNE Cover)
"High Wire" (BADLANDS Cover)
"War Machine"
"Deceived"
"In A Dream"(BADLANDS Cover)
"Rumblin' Train"(BADLANDS Cover)
"Feeder"
Encore:
"Dreams In The Dark"(BADLANDS Cover)
"Bark At The Moon" (OZZY OSBOURNE Cover)
Check out some more photos from the show!
All Photos By Geoff Ketler/Aces High Photography




Please log in to view RANTS

If you don't have a username, click here to create an account!