According to multiple sources, a passenger van carrying 12 people, including members of the bands KHAOTIKA and WORMREICH, veered off a highway in Georgia and crashed, killing at least 3 people and injuring 8. The bands were en route to Atlanta, Georgia for a show with another metal band, KULT OV AZAZEL.

WSB TV is reporting the following:

According to Georgia State Patrol, the driver of the passenger van may have fallen asleep, drove down an embankment and struck a tree. Three people were ejected and later died. Three others were in critical condition. A total of eight people were taken to Athens Regional Hospital and Northeast Georgia Medical Center.

"The driver lost control, either by going to sleep or some other means, we're still investigating that. He left the roadway, travelled about 300 feet off the roadway and struck a tree with the passenger side of the van," said Georgia State Patrol Cpl. Scott Smith.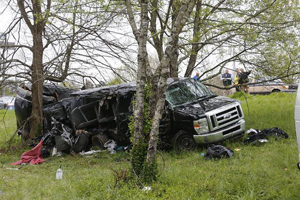 The passenger side was sheared off the van, trooper say. They are not sure if the passengers were wearing seat belts. The driver was not injured.
The band KULT OV AZAZEL, who was evidently also on the bill for the show in Atlanta, posted the following message on their official Facebook Page:
""Unfortunately tonight's show in Atlanta, GA will be canceled. The van carrying WORMREICH and KHAOTIKA was in a horrible accident this morning. We cannot go into details due to respect to the families of the involved and we are sure details will soon be available through the other parties when the time is right. Our thoughts are with those involved and their families."
WORMREICH founder, vocalist/guitarist Christopher Earl Pyle (a.k.a. Vulk), posted the following to Facebook:
"This morning I lost my brother and best friend, along with two awesome people that I was lucky to have even known for a short while. Two of my other brothers remain in critical condition. Somehow I was spared with only superficial wounds and a dislocated shoulder.
This is not the end of WORMREICH. It's always been my vision, but more importantly, it is for those whom I have lost today that it MUST continue.
Please send healing energy to the members of WORMREICH, KHAOTIKA and their families. Ave."
The Atlanta Journal-Constitution has named the deceased as Nicholas R. Crisostomo, 25, of Round Hill, Virginia; Ian A. McKinney, 30, of Madison, Tennessee and Paul. J. Truesdell, 29, of Mableton, Georgia, all killed at the scene.
McKinney and Truesdell were members of WORMREICH and Crisostomo was a member of KHAOTIKA.
Rick Hayes, the husband of KHAOTIKA singer Lariyah Hayes (former vocalist for HESSLER), posted to Facebook as well:
"I want to let everyone know that Lariyah was involved in the accident this morning, and yes she has some injuries, but she is strong, and is going to be okay, they are not life threatening.
Prepping her for surgery now, and will update everyone as soon as I can.
The full extent of the accident is still unknown to me as of now, details are still coming in on everyone involved, from both bands.
Thank you everyone, for your wishes and your support in our moment of tragedy."
For the full story from WSB TV, go HERE.