Episode 8 of season 14 of VH1 Classic's centerpiece in original programming That Metal Show is the heaviest show of the season as Kerry King of SLAYER returns. Kerry sits down with hosts Eddie Trunk, Don Jamieson and Jim Florentine to discuss the upcoming SLAYER album, getting the rust off for the upcoming summer tour, and even reveals some information about material for another record exclusively on the show.

The second guest on the episode welcomes Lzzy Hale of HALESTORM to the set for the first time. Lzzy appeared on the show last season via the Metal Modem and talks about the new HALESTORM album. They recorded the new album in a church in Nashville all playing together live, something they have never done before.

The episode features the debut of Zakk Wylde from BLACK LABEL SOCIETY as the guest musician. Zakk has been asked to perform on That Metal Show every season and finally in season 14, he obliged. Zakk wowed the crowd with playing abilities while showcasing his new custom audio equipment, Wylde Audio. In a first for the show, Zakk played out the final segment of the show with an extended off-the-cuff solo arrangement.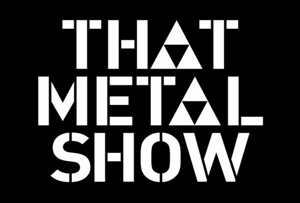 One of the episode highlights comes in the "Stump The Trunk" segment this week. The audience questions Eddie again, but this time also comes under fire with questions from Zakk himself, Joe Hottinger from HALESTORM and even Ed's own mother gets a stump in. "Take It Or Leave It" returns this week with the hosts debating the recent announcement of SKID ROW's new singer and they offer up their favorite new releases in the "Pick Of The Week." The "TMS Top 5" looks at the Top 5 Zakk Wylde Songs and tracks like "Miracle Man", "No More Tears", "In This River" and "Stillborn" all find their way into the discussion.
Fans can watch all previous episodes and other exclusive bonus clips at ThatMetalShow.VH1.com and on the new VH1 app as well as the new That After Show segment, which discusses the guests' love of sports and the weirdest thing they have ever seen from the stage on tour.
Season 14 will mark the return of some notable faces in hard rock/heavy metal and contain a large group of first timers as well. Some Season 14 guests will include That Metal Show alumni Kirk Hammett, Michael Schenker, Ace Frehley and Frankie Banali of QUIET RIOT. This season will also first-time appearances for Mark Farner of GRAND FUNK RAILROAD and Andy Biersack of BLACK VEIL BRIDES.
Season 14 of That Metal Show consists of 12 all-new episodes and is shot at Metropolis Studios in New York City on Tuesday nights for broadcast that Saturday. Audience tickets for upcoming tapings are now available via Gotham Casting at http://gothamcasting.com/gothamrsvp/.