SIX FEET UNDER Crypt Of The Devil


By Metal Mark Mihalo, Tulsa Contributor
Monday, May 4, 2015 @ 11:41 AM


| | | |
| --- | --- | --- |
| | | |
SIX FEET UNDER
Crypt Of The Devil
Metal Blade Records




Skull crushing death metal from Tampa, Florida! That's right. The masters of groove-death metal are back with their latest release, Crypt Of The Devil. Seen as pioneers in the modern death metal scene spanning their entire career of 20 years, they have consistently released some of the heaviest fuckin' metal found anywhere on the planet. Following up the successful 2013 release of Unborn, Chris Barnes and company are back for yet another macabre journey into death and gore with their 11th studio release. Helping out this time in the studio are Josh Hall, Phil Hall and Brandon Ellis from CANNIBAL CORPSE which Chris was originally a part of before committing to SIX FEET UNDER full time. Crypt Of The Devil once again weaves a disturbing tale as seen from the eyes of a serial killer. From a music standpoint it is very familiar to their previous stuff with crunching guitars and soaring solos that are almost SLAYER-ish in style.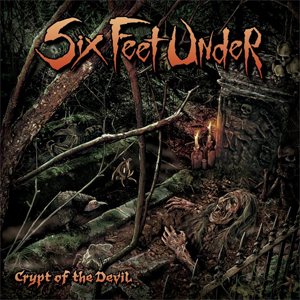 Crank up the volume and prepare to be to have your spine ripped out! The opening track "Gruesome" with its disturbing vocals and driving beat kick off this assassination of auditory senses. Once your ears have stopped bleeding from the brutal opening track, it's time for an "Open Coffin Orgy". With thick guitars and galloping rhythm, this is sure to be the flagship of the album and is already getting significant air time. Another killer track on this release is "Lost Remains" that has a bit slower tempo than the other songs. I love the way Chris' voice cuts in and out; it really adds to the overall depth of the song and enhances the nightmarish qualities. "Slit Wrists" is probably one of my favorites. The chugging rhythm is just fucking kick ass. The crunch of the guitars and pounding double bass in the chorus lead the way into a ripping solo.

Crypt Of The Devil is full of brutal vocals, some of the best guitar work you'll find in the death metal genre, and killer percussion. The mix of the album is very good and nothing seems to overpower. The music feels more technical than their previous releases. If you're a fan of death metal and you've never heard SIX FEET UNDER before, then you don't know death metal. Even if you don't like the death growl singing, just the music alone is worth getting this album for.

4.5 Out Of 5.0

Grab your copy of Crypt Of The Devil from the KNAC.COM More Store right HERE.




Please log in to view RANTS

If you don't have a username, click here to create an account!





SLASH FEATURING MYLES KENNEDY AND THE CONSPIRATORS In Orlando, FL With Photos!

HAMMERFALL Dominion

TORA TORA In New Bedford, MA

BLACK STAR RIDERS Another State Of Grace

VISIGOTH Bells Of Awakening 7"

KILLSWITCH ENGAGE Atonement

HELIX Old School

DESTRUCTION Born To Perish

Two Nights Of ALEX COLE In SoCal With Photos!

DEF LEPPARD And TESLA In Ottawa, Canada

HELLSCREAM Hate Machine

SABATON The Great War

VADER Thy Messenger EP

ALICE COOPER, HALESTORM, MOTIONLESS IN WHITE In Houston Photo Gallery

ALEXISONFIRE, THE OFFSPRING, THE DIRTY NIL At The Ottawa Bluesfest

IRON MAIDEN In Mansfield, MA

JOHN 5 AND THE CREATURES Invasion

CARNIFEX World War X

STATIC-X, DEVILDRIVER In Ottawa, Canada

ENTOMBED Clandestine Live

KORN In The Woodlands, TX With Photos!

IRON MAIDEN Tour Opener In Fort Lauderdale, FL With Photos!

SISTER SHOTGUN Fragments

HATRIOT From Days Unto Darkness

BURNING RAIN In Houston Photo Gallery

JUDAS PRIEST, URIAH HEEP In Los Angeles With Photos!

THY ART IS MURDER Human Target