WHITESNAKE The Purple Album


By Duane Vickers, Houston Contributor
Monday, May 18, 2015 @ 6:25 PM


| | | |
| --- | --- | --- |
| | | |
WHITESNAKE
The Purple Album
Frontiers Records




When most people hear the name David Coverdale it triggers the vision of actress Tawny Kitaen slithering on the hood of Coverdale's Jaguar in the WHITESNAKE video for "Here I Go Again". However, it was in fact Coverdale's time spent as Ian Gillan's replacement in DEEP PURPLE from 1973-76 that initially leant credit to the band that he would go on to form and have worldwide success with; WHITESNAKE. So it came as no surprise when it was announced that WHITESNAKE's follow up album to 2011's Forevermore would be a collection of the Coverdale era DEEP PURPLE material, fittingly entitled The Purple Album due for release in the US on Frontiers Records on May 18.

Coming from the DEEP PURPLE Ritchie Blackmore School of guitar, the one formula that Coverdale has always maintained is surrounding himself with world class guitarists, so when Doug Aldrich announced his departure from WHITESNAKE, Coverdale enlisted the services of NIGHT RANGER and TRANS-SIBERIAN ORCHESTRA guitar virtuoso Joel Hoekstra to fill the void. Already having Reb Beach in the WHITESNAKE guitar stable, adding Hoekstra keeps that dual guitar assault WHITESNAKE sound that the band is famous for. That having been said for all intents and purposes, The Purple Album is a DEEP PURPLE album, so how would they pull it off and do justice to the original recordings? The answer is… just fine. Coverdale's vocal delivery is timeless and Beach and Hoekstra are as versatile as they are accomplished. Filling out the lineup is longtime WHITESNAKE legendary drummer Tommy Aldridge and bassist Michael Devin.

Initially after the passing of DEEP PURPLE Keyboardist Jon Lord, Coverdale reached out to his former bandmate Ritchie Blackmore and eventually a possible collaboration was discussed. When those talks broke down Coverdale decided that he would revisit the past and that it would be a WHITESNAKE album. Pulling tracks from the three Coverdale era DEEP PURPLE albums, Burn, Stormbringer and Come Taste The Band Coverdale and his boys have managed to stay true to the original musicians while undeniably injecting the WHITESNAKE twin guitar punch into this classic material and the result is a bigger more aggressive sound. The first track off the album is the title track "Burn", a longtime staple in the live WHITESNAKE set. Whether Coverdale will ever admit it, I think he's always wanted to inject more DEEP PURPLE material into the live WHITESNAKE set. The problem has always been that WHITESNAKE has so many hits that the band is expected to play, fitting in any other material has been impossible. So the way around that…release the Purple Album and announce "The Purple Tour" to soon follow the album's release. And while I'm sure we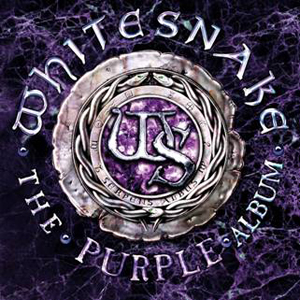 can still expect to hear the WHITESNAKE classics, there will no doubt be a full dose of The Purple Album in the live set. And after giving it a spin, I applaud Coverdale on his decision to pull these tracks out of the basement and give them new life. Also off of Burn are "You Fool No One", "Sail Away", "Mistreated", "Might Just Take Your Life" and "Lay Down Stay Down". If you were a fan of the Coverdale era DEEP PURPLE, you're going to eat this album up and that's the easy sell. If you were a fan of the Gillan era DEEP PURPLE and happened to shy away from the band after his departure then you're in for something even more special, a reason to fall in love with DEEP PURPLE all over again. Coverdale's mastery of the WHITESNAKE sound compliments the PURPLE tracks perfectly and while you are listening to songs that are 40 years old, great detail was put into the album to make these new recordings fresh and new.
From Stormbringer the tracks "The Gypsy", "Holyman", "Soldier Of Fortune" and the title track "Stormbringer" give you a taste of Coverdale's second album with DEEP PURPLE. And it should be noted that this was not a forgotten period in the history of DEEP PURPLE, it was in fact very successful and these songs received heavy radio play. The original recordings from this era of DEEP PURPLE showcased the musicians' talents, especially Blackmore's. It's a bold move that only David Coverdale could pull off, to not only record this material 40 years later, but to have the talent around him to do justice to Blackmore's guitar work while keeping his stamp on the album.
The tracks "Love Child" and "You Keep On Moving" are off the album Come Taste The Band". Prior to recording this album Ritchie Blackmore had departed the band to eventually form RAINBOW and was replaced by Tommy Bolin. Come Taste The Band would be Coverdale's last studio album with DEEP PURPLE.
WHITESNAKE fans that weren't familiar with Coverdale's DEEP PURPLE material will appreciate this album as these were the songs that launched David Coverdale and gave life to WHITESNAKE, while fans of DEEP PURPLE have a brand new sound put to these classic tracks. Out of the past, comes something new, done big and done right. We see so many cover albums coming out and we usually come away thinking that they should've just left that alone. The fact that a band influenced an artist doesn't always translate to that artist being able to do the song justice by covering it. No worries with Mr. Coverdale, these were his songs and WHITESNAKE rocks them proud.
4.0 Out Of 5.0
Grab a copy of The Purple Album in the KNAC.COM More Store right HERE.




Please log in to view RANTS

If you don't have a username, click here to create an account!