ANNIHILATOR To Release Suicide Society In September


By Larry Petro, News Monkey
Wednesday, June 3, 2015 @ 3:42 PM


| | | |
| --- | --- | --- |
| | | JEFF WATERS Back On Lead Vocals |
Canadian thrashers ANNIHILATOR have announced the release of their brand new studio album, Suicide Society, on September 18th via UDR Music, worldwide.

As usual, guitar wizard Jeff Waters handles all songwriting duties, plays all guitar & bass, engineers, produces, mixes and masters Suicide Society… and Waters is also back commanding lead vocal duties, as he did on the King Of The Kill (1994), Refresh The Demon (1996), Remains (1997) and other ANNIHILATOR albums over the years.

Waters on his return to vocal duties: "Dave (Padden/vocalist from 03-14) and I have, essentially, been ANNIHILATOR since 2003 but he resigned last December, citing having had enough of touring, being away from home and other commitments. I thank him for his 11 years with ANNIHILATOR. That said, ANNIHILATOR and I are known for never giving up and, occasionally, coming up with something even better than its former offering(s): this is undeniably the case with Suicide Society!"

With Suicide Society, ANNIHILATOR goes headfirst into some of the most technically perfect, crisp, and crushingly taut, riffage Waters has ever produced. Although Waters' vocals keep traces of stylings from his King Of The Kill album, they now evoke a surprising blend of legends such as Staley, Osbourne, Hetfield and Mustaine. This, in a twisted way, mirrors Waters' signature blend of riffing, drums grooves and bass; all drawing from multiple sources and genres.

Waters has built a worldwide reputation as being a premier guitarist and songwriter; the conciseness and arrangement of "Creepin' Again" is both an air-guitarist's dream and a sharp reminder of this. The gloriously-brutal thrash of "My Revenge" calls up a vintage of '85 with the technical chops of 2015. The neo-classic title track defiantly expresses anger at the state of world affairs, while offering up hope in closing. With the multi-layered power of the anthem "Snap", Waters illustrates the diversity of ANNIHILATOR's sound, without sacrificing one decibel of attack.

"Metal fans will likely sport evil, satisfied grins on their faces, when they hear this record", chuckles Waters, "but in the words of Joe Perry: "Let the Music Do the Talking"!"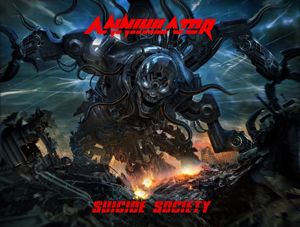 Tracklisting:
"Suicide Society"
"My Revenge"
"Snap"
"Creepin' Again"
"Narcotic Avenue"
"The One You Serve"
"Break, Enter"
"Death Scent"
"Every Minute"
Metal fans all across the world are aware of ANNIHILATOR's stellar, energetic and "real" live shows. Drum monster Mike Harshaw continues on for his fourth year with the band, one familiar name returns and another is born: bassist Cam Dixon (from King Of The Kill era) returns to the fold and guitarist Aaron Homma makes his debut with the band.

Aside from the band's upcoming, scheduled devastation at some of Europe's mega-summer festivals, ANNIHILATOR will be headlining Europe this fall on their Europe In The Blood tour 2015. Talks are underway to bring the band to South America, Japan and likely North America in 2016.




Please log in to view RANTS

If you don't have a username, click here to create an account!