THE BLACK DAHLIA MURDER's New Album Is Abysmal


By Larry Petro, News Monkey
Friday, June 12, 2015 @ 4:10 PM


| | | |
| --- | --- | --- |
| | | Cover Art Unveiled |
THE BLACK DAHLIA MURDER have returned with the new full-length album Abysmal, which is now officially set for a September 18th release. This vicious slab of unrelenting aggression showcases TBDM at their very finest with a meticulous, pin-point precise rhythmic assault mixed with ferocious speed and dynamic hooks. The group kicks off a tour of Australia next week with PSYCROPTIC and COLOSSVS, so be sure to head over to facebook.com/theblackdahliamurderofficial for all tour dates and look for brand new music to surface in the coming weeks.

THE BLACK DAHLIA MURDER will unveil pre-orders and the first track from Abysmal on June 24th. Also, the band's brand new official website is live now at http://www.tbdmofficial.com! Set your bookmarks and keep coming back for updates from the band!

Trevor Strnad (vocals) states: "The new album, Abysmal, is true to THE BLACK DAHLIA MURDER formula, but further down the evolutionary path we began with our Ritual release. It has bigger, more dynamic and developed songs. It sees the band in a darker, faster and more melancholic place than anything we've done to date. It is an album wrought emotion on a scale that we haven't reached with our previous attempts. It's dripping with urgency, and an undeniable sincere life and death purpose. It has moments of triumph and moments of utter abandon and defeat. It runs the gamut. If you can't sense the message of despair in a song like "Receipt" or the title track "Abysmal" than you are an unfeeling statue of a person. You speed freaks can also thank the ungodly contribution of our young skinsman Alan Cassidy, as the new album sees us approaching maniacal speeds unseen before in the TBDM catalog.

"I get a lot of inspiration from our continuing success as a band. There is a tremendous pressure to deliver for our fans. I want to wow them every time we come back and for our new material to keep them excited about us. I have had a long, intimate love affair with death metal and I enjoy sharing my continued excitement for it through this outlet. I am still obsessed with the macabre and the darker side of life, and I revel in creating dark lyrical content that makes the listener react in some way. I enjoy straddling the line between fantastic elements and real life horror, as there is constant atrocity all around us in the human experience. You don't have to look far to find something that is happening in the modern world that can fill ones sails with disgust.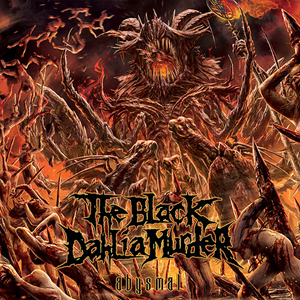 "The impending Australian tour is just around the corner and I couldn't be more excited to get back into the world of touring. We've had a long bout of time at home while writing the album, the longest break we've had since releasing Unhallowed, and then leaving on tour. I feel recharged and read to kick some Aussie ass. It's gonna be a pleasure to be back with PSYCROPTIC, as their new album is an incredible release and they are the coolest guys possible. The combo of us, them, and young bucks COLOSSVS ensures that beer is soon to be added to the endangered species list. Be sure to grab your six packs and hold tight!"
THE BLACK DAHLIA MURDER Tour w/ PSYCROPTIC, COLOSSVS
06/17 Brisbane, AU Crowbar
06/18 Perth, AU Capitol
06/19 Adelaide, AU Fowlers Live
06/20 Melbourne, AU Northcote Social Club
06/21 Melbourne, AU Northcote Social Club
06/23 Wellington, NZ Valhalla
06/24 Auckland, NZ King's Arms
06/25 Cambridge, AU Newcastle
06/26 Canberra , AU The Basement
06/27 Sydney, AU The Factory
06/28 Brisbane, AU Crowbar
European Summer Tour 2015
07/11 Ballenstedt, DE Rockharz Festival
07/12 Warsaw, PL Hydrozagadka
07/13 Wroclaw, PL Liverpool
07/14 Pecs, HU Rockmaraton
07/15 Munich, DE Kranhalle
07/16 Neukirchen-Vluyn, DE Dong Open Air
07/17 Dour, BE Dour Festival
07/18 Dieburg, DE Traffic Jam Open Air
07/19 Nilvange, FR Thionville
07/20 Paris, FR Le Perit Bain
07/21 Pratteln, CH Mini Z7
07/22 Dornbirn, AT Conrad Sohm
07/23 Pisa, IT The Jungle w/ Suicide Silence
07/24 Tolmin, SI Metal Days Festival




Please log in to view RANTS

If you don't have a username, click here to create an account!