LET IT RAWK Live In Houston, TX With Photos!


By Larry Petro, News Monkey
Thursday, July 16, 2015 @ 4:55 PM


| | | |
| --- | --- | --- |
| | | All-Star Metal Tribute Act Kicks Concert Pub's Ass |
Call it a cover band, a tribute act or whatever you like, but I call it a good night of 80's rock 'n roll. I'm talking about the group LET IT RAWK, the self-proclaimed 'All-Star 80's Metal Revue'. The group that rolled into Houston for a show at the Concert Pub North featured vocalist Jamie St. James (BLACK 'N BLUE), guitarists Oz Fox (STRYPER) and Stacey Blades (ex-LA GUNS), drummer Jimmy D'Anda (Ex-BULLETBOYS) and bassist/actor Sean McNabb (insert band name here). LET IT RAWK has also had other members as their schedules allow, such as Jeff Duncan (ARMORED SAINT), Scot Coogan (ACE FREHLEY, LITA FORD) and Robbie Crane (RATT). At the very least we could expect a tune or two from each of these members' other bands and, as it would turn out, we got that and more.

The crowd was a little sparse for this show, no doubt due to the fact that it was the beginning of the 4th of July holiday weekend and a lot of people had already made other arrangements, but that didn't put a damper on the spirits of those who did show up. Opening the show was local Houston band CARMECI, though for this particular show the band was comprised of just two members. They put on a robust, enjoyable set of original material and I have to admit that for just the two of them, they managed to get a lot of sound out of their performance. CARMECI has a lot of heart and it's worth pointing out that while another Houston band member was in the hospital awaiting, then recovering from a heart transplant, the band performed an entire acoustic set in his hospital room for him. Kudos to them!

https://www.facebook.com/Carmecidotcom
http://www.carmeci.com/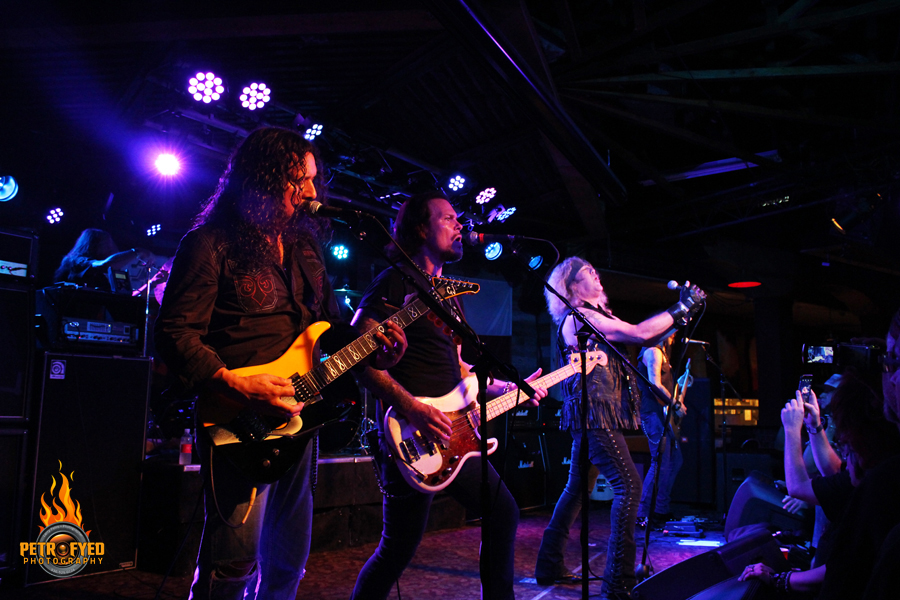 Considering that there was only basically a keyboard, small kick drum and a few other assorted stage implements, the set changeover didn't take very long and before we knew it LET IT RAWK was taking the stage. The band rocketed into their 16-song set with "Autoblast", from BLACK 'N BLUE's self-titled debut album from 1984, and they were off and running. With barely a pause between songs they kicked it into the RATT classic "Wanted Man" and then DOKKEN's "Into The Fire". Vocalist St. James has absolutely still got the chops when it comes to his voice and his performance on these last two numbers was actually better than what you hear from the original singers now (no offense Don and Stephen). This show was all about celebrating the heyday of the Sunset Strip era and doing so in a fun way and the band did not disappoint. There were lots of smiles and cavorting onstage as they rolled through famous hits like "Never Enough" (LA GUNS), "L.O.V.E. Machine" (WASP), "Two Time Woman" (STRYPER), "Uncle Tom's Cabin" (WARRANT) and "Wild Side" (MOTLEY CRUE). And those in attendence roared their approval with each song played. The band even included a track called "Rattlesnake" that was penned by Blades and a brand new song that the band recorded called "American Rebels". This is a great tune and it's available on iTunes now so check it out! The band finished off the night with another pair of hairband classics, my all-time favorite song, "Round And Round" (RATT) and "I Wanna Rock" (TWISTED SISTER). Afterwards, all the members hung out at the merch table and spent a great deal of time chatting with the fans, taking pictures and signing whatever was put before them, staying until all the fans were satisfied.
If you're a fan of this bygone era of great music then this show is a must see if they come to your neck of the woods! LET IT RAWK was a very tight, cohesive unit and it'd be pretty interesting to see this lineup record some more original music. Also of interesting note, original BULLETBOYS bassist Lonnie Vencent was in the house to support his former bandmate D'Anda and while chatting with him as he was leaving (I found out the guy is living literally 2 miles from me) he told me that he, D'Anda and ex-BULLETBOYS guitarist Mick Sweda are getting a new project together, so be on the lookout for that news soon!
http://www.letitrawk.com/
https://www.facebook.com/letitrawk
Setlist:
"Autoblast" (BLACK 'N BLUE)
"Wanted Man" (RATT)
"Into The Fire" (DOKKEN)
"Never Enough" (LA GUNS)
"Rattlesnake" (Stacey Blades)
"L.O.V.E. Machine (WASP)
"For The Love Of Money" (BULLETBOYS)
"Miss Mystery" (BLACK 'N BLUE)
"Two Time Woman" (STRYPER)
"American Rebels" (Original Tune)
LET IT RAWK Jam
"The Hunter" (DOKKEN)
"Uncle Tom's Cabin" (WARRANT)
"Wild Side" (MOTLEY CRUE)
"Mr. Brownstone" (GUNS 'N ROSES)
"Round And Round" (RATT)
"I Wanna Rock" (TWISTED SISTER)
Check out some photos from the show!
All Photos By Larry Petro/Petrofyed Photography
| | | | | |
| --- | --- | --- | --- | --- |
| | | | | |
| | | | | |
| | | | | |
| | | | | |