Liv Kristine, vocalist for LEAVES' EYES, has checked in with this announcement:

"We are proud to present our brand new video clip, "The Waking Eye"! It was filmed at several locations in Norway and Germany. Moreover, our son Leon plays the role of the child king Harald, while Alex (Krull/vocals) performs as the grown up Harald Fairhair, the first king of Norway. I'm proud of my two Vikings!"

Alex Krull adds:

"For the battle we recruited a horde of Vikings from several Viking groups: Værjaborg, Franci Saravi, Blodorn, Blodhvitnir and Ziu Zynir. As the battle was going on, Rainer 'ZIPP' Fränzen and his team filmed in rain and mud–it was epic fun to be one of the Viking warriors!"

Check out the video for "The Waking Eye" on KNAC.COM right HERE.

Liv Kristine had this to say about the band's new album, King Of Kings:

"Hafrsfjord, Norway's west-coast. A.D. 872. Did you hear what happened?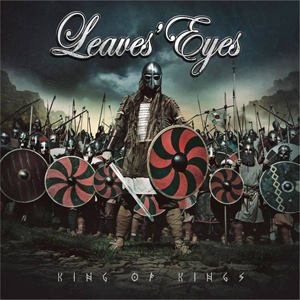 Harald Hårfagre (c.850-932), remembered by medieval historians as the first king of Norway. The battle of Hafrsfjord is described in the Saga of Harald Hårfagre (Harald Fairhair) in Snorri's Heimskringla. Harald defeated several petty kings and the battle is considered decisive in the unification of Norway. The seabed in Hafrsfjord hides many secrets and many traces. Moreover, Hafrsfjord is my birthplace. With our upcoming album we would like to take you on a journey through a highly interesting chapter in Scandinavia's history.
Those of you who were present at our latest concerts surely noticed that there's one new song on our setlist, "Halvdan The Black" - one chapter of the upcoming album King Of Kings!
Halvdanr Svarte (c.810-860) was a ninth-century king of Vestfold, Norway. He belonged to the House of Yngling (son of Odin' line) and was the father of Harald Fairhair. "Halvdan The Black" is just the start of an amazing adventure!
This production is one unique soundtrack - a brilliant and impressive auditive experience. The album was recorded in Germany, Norway, England, Netherlands, Belarus and Switzerland. King Of Kings is produced by Alexander Krull at Mastersound Studio. Outstanding musical colleagues and ensembles have contributed with their guest appearances like the London Voices Choir (Lord Of The Rings, Star Wars, The Hobbit, Harry Potter). The fantastic artwork is done by Stefan Heilemann (LINDEMANN, NIGHTWISH, EPICA, KAMELOT).
Dear fans and friends, get ready for King Of Kings, - out September 2015!"