SAXON Live In Houston, Texas With Photos!


By Larry Petro, News Monkey
Friday, September 11, 2015 @ 5:20 PM


| | | |
| --- | --- | --- |
| | | British NWOBHM Rockers Play Headline Set At House Of Blues |
All Photos By Larry Petro/Petrofyed Photography
It's always a difficult situation when you're the primary support act on a major tour and the headliner ends up having to cancel some or all shows. If you are the primary support act, tough decisions must then be made: cancel those dates as well or scramble and try to find an alternate venue at late notice and try to at least recoup some of the money lost due to the cancellations?
Such was the case for heavy metal stalwarts SAXON last week following health problems from MOTORHEAD's mainman Lemmy Kilmister that forced the band to cut short shows in Salt Lake City, Utah and Austin, Texas (which didn't impact SAXON of course since they had already played) and the cancellation of the rest of their scheduled Texas dates (San Antonio, Dallas and Houston). That situation definitely did have an impact on SAXON as they were now in the position that I described above. The band ended up playing at Sam's Burger Joint in San Antonio the first night and, luckily for us in Houston, managed to get their performance moved from the Main Room at the House Of Blues into the much smaller, more intimate Bronze Peacock Room.
Given the fact that just a couple blocks away at Toyota Center, MOTLEY CRUE was in town for their final Houston show ever, my concert cohort Stephen and I decided to try and avoid the traffic and parking nightmare that was sure to ensue and we arrived at the House Of Blues a full hour ahead of the posted 7pm door time.
Now, I have been covering shows in the Houston area for nearly 15 years and I have been to literally dozens of shows at this House Of Blues. As with most of the other venues in town I have come to know most, if not all of the staff at these places, and they know me as well. But for some strange reason, every time I come to the House Of Blues I feel like I'm in a scene from the movie 50 First Dates because the lady that works the Will Call/Ticket Window (who shall remain nameless) acts as though she's never seen me before and each time is our very first interaction. Yeah, sure, she sees tons and tons of people but I can go a year or more of not going to the outdoor shed Woodlands Pavilion on the north side of town and the lady at the guard shack still remembers me! I mean, I do tend to stand out in a crowd with my grey hair that makes me look like a human light bulb, so what gives?
As I mentioned, we arrived at 6 and immediately went up to the ticket window so that my buddy could buy his ticket. Neither of us had been in this smaller room so we had no idea how many people it held nor did we know how many tickets had already been sold, so we didn't want to take any chances. After purchasing his ticket, the following conversation took place bewteen myself and the aforementioned Will Call lady:
Me: "Do you have Saxon's list yet?"
Lady: "No, I don't have anything yet."
Me: "Ok, I'll check back with you in a little bit. Thanks"
Lady (as I start to walk away): "You know you can't take your camera into the room."
Me: "Oh, I will have a photo pass."
Lady: "Okay, well I don't have any photo passes yet."
Me: "Yeah, I'll check back with you later. Thanks"
Really? It's safe to say that I know every venue's camera policy and as a rule of thumb, I DON'T BRING MY CAMERA GEAR UNLESS I'M ON THE LIST WITH A PHOTO PASS! It's also worth noting that of all the shows I've seen in Houston over the years I have never had as many problems as I have had at this House Of Blues, with either 'not being on the list' or not initially getting the credentials I was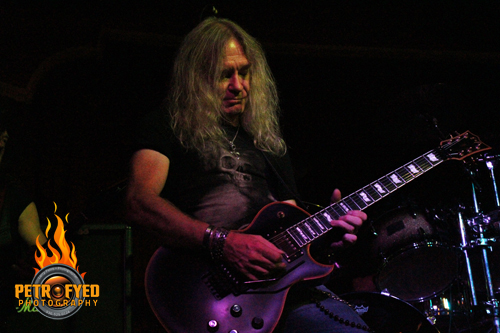 down for (even though I had emails, etc proving these facts). In one incident I actually had to call a band's publicist and then hand my phone through the ticket window to said lady in order to get things straightened out. Come to think of it, maybe that's the problem, she still harbors some sort of resentment for being set straight? But I digress.....
At any rate, checking back later and dealing with another person at the window I was given my creds and we headed into the Bronze Room. This room is very small, only a couple hundred square feet in size and holds about 200. The stage itself couldn't have been more than 15X15 and elevated about a foot or so off the floor. The tickets and HOB website said show at 8 and since there was no opening band noted we figured that it would be an early night, unless of course SAXON decided they were going to play for 3 hours (which they didn't). The band was slightly delayed on taking the stage and at 8:15 the lights dimmed and the mighty SAXON appeared. The room was full but not so packed that you couldn't move around, not bad considering this was a last minute booking and MOTLEY CRUE was in town.
Before playing a single note, vocalist Biff Byford addressed the crowd by announcing that this was definitely the smallest stage they had ever played on! And with that, the band jettisoned into the title track from their forthcoming new album, Battering Ram, and just like that, they proceeded to kick Houston's ass with a 2 hour, 19-song set of classics from the band's 35+ year career. From "Battering Ram", into "This Town Rocks" and "Sacrifice", the title track to the band's last album, SAXON showed right from the start that this would be no mailed-in performance. Some of the most diehard SAXON fans were in attendence, as evidenced by the consistent singing-along of every word of the songs and the chants of "Saxon, Saxon, Saxon" that seemed to permeate the room at the conclusion of each and every number that was played. The band seemed to feed off the crowd's energy and it translated into one of the best intimate shows I've ever seen. The only criticism of the night was that the Bronze Room only has 4 stage lights and for a band like SAXON, it was woefully inadequate, especially from a photographer standpoint and Byford even somewhat sarcastically made reference to them when he said 'we'd like to thank the House Of Blues for these 4 lights to illuminate us.'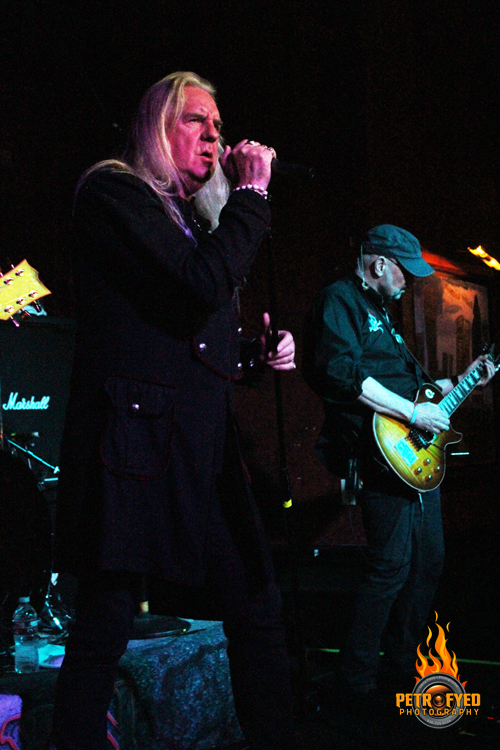 The band kept rolling along with classics like "Power And The Glory", "Dallas 1PM", "The Eagle Has Landed" and "747 (Strangers In The Night)", which Biff noted should have been a huge hit in the States had the record company produced more of the album it was on once the original pressing had sold out. The band even included their 1988 cover of the Christopher Cross hit "Ride Like The Wind", much to the crowd's approval. Biff several times on the night expressed appreciation for the crowd in attendence and got everyone to laugh when he stated that 'we're not here for the fuckin' money'. Indeed, this was all about rocking the hell out of the Houston crowd and then some. SAXON ended the pre-encore portion of the night with "Crusader" and "Princess Of The Night", then returned once more to the chants of "Saxon" for "Wheels Of Steel" and the timeless anthem "Denim & Leather".
This was my fourth time to see SAXON in Houston and every show has been worth every penny. Even considering the unfortunate situation the band was in, they made the best of it and delivered a performance worthy of their stature as one of the greatest, most underrated NWOBHM bands ever.
Setlist:
"Battering Ram"
"This Town Rocks"
"Sacrifice"
"Power And The Glory"
"I've Got To Rock (To Stay Alive)"
"Motorcycle Man
"Dallas 1PM"
"Backs To The Wall"
"Suzie Hold On"
"The Eagle Has Landed"
"Never Surrender"
"Heavy Metal Thunder"
"Rock 'N' Roll Gypsies"
"Ride Like The Wind"
"747/Strangers In The Night"
"Crusader"
"Princess Of The Night"
Encore:
"Wheels Of Steel"
"Denim & Leather"
Check out some more photos from the show!
All Photos By Larry Petro/Petrofyed Photography




Please log in to view RANTS

If you don't have a username, click here to create an account!