ACE FREHLEY Live in Northfield, OH With Photos!

By Geoff Ketler, Cleveland Contributor
Wednesday, September 23, 2015 @ 6:53 AM

| | | |
| --- | --- | --- |
| | | At The Hardrock Rocksino |
All Photos By Geoff Ketler/Aces High Photography
It was another splendid evening at the Hardrock Rocksino in Northfield, Ohio. The casino, horse track and entertainment center just south of Cleveland has been playing host to more and more big names in music as of late and this Saturday evening was no different as the "Spaceman" himself, Ace Frehley was in town. I really enjoy the "evening with" type shows; no openers, no BS, just a solid night of rocking. I find myself returning again and again to the venue which boasts ample free parking, tons of security, and fabulous stage lighting. If they book them…I will come.
Touring in support of his 2014 release, Space Invader, Ace Frehley, founding guitarist of KISS, took to the stage in his signature sport jacket and Les Paul. Flanked by guitarist Richie Scarlet and bassist Chris Wyse, the quartet; rounded out by drummer Scot Coogan, went right into "Toys" – off of Ace's most recent record. Richie Scarlet was extremely animated, having zero backing-vocal duties and Ace did what he could while constantly being tethered to his mic stand. The group sounded fantastic; they were tight and possessed a certain chemistry. Ace and Richie traded solos back and forth throughout the night. The crowd really got going when the band broke into the first KISS song of the gig, "Rocket Ride". The set was a good mix of KISS material and Ace's solo material. Strangely absent was "Cold Gin", one of the KISS classics credited to Ace.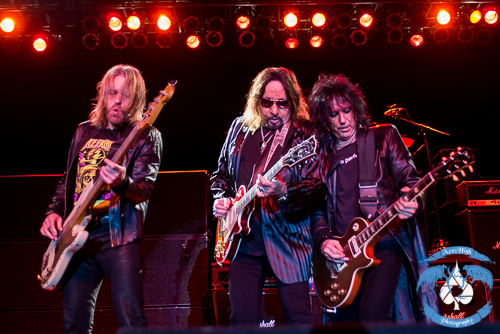 It is also notable that Ace Frehley's signature guitar antics also made their appearances during the performance. Deeper into the set the crowd roared as Ace brought out the lighted Les Paul and once again when he used his legendary smoking guitar. Set staples "Love Gun" and "New York Groove" were in there, of course, and the epic encore of "Detroit Rock City" and "Deuce" brought the place to its knees. I consider myself lucky to have been able to attend and photograph this living legend and Rock n' Roll Hall of Fame inductee. Check out the "Spaceman" as he continues to tour throughout the month of September.
http://www.acefrehley.com/
Setlist:
"Toys"
"Gimme A Feelin'"
"Rocket Ride"
"Parasite"
"Love Gun"
"Breakout"
"Space Invader"
"Snowblind"
"Rock Soldiers"
Bass Solo
"Strange Ways"
"New York Groove"
"2 Young 2 Die"
"Shock Me"
Guitar Solo – Ace
"Rip It Out"
Encore:
"Detroit Rock City"
"Deuce"
Check out some more photos from the show!
All Photos By Geoff Ketler/Aces High Photography