IMPELLITTERI have created one of the heaviest and most haunting riffs of their career with the new song "Face The Enemy".

The song was recorded at NRG studios where SLASH, LINKIN PARK and LAMB OF GOD have recently recorded.

Chris Impellitteri states, "NRG had such an amazing vibe that allowed us to really capture the live power of our band. Drummer Jon Dette is such an animal on our new release Venom out now via Frontier Music Srl! Bassist James Pulli has really matured into one of the greatest rock bassist I have had the pleasure to play with! Vocalist Rob Rock still has to be one of the most underrated vocalists in the metal community! And me, oh Hell, I am still masturbating on my guitar 30 years later, Riffing and shredding and having the time of my life! ....I love playing Guitar!!!!

Check out the new video for "Face The Enemy" nowe on KNAC.COM right HERE.

Chris Impellitteri is heralded as one of the world's greatest guitar shredders. He has won "Best Rock Guitarist" awards in several magazines during the years for his guitar soloing. He is the first guitarist to be called the fastest guitarist in the world by the international media. Impellitteri was recently officially voted second fastest guitarist in the world by Guitar One magazine; and Guitar World magazine listed Impellitteri within its top 50 fastest guitarists of all time!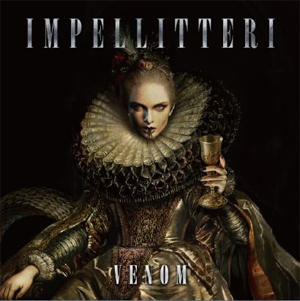 Chris Impellitteri formed IMPELLITTERI in 1987, along with vocalist Rob Rock. That year, they released an EP called the Black Album which was well-received, and IMPELLITTERI went on to release the full-length album Stand In Line in 1988. To date, IMPELLITTERI has released a total of nine acclaimed studio albums and Venom follows after 2009's Wicked Maiden.
IMPELLITTERI Venom Tracklist:
"Venom"
"Empire Of Lies"
"We Own The Night"
"Nightmare"
"Face The Enemy"
"Dominoe Theory"
"Jehova"
"Rise"
"Time Machine"
"Holding On"
"Rock Through The Night" (bonus track)
"Reach For the Sky" (bonus track)