DEF LEPPARD
Def Leppard
Mailboat Records - 2015
http://www.defleppard.com/




When told by a fellow music lover friend of mine that the first song on the new self-titled DEF LEPPARD album could be dismissed because it was their attempt at sounding a little like ONE DIRECTION, I was extremely worried about what I was going to hear on this disc. Reassured that the rest of the album was well worth the time investment, I actually found myself enjoying that first track a little. The song, "Let's Go", had a nice rhythmic punch to it. While I wasn't crazy about the studio tricks used at the beginning and middle of the track, things overall sounded decent. The solos from guitarists Phil Collen and Vivian Campbell were slick and enjoyable.

The thing with DEF LEPPARD in recent years is that they have at least seemed to be running from their rock band status. This is something I never understood. While it isn't the case anymore, during the heights of the Hysteria album they were probably the biggest rock band in the world. But a lot of their material has struck me as their attempt to morph into more of an adult contemporary band and it annoyed the hell out of me. Thankfully, for the most part, DEF LEPPARD the band turned out a rather rocking Def Leppard CD.

Songs like "Dangerous", "Broke 'N' Brokenhearted" and "Forever Young" show the band off with catchy pop laced rock and roll hooks, while slightly slower paced songs like "We Belong" and "Wings Of An Angel" still move swiftly enough so that you don't completely lose the energetic pace the more up tempo numbers have established. The "We Belong" track features Joe Elliott, Phil Collen, Rick Savage and Vivian Campbell all taking turns singing a lyrical line or two.

Where things go wrong for the album in my view is when the band slows things down to pop in a ballad track. I wish they'd stop doing these things and just rock the hell out the whole way through. I have nothing against artists like say, Richard Marx, who make a living performing harmless, inoffensive love ballads for a living. Hell, I was even a fan of Richard Marx when he first started releasing music. But I don't want to see DEF LEPPARD trying to imitate that particular artistic road. So you can imagine how much the songs "Last Dance" and closing track "Blind Faith" disappointed the hell out of me. Neither track makes much of an impression in terms of being worth multiple listens and in truth, they are this album's filler tracks.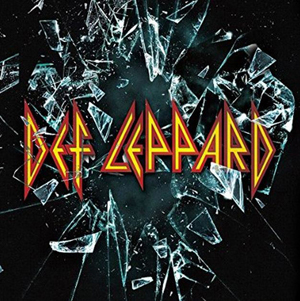 Yes, the band has written some great ballads in the past...these two tracks won't challenge those ones at all.
I was also a little disappointed in how mellowed out Elliot's vocal performance was on "Energized". It was quite the juxtaposition to have that song title and then hear vocals that sounded like he was trying simply to stay awake.
But after that, you have songs like "Battle Of My Own", which gets stronger as the song progresses. The band has a sweet cool vibe and down and dirty heavy bass opening on "Man Enough". The bluesy and gritty rocker hits all the right notes.
Phil Collen wrote the rocker "Sea Of Love", which is a total blast to listen to and has a nice group vocal chorus that helps sell the song. The experience is heightened by the backing vocal appearance from Debbi Blackwell-Cook, the singer in Collen's side project DELTA DEEP.
Meanwhile, the Elliott penned "All Time High" is utterly fantastic. A fiery rocker, the song is an immediate greatest hit for the band in my opinion. I was hooked from the first line in the song, "You ask me to be your savior / But I'm the poster boy for bad behavior". The song has such an "in your face" immediacy and powerful hook to it and I've been hitting the repeat button on it a lot.
I've skipped the last three albums the band released because the stuff I'd heard online didn't interest me in the least, but with DEF LEPPARD, the band has once again managed to turn in an album that is a lively and entertaining listen with the right touch of much missed aggressiveness (to me, anyway) and show quite adeptly that they still know what it takes to rock and roll!
4.3 Out Of 5.0
Pick up a copy of Def Leppard in the KNAC.COM More Store right HERE.