Paul Gilbert has announced the details for the 2016 Great Guitar Escape 3.0, taking place July 25th - 29th at the Cambria Pines Lodge in Cambria, CA. Packages are available at the event's official site right HERE.

For the camp's third year, the legendary shredder went all out and invited a few iconic friends to join him as guest instructors. These include MEGADETH's Kiko Loureiro and Dave Ellefson as well as former GUNS N' ROSES guitarist Ron "Bumblefoot" Thal (ART OF ANARCHY), Andy Timmons (DANGER DANGER), and Bruce Bouillet (RACER X, THE SCREAM). This all-star lineup will be hosting workshops, reflecting their signature sounds and styles and offering an immersive experience for 75 campers. Moreover, they'll be jamming, performing, and hanging with you 24/7.

Paul Gilbert had this to say:

"Hello Everyone! Before I get down to the details of the Great Guitar Escape, I wanted to say something very important to me. My main language is music. I love communicating with people that way. That's what the Great Guitar Escape lets us do. We communicate. We learn. And we will jam! We are limiting it to 75 lucky participants so we'll all have plenty of time to jam together.

This is my third Great Guitar Escape camp, from July 25-29 at the Cambria Pines Lodge in Cambria, CA.

Cambria, which is located in central California, is a beautiful location near the Pacific ocean. A scenic drive from L.A. or San Francisco, but secluded enough so we can focus on what we came to do—communicate with the guitar.

What brings me back is simple: I like hanging out with musicians. You are my people! It's one of the best things about the camp. Everyone shares the same passion. It's a great feeling to get together with others who live and breathe music the same way that you do.

Music theory classes are early in the day (while our minds are still fresh), followed by style or technique seminars. After a quick bite for lunch, the day continues with my MASSIVE JAM SESSION (everyone jams with me!), more guitar seminars, and lots of opportunities to get close and learn from the instructors and me.

We'll give our fingers a rest while enjoying a delicious dinner together, and then the instructors and I will get ready for our LIVE CONCERTS, which will be held every night. These concerts are one-of-kind performances, that you won't experience anywhere else. Some of my best musical memories are from these amazing shows from past camps.

After the concert, there will be jam rooms with amps and instruments available to play into the night, and to test out your ideas and techniques that you learned during the day.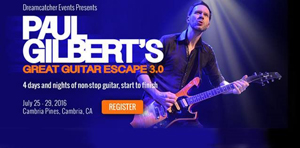 From my past Great Guitar Escape experiences, I've learned how to organize my MASSIVE JAM SESSION, by bringing my pro guitar-tech to help get each jammer ready, and by doing a preparation seminar, so everyone can learn what kind of groove to expect, as well as getting tips on how to prepare for the jam. Photos and video are welcome at my jam session, so you can bring home proof that we were rocking together onstage!
Over the years in the music business, I've had the honor of meeting many of my heroes like Eddie Van Halen and Randy Rhoads. But those situations didn't allow me to actually jam with them. The Great Guitar Escape offers a lot more than a handshake and an autograph. Off course, the instructors and I are happy to sign a CD and trade some stories, but I'm mostly happy to guarantee that anyone who wants to jam with me, can come up onstage and do it!
One of my favorite memories from the last Great Guitar Escape happened during one of the nightly concerts. Each instructor got up and played a few of songs. Scotty Johnson (a Berklee Instructor, who has also recorded and toured with me) came up to me and said, "Right now, this is the center of the universe for guitar.
In 2016, I invite you to join me to travel to the center of the guitar universe. I hope to see you (and jam with you) at the Great Guitar Escape!
I really feel like we got the best lineup possible for version 3.0. Each instructor brings something extremely unique to the table. You're going to learn, feel inspired, and most of all have a great time. This is four days of complete and total guitar immersion. We can't wait. Get ready!"
Sincerely,
Paul Gilbert
Welcome to 4 days and nights of non-stop guitar, start to finish. This event will sell out, so make sure you sign up now. Check out the video announcement below: