AZRAEL'S BANE
Modern Day Babylon
2016 High Vol Music




Houston, Texas-based band AZRAEL'S BANE formed in 2002, and released two acclaimed melodic prog metal albums; 2005's Wings Of Innocence (which received a perfect 5 star review from KNAC.COM) and 2009's Modern Day Babylon. The band took a break in 2010. In 2015, the band restarted their creative engines and welcomed new drummer Van Eric Turner (formerly of Z-LOT-Z) and signed a deal with US label HighVol Music, whose first move was to rerelease the aforementioned albums together on this 2-CD set on April 8th.

The band consists of Trey Gadler (vocals), Chuck McFadden and Jeff Clifton (guitars), Brent Marches (bass). The drummer on Wings Of Innocence was Donny Bragg and the drummer on Modern Day Babylon was Rick Ward.

AZRAEL'S BANE play a very emotional brand of melodic prog metal. Trey Gadler's vocals take the spotlight the majority of the time. I have to admit these albums grew on me the more I listened to them. The two albums are arranged on this collection with the second album Modern Day Babylon as the first disc. There are some really good songs on this album such as "Save Us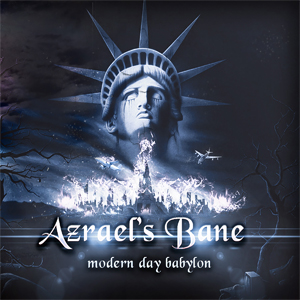 All", "Shades Of Memory", "Seclusion", "Damian" and my favorite, "Send Me", which is a masterpiece as far as I'm concerned.
The second disc contains the debut album Wings Of Innocence. The first track is the upbeat "Shine", followed by the driving "Innocence", which has fantastic backing vocals. Tracks such as "Chasing A Memory", "Saving Grace", "Mercy" and "Saints And Sinners" highlight the band's harmonic abilities and the reason this album was so highly rated. These songs are filled with memorable hooks.
The band has included two excellent covers that make this set worth buying even if you already own them. SAVATAGE's "Edge Of Thorns" appears at the end of disc one and OZZY's "Diary Of A Madman" appears at the end of disc two. The album cover features a new version of the Modern Day Babylon artwork. Overall, you get over two hours of quality metal in this package!
4.7 Out Of 5.0
Grab a copy of the "Baniac" 2CD pack Modern Day Babylon in the KNAC.COM More Store right HERE