AZRAEL'S BANE In Houston, TX With Photos!


By Larry Petro, News Monkey
Friday, April 15, 2016 @ 1:55 PM


| | | |
| --- | --- | --- |
| | | CD Release Show At BFE Rock Club |
All Photos By Larry Petro/Petrofyed Photography
Quite possibly Houston's finest progressive melodic metal export, AZRAEL'S BANE was formed in 2002 by vocalist Trye Gadler and guitarist Jeff Clifton, essentially rising from the ashes of another local Houston act, UGLY WANDA. Along with bassist Brent Marches, guitarist Charles "Chuck" McFadden and original drummer Donny Bragg, the band set out to light the metal world on fire. But the wheels began to fall off of the momentum train just before the release of their second album, Modern Day Babylon. Among other things, drummer Rick Ward (who had replaced Bragg) moved out of state and their record label imploded basically leaving them no choice but to take a 'break'. Little did any of them know, the break would last for nearly 6 years. Fortune began to smile on them again recently thanks to the addition of drummer Van Eric Turner of Z-LOT-Z and a new record deal which included the reissue of their first album, Wings Of Innocence, and the 'official' releasing of the above mentioned Modern Day Babylon opus. These two discs were released on April 8th as a 2CD 'Baniac Pack' from the new label, HighVolMusic, and to celebrate the event AZRAEL'S BANE held a CD release party/show at BFE Rock Club in Houston on that same day.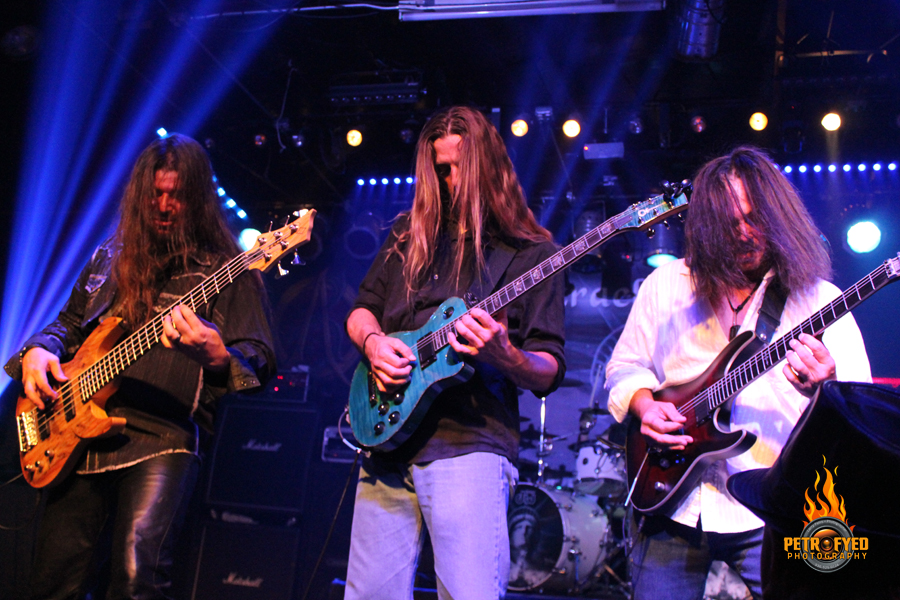 The night started off auspiciously though, mainly because this was a CD release show and one very important thing was missing: the CDs! It seems that the shipment of new CDs was coming direct from the manufacturer and even though they had been assured several times that they were 'on the way', the discs chose to skip the party. The band did have digital downloads of the album available though it was little consolation to those in attendence that wanted to put their hands on an actual physical copy. Certainly not a good omen to kick off the evening.
The opening slot for this show fell to Dallas-based power metal act INFIDEL RISING. Led by frontman/vocalist Travis Wills and PRETTY BOY FLOYD(?!) drummer Wayne Stokely, the band's soaring, progressive-style music was the perfect match for AZRAEL'S BANE, much unlike that of other shows where the decision of opening bands can sometimes leave you scratching your head in wonder. This band put on an outstanding, impressive 45 minute set of original material with the sole exception being a briliantly done cover of the STRATOVARIUS track "Hunting High And Low". If you haven't heard of this band you owe it to yourself to check them out!
https://www.facebook.com/infidelrisingmusic
http://alandeleon.com/infidelrising/
It was confirmed to me prior to AZRAEL'S BANE taking the stage that this show was being both audio and video recorded for a possible CD/DVD release which added to the excitement that was buzzing inside the club as the hometown metal heroes prepared to mark their official return. Just a few minutes before midnight, the opening chords of "The Forbidden" were heard and just like that, the hiatus was over and the BANE was back! The band showed virtually no signs of the rust one might expect from a band that had been out of the scene for so long, save guitarist Jeff Clifton's intial attempt at stepping up onto the drum riser early in the show which resulted in him falling nearly head first into Turner's large kit. an embarassing moment for sure but like a true professional he kept playing and did eventually make it up on the riser multiple times throughout the show. One thing you gotta love about this band is that none of its members (except the drummer obviously) stays glued to a certain stage location for very long. They're constantly moving and interacting with each other and with the constant smiles that were seen it's perfectly clear the chemistry AZRAEL'S BANE's members possess, and it makes for pretty damn good shots from a photographer's perspective as well.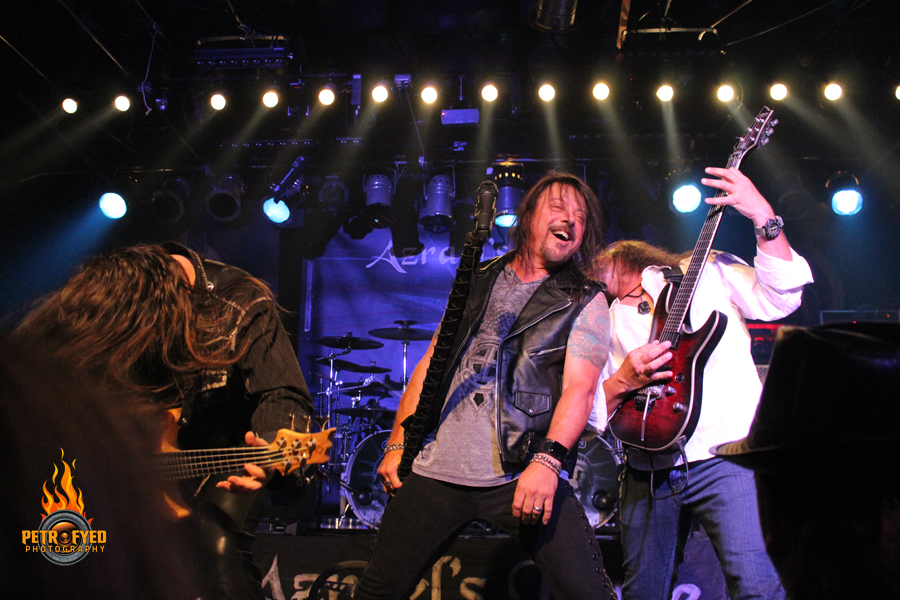 Since the show was being recorded we were treated to a full-on headline set lasting roughly an hour and 45 minutes, consisting of tracks from both of their releases like "Saints And Sinners", "Save Us All" (the first single/video from Modern Day Babylon), "Innocence", "Chasing A Memory", "Shine", my two personal favorites, "Rainbow's Edge" and "Send Me", the latter of which was actually penned by Clifton years ago and recorded and released by his and Gadler's prior band UGLY WANDA and then redone with AB. They also performed a brand new tune, "Burn", that will be included on their new studio release which is due out hopefully in early 2017, and two covers that appear as bonus tracks (one each on their 2 albums), a blistering cover of "Diary Of A Madman" and an equally impressive rendition of the SAVATAGE classic, "Edge Of Thorns".
Of course when you decide to record an entire show such as they did you really need things to be as close to perfect as you can get and let some editing take care of the rest, but there were a couple of gaffes that occurred during the show that might make it a bit difficult for this to see a DVD release in particular. The first problem was the band's monitor levels (isn't that what a soundcheck is for?). It seems as though between the soundcheck earlier in the day and the band's actual performance the sound engineer completely forgot what settings the band used and so for the first part of the show you could see the slightest frustration in guitarist Clifton's face as all he could hear from his monitor was the bassist and the drummer couldn't hear one of his kicks. The issued was resolved in between songs and all was good on that front for the rest of the night. That's when issue #2 kicked in: about 3/4 of the way through the set every stage light suddenly went dark, so the band played practically in darkness for the better part of 2 songs, something that will be difficult if not impossible to overcome in a DVD release. For the band's part though, they were spectacular and had you been from out of town and not known the full story, you would have never known the band had been off the circuit for 6 years! Hats off to the band for overcoming the problems and delivering a great comeback performance. For the rest of you, look out for the new album next year and definitely check out the just-released disc, Modern Day Babylon. The BANE is back!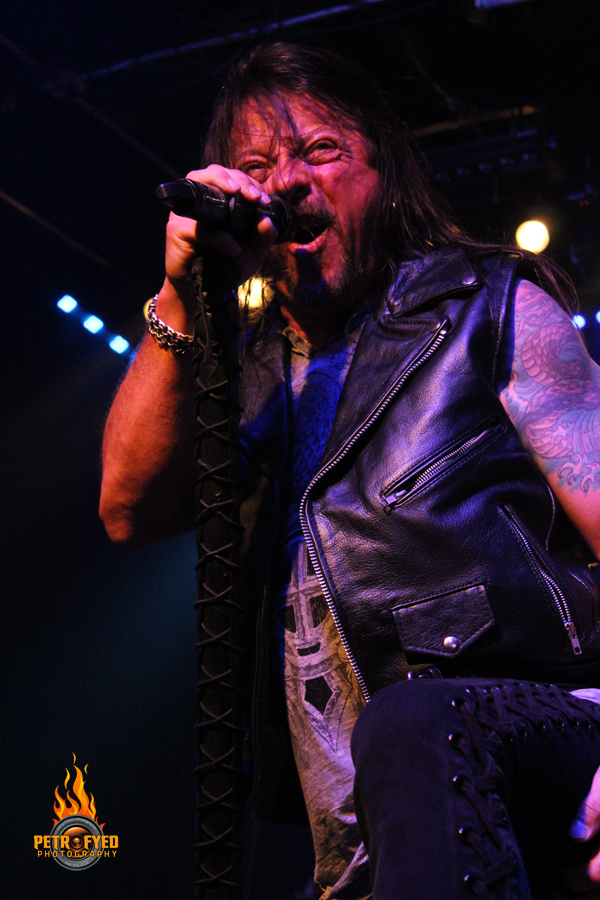 Setlist:
"The Forbidden"
"Saints And Sinners"
"Innocence"
"Waiting"
"Rainbow's Edge"
"Chasing A Memory"
"Save Us All"
"Diary Of A Madman" (OZZY Cover)
"Burn" (New Song)
"Foolish Pride"/"Carry On"/"Memories" Medley
"Shine"
"Saving Grace"
"Send Me"
"The Promise"
"Edge Of Thorns" (SAVATAGE Cover)
Encore:
"Save Us All" (Repeated for more footage for the coming video)
"Wasted Years" (IRON MAIDEN Cover)
Check out some more photos from the show!
All Photos By Larry Petro/Petrofyed Photography




Please log in to view RANTS

If you don't have a username, click here to create an account!