ROCKLAHOMA Band Performance Times Announced


By Larry Petro, News Monkey
Thursday, May 19, 2016 @ 2:25 PM


| | | |
| --- | --- | --- |
| | | May 27, 28 & 29 at "Catch The Fever" Festival Grounds in Pryor, OK |
Band performance times have been announced for the tenth annual Rocklahoma, May 27, 28 & 29 at "Catch The Fever" Festival Grounds in Pryor, OK. America's biggest Memorial Day Weekend party features a lineup of the best current rock artists and classic bands, including SCORPIONS, DISTURBED, ROB ZOMBIE, FIVE FINGER DEATH PUNCH, MEGADETH, CHEVELLE, 3 DOORS DOWN, SIXX:A.M., COLLECTIVE SOUL, SEBASTIAN BACH, and many more.

The three-day camping festival features music on three stages each day, as well as premium onsite camping amenities and unparalleled VIP packages. In addition, the Rocklahoma campground stage hosts performances during the Thursday night campground party and in the afternoon and late night hours on Friday, Saturday and Sunday.

The current Rocklahoma performance schedule is as follows (subject to change):

Thursday, May 26 (Campground Party)
6:00 PM - Grind
6:50 PM - Roots of Thought
7:40 PM - BC and the Big Rig
8:30 PM - Hoodslide
9:20 PM - Framing The Red
10:30 PM - Well Hung Heart
11:40 PM - Nicnos
12:50 AM - Drek
1:40 AM - Even the Dogs
Friday, May 27
Bud Light Main Stage
3:30 PM - Bang Tango
4:40 PM - Pop Evil
5:55 PM - Sixx:A.M.
7:20 PM - Megadeth
8:45 PM - Rob Zombie
10:50 PM - Disturbed
Hard Rock Stage
3:00 PM - For The Wolf
4:05 PM - Wilson
5:20 PM - Red Sun Rising
6:45 PM - Shaman's Harvest
8:10 PM - The Sword
10:00 PM - Last In Line
Retrospect Records Stage
3:00 PM - Kore Rozzik
4:05 PM - Deathgrip
5:20 PM - 5-Star Hooker
6:45 PM - 3-D In Your Face
8:10 PM - Chaotic Resemblance
10:05 PM - Banshee
12:00 AM - NiteRain
12:35 AM - Snew
1:15 AM - Freeway Mad
AXiS Entertainment Stage presented by D&B Processing
12:00 PM - TROY
12:50 PM - Octave Jaw
1:40 PM - Five Hundredth Year
2:30 PM - SiK
11:30 PMS - tolen Rhodes
12:30 AM - Arson City
1:30 AM - SEVERMIND
Saturday, May 28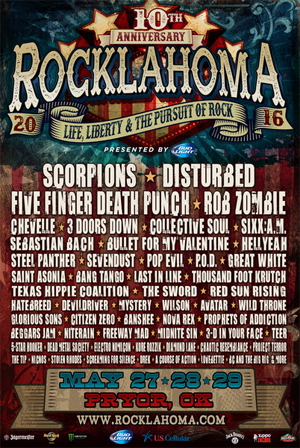 Bud Light Main Stage
3:30 PM - P.O.D.
4:45 PM - Sevendust
6:05 PM - Bullet For My Valentine
7:25 PM - Collective Soul
8:50 PM - 3 Doors Down
10:40 PM - Scorpions
Hard Rock Stage
3:00 PM - Wild Throne
4:10 PM - Avatar
5:30 PM - DevilDriver
6:50 PM - Hatebreed
8:15 PM - Texas Hippie Coalition
9:55 PM - Hellyeah
Retrospect Records Stage
3:00 PM - Teer
4:10 PM - Electronomicon
5:30 PM - Beggars Jam
6:50 PM - Salems Lott
8:15 PM - Mycah
9:55 PM - Prophets Of Addiction
12:00 AM - Dead Metal Society
12:35 AM - Ragdoll
AXiS Entertainment Stage presented by D&B Processing
12:00 PM - Unwritten Rulz
12:50 PM - Locust Grove
1:40 PM - The Grizzly Band
2:30 PM - Lawless Hearts
11:30 PM - Lovebettie
12:30 AM - Screaming For Silence
1:30 AM - Enslaved By Fear
Sunday, May 29
Bud Light Main Stage
3:35 PM - Thousand Foot Krutch
4:50 PM - Saint Asonia
6:05 PM - Great White
7:30 PM - Sebastian Bach
8:55 PM - Chevelle
10:50 PM - Five Finger Death Punch
Hard Rock Stage
3:00 PM - Citizen Zero
4:15 PM - Second Pass
5:30 PM - The Glorious Sons
6:55 PM - Mystery
8:20 PM - Escape The Fate
10:00 PM - Steel Panther
Retrospect Records Stage
3:00 PM - Moxy & The Influence
4:15 PM - Hellectrokuters
5:30 PM - The Tip
6:55 PM - Project Terror
8:20 PM - Nova Rex
10:05 PM - Diamond Lane
12:00 AM - Avenging Benji
12:35 AM - Chainmail
AXiS Entertainment Stage presented by D&B Processing
12:00 PM - The Brothers Moore
12:50 PM - The Vox Squadron
1:40 PM - The Dirtboxwailers
2:30 PM - The Suede Panther
11:30 PM - DRYVR
12:30 AM - Locust Grove
Fans are encouraged to buy now and save. Tickets for Rocklahoma increase to the following week-of-show prices starting Monday, May 23 at 12:00 AM CDT:
Weekend GA: $192
Weekend GA 4-Pack: $690
Single Day: $102
General Admission and VIP camping packages remain at current prices. The Rocklahoma campgrounds open Sunday, May 22 at noon CDT and will remain open through Tuesday, May 31 at noon CDT. Camping packages can be purchased by calling the Rocklahoma Camping Office at (866) 310-2288 or emailing info@rocklahoma.com. For more details, visit www.Rocklahoma.com.

Fan voting has ended, and the top 5 finalists for the annual Miss Rocklahoma competition have been chosen. Finalists Lynsie, Nicki, Jenn, Jeri and Victoria will compete on stage at Rocklahoma for the chance to be named this year's Miss Rocklahoma.

Visit www.Rocklahoma.com and download the Rocklahoma mobile app (available for FREE via iTunes and Google Play) for more festival information.

Rocklahoma is produced by AEG Live, and is part of the World's Loudest Month festival series, which features the biggest names in rock music performing in eight distinct concert atmospheres across the country in April and May.

Rocklahoma is located just 45 minutes northeast of Tulsa, in Pryor, OK. The "Catch the Fever" Festival Grounds is a premier destination for a multi-day festival and includes onsite camping with access to restrooms and shower house, a general store for campers, VIP reserved seating, hospitality areas and much more.

Rocklahoma is supported by great corporate partners including Bud Light, Jack Daniel's, Zippo, Monster Energy, Deep Eddy Vodka, Jägermeister, and US Cellular. These partners, along with many others, will feature interactive experiences, artist meet & greets, and other unique fan engagement opportunities throughout the festival.




Please log in to view RANTS

If you don't have a username, click here to create an account!