DISTURBED, BREAKING BENJAMIN, ALTER BRIDGE And SAINT ASONIA In Cleveland, OH With Photos!


By Geoff Ketler, Cleveland Contributor
Sunday, July 17, 2016 @ 10:19 AM


| | | |
| --- | --- | --- |
| | | Weather Delay Doesn't Keep DISTURBED From Rocking Blossom Music Center |
All Photos By Geoff/Ketler/Aces High Photography
Almost three years ago to the day, I was on board the DEVICE tour bus in Youngstown, OH conducting an interview with vocalist David Draiman. Naturally, the future of DISTURBED was more or less up in the air at that time, so I inquired about it and he responded by saying that if DISTURBED were to get back together it would be quite an event. He alluded to the fact that he felt as though the band would do big festivals and one-offs – not a full-fledged tour. Boy am I glad he changed his mine. Fast forward a few years and not only is there a new full-length DISTURBED studio album, but the band is in the middle of a massive tour with another announced for later this year.
First up was Toronto's SAINT ASONIA lead by former THREE DAYS GRACE frontman Adam Gontier. The band is rounded out by guitarist Mike Mushok of STAIND fame, Corey Lowery on bass and the very lively Rich Beddoe behind the drum kit. The energetic, albeit short, set was highlighted by the THREE DAYS GRACE Cover "I Hate Everything About You" which was naturally well received by the audience which had really started to fill in the massive outdoor amphitheater by that time.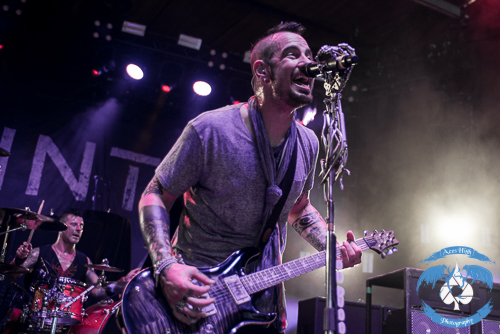 Setlist:
"Fairy Tale"
"King Of Nothing"
"Dying Slowly"
"Better Place"
"I Hate Everything About You" (THREE DAYS GRACE Cover)
"Let Me Live My Life"
As the photographers, myself included, were led back down to the pit, the opening riff to "Addicted To Pain" rang out. ALTER BRIDGE had taken the stage. I am always excited to catch vocalist/guitarist Myles Kennedy live in whatever capacity. With Slash reunited with GUNS N' ROSES it looks like he has some time on his hands to dedicate to Mark Tremonti and Co in ALTER BRIDGE. Mark spent a good chunk of the set in the power stance with his signature snarl on his face. The sparse – six song set was enough to get the audience going, but for me it was far too short. ALTER BRIDGE is set to release their next studio album, The Last Hero, on October 7th before heading over to Europe for an extensive fall/winter tour.

Setlist:
"Addicted To Pain"
"Find The Real"
"Ghost Of Days Gone By"
"Blackbird"
"Isolation"
"Rise Today"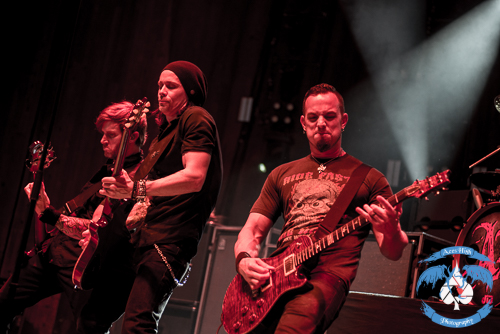 Next on the agenda was BREAKING BENJAMIN. Billed as a co-headliner, although DISTURBED has been closing every night of the tour thus far, I would be remiss if I didn't acknowledge the support BREAKING BENJAMIN received. The crowd swelled and shrieked as the opening notes of "So Cold" began to echo. The only remaining founding member, frontman/guitarist Benjamin Burnley was the last to reach the stage, standing front and center as the CO2 blasted upwards.

The 6'4" Burnley towers over the monitors and microphone stand, demanding the crowd to get into it. At one point he pulled out a light saber and the band performed a medley of abbreviated covers, kicked off by "The Imperial March" theme from STAR WARS. Like many bands, BREAKING BENJAMIN has battled many uncertainties, legal conflicts, health issues and an extensive hiatus. The fact that the band is here and touring in some capacity is miraculous. After the set I felt like I had a better appreciation for their extensive catalogue. You really don't realize the number of hits the group has produced until they are all laid out and ripped through in succession. Highlight of the set was "I Will Not Bow" and the entire set was tight, ending with the hit "The Diary Of Jane".

Once BREAKING BENJAMIN left the stage, there was a fairly large migration of concertgoers up the hill and towards the exit. Were they only here for BREAKING BENJAMIN? Or did they know something that I didn't? One glance at the weather app on my phone and my screen lit up with warnings. A massive thunderstorm with high winds and hail was tracking right towards the venue, tucked away in the rolling hills of Cuyahoga Falls. Would DISTURBED even make it to the stage?

Setlist:
"So Cold"
"Angels Fall"
"Sooner Or Later"
"Blow Me Away"
"The Imperial March"/"Schism" (TOOL)/ "Smells Like Teen Spirit" (NIRVANA)/"Walk" (PANTERA) Medley
"Polyamorous"
"Ashes Of Eden"
"Believe"
"Breath"
"Failure"
"Until The End"
"I Will Not Bow"
"The Diary Of Jane"
As the trees began to whip DISTURBED did make it to the stage following a lengthy highlight video displaying their career. It was a pyromaniac's dream come true. In unison, fire enveloped the backline. "Ten Thousand Fists" was the perfect opening song for what was a crowd of approximately…ten thousand. I was ecstatic to be in the photo pit for "The Game". I was in junior high when that first DISTURBED album dropped and their set was full of selections from that epic debut record.

As I left the photo pit, the wind had picked up significantly and DISTURBED was now plowing through "Prayer" off of the Believe album. Once the song ended, vocalist David Draiman read off of a sheet of paper that was given to him. The concert was suspended and people were asked to take cover until the storm passed. Security packed the lawn ticket holders into the back of the pavilion. Thirty minutes later, give or take, it had cleared up enough that David flanked by bassist John Moyer and guitarist Dan Donegan and backed by drummer Mike Wengren retook the stage, picking right up where they left off with "Liberate".

The set continued without any additional hiccups. David Draiman explained that; "There are many things that we can control, that (pointing to the sky) is not one of them" as he thanked everyone for their patience and understanding. The SIMON & GARFUNKEL classic "The Sound Of Silence" was played in extraordinary fashion with guest violinists and cellists as Dan Donegan played piano and Mike Wengren came out from behind the kit to play the tympani.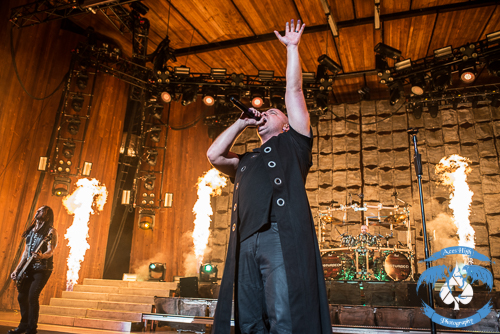 It was a rocking night full of what the best of modern rock and metal have had to offer over the past 15 or so years. The show had all of the trimmings, Co2, pyro, strobes and even a weather delay. It is safe to say that DISTURBED is back and I don't think they are going anywhere anytime soon.
Setlist:
"Ten Thousand Fists"
"The Game"
"The Vengeful One"
"Prayer"
***Weather Delay***
"Liberate"
"Stupify"
"The Sound Of Silence" (SIMON & GARFUNKEL Cover)
"Inside The Fire"
"The Light"
"Stricken"
"Indestructable"
"Vocies"
"Down With The Sickness"
Check out some more photos from the show!
All Photos By Geoff/Ketler/Aces High Photography




Please log in to view RANTS

If you don't have a username, click here to create an account!





BURNING RAIN In Houston Photo Gallery

JUDAS PRIEST, URIAH HEEP In Los Angeles With Photos!

THY ART IS MURDER Human Target

HELL'S ADDICTION V1.0

CHEAP TRICK In Houston, TX With Photos!

LORDI Recordead Live - Sextourcism In Z7

GEOFF TATE'S OPERATION: MINDCRIME In New Bedford, MA

FLOTSAM AND JETSAM In Montreal, Canada

JUDAS PRIEST, URIAH HEEP In Portland, OR With Photos!

2019 SONIC TEMPLE Photo Gallery 2

2019 SONIC TEMPLE Photo Gallery 1

(HED)PE Stampede

STEVEN ADLER In Houston, TX Photo Gallery

SWEET OBLIVION Featuring GEOFF TATE Sweet Oblivion

SLAUGHTER, LYNCH MOB In Houston Photo Gallery

METALLICA At Slane Castle, Ireland

THE RODS Brotherhood Of Metal

JANET GARDNER Your Place In The Sun

BARONESS Gold & Grey

THE HOLLYWOOD VAMPIRES Rise

HATE Auric Gates Of Veles

SLAYER, LAMB OF GOD, AMON AMARTH, CANNIBAL CORPSE In Ottawa, Canada

MAJESTIC DOWNFALL, HELEVORN, NORILSK In Ottawa, Canada