Band performance times, onsite experiences, and food trucks have been announced for the first-ever Texas Mutiny on Saturday, September 24 at Petty Place at Texas Motor Speedway in Dallas-Fort Worth. Produced by AEG Live, the newest rock and camping festival to hit the Lone Star State promises a day of absolute music mutiny with over 12 hours of nonstop music on three stages from AVENGED SEVENFOLD, DEFTONES, CHEVELLE, PIERCE THE VEIL, HELLYEAH, GHOST, OF MICE & MEN and more.

Festival doors open at 11:00 AM. The current performance schedule for Texas Mutiny is as follows (subject to change).

Longhorn Stage
10:30 PM - Avenged Sevenfold
8:45 PM - Deftones
7:10 PM - Chevelle
5:55 PM - Pierce The Veil
4:40 PM - Hellyeah
3:30 PM - Candlebox
2:30 PM - Starset
Republic Stage
9:50 PM - Ghost
8:15 PM - Of Mice & Men
6:40 PM - Nothing More
5:25 PM - The Amity Affliction
4:10 PM - Skindred
3:00 PM - Avatar
2:00 PM - Shaman's Harvest
1:00 PM - Failure Anthem
Renegade Stage
9:50 PM - Neck Deep
8:15 PM - KYNG
6:40 PM - Twelve Foot Ninja
5:25 PM - Smashing Satellites
4:10 PM - Islander
3:00 PM - Romero
2:00 PM - Mothership
1:00 PM - September Mourning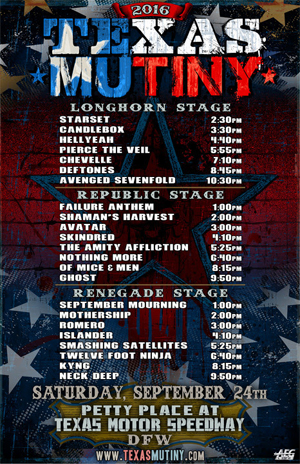 General Admission and VIP tickets, as well as hotel and camping packages, are still available at www.TexasMutiny.com. Fans are encouraged to buy now and save. Tickets for Texas Mutiny increase to the following week-of-show prices (plus fees) starting Monday, September 19 at Noon CDT and remain the same through day of show. General Admission tickets will be $99.50, 4-pack GA ticket packages will be $318.00, and VIP tickets will be $199.50.
Two and 4-person camping packages are available starting at just $199.50 per person (inclusive of service charges and fees). All camping packages include VIP tickets, Friday and Saturday night camping, $25 festival merchandise voucher (one per person), Texas Mutiny poster (one per person), and access to the Friday Night Pre-Party at the Petty Place Campground. The Pre-Party begins at 7:30 PM on Friday, September 23, and features a performance from SIGNS OF LIFE.
Texas Mutiny has partnered with some of the area's top food trucks and vendors to provide festivalgoers with the ultimate dining experience to match the unforgettable rock show. Providing a wide variety of dining options, the following food trucks and tents will be onsite serving their specialties during the event:
Mad Grill: Clean, mean Pan-Asian cuisine (www.madgrillusa.com)
V.I.P. (Very Individual Pizza): Flat out the best pizza in DFW! (www.veryindividualpizza.com)
Mr. Snowie: Ice is nice – 39 flavors of gourmet snow cones (www.mrsnowieusa.com)
Gandolfo's New York Delicatessen: One bite…and you're there® -- Gandolfo's brings the New York Deli experience into your hometown (www.gandolfosdeli.com)
What's Da Scoop?: Old fashioned, hand-scooped ice cream (www.whatsdascoop.com)
Chez Flo Food Truck: Crepes and sandwiches taking your ordinary food truck to extraordinary by giving you a little bit of France with every bite (www.chezflofoodtruck.blogspot.com)
Ssahm BBQ: "Come get Ssahm" iconic kimchee fries and Korean fusion tacos (www.ssahmbbq.com)
Greek Lover Food Truck: Fresh Greek food made daily (www.abesfoodtrucks.com)
Rockn' Rick's: Gourmet Cajun/American food from a rockn' food truck (www.rock-n-ricks.com)
In addition to music, Texas Mutiny will offer multiple onsite experiences, including those listed below:

Exide: Exide Technologies, the leader in powering your favorite NASCAR teams, will be providing rides from vehicles & camp spots to the front gate all day long! Each rider can enter to win the Driver for a Day prize pack where you'll get to experience what it's like to be a NASCAR Pro at the Team Texas driving school!

http://www.exide.com/

Pabst 1844 VIP Lounge: Pabst 1844 VIP Lounge is the ultimate way to experience Texas Mutiny. VIP ticket holders will have access to: ice cold Pabst Blue Ribbon beer (21 & up), shaded tents with seating areas, private bars, upgraded food vendors, private restroom trailers, and charging stations.

http://pabstblueribbon.com

The PBRcade: Make sure to stop by the PBRcade, Texas Mutiny's very own retro arcade brought to you by Pabst Brewing Company. Play your favorite retro video games all day long on free game play while enjoying ice cold Pabst Blue Ribbon Beer. Games are for all ages, beverages are for those 21 and over only.

http://pabstblueribbon.com/

Jack Daniel's: Crafting something that endures for years takes time and character. You'll find both in the quality of Jack Daniel's and the energy of Rock and Roll. Enjoy all of our Jack Daniel's family products to keep the energy going all festival long. "Rock and Roll's got to be like Jack Daniel's – you've got to feel the burn." -- Nikki Sixx

http://www.jackdaniels.com/en-us

El Jimador: Our passion, fused with that of the master distillers is what makes the difference in our Tequila. Grit, dedication and spirit go into every drop – just like every rock performance. Join us at our El Jimador airstream to enjoy the entire Jack Daniel's and El Jimador family product lines with friends.

http://www.eljimador.com/

Tailgate: Customize your Texas Mutiny t-shirt at the Tailgate t-shirt shop! Tailgate Entertainment is a high quality merchandise company preserving memories for music, arts, and film festival fans around the country. Pick your own rockin' design or photo to have printed right on to your favorite piece of Texas Mutiny merchandise! Texas Mutiny merchandise will be sold throughout the festival and at the Tailgate t-shirt shop – don't leave the show empty-handed.

http://www.tailgateentertainmentllc.com/

Texas Motor Speedway is located at 3545 Lone Star Circle in Fort Worth, TX. For more information on the venue, visit www.texasmotorspeedway.com.