As Rock And Roll Fantasy Camp enters its 21st year, this bucket list adventure welcomes another era of super stars with the first ever camp with Jerry Cantrell and Mike Inez of the mutli Grammy nominated contemporary rock legends ALICE IN CHAINS and Dean DeLeo and Robert DeLeo of the multi platinum selling STONE TEMPLE PILOTS.

The hard rock architects of contemporary classics like "Rooster" "Would?" and "Man In The Box" ALICE IN CHAINS has sold more than 14 million albums in the United States (nearly 35 million worldwide!) released two number-one albums, had 21 Top-40 singles, and has received an astounding NINE Grammy nominations!

STONE TEMPLE PILOTS is one of the most commercially successful rock bands of the past 3 decades, selling nearly 40 million records worldwide. The band has had 16 Top-Ten singles on the Billboard rock charts—eight of which peaked at No. 1!—and one No. 1 album for Purple in 1994. That same year, the band won a Grammy for "Best Hard Rock Performance" for the song "Plush" from the album Core.

"We are really looking forward to meeting everyone and having the opportunity to play some music together." Dean DeLeo

Make no mistake, this will be a monumental camp filled with some of the greatest touring musicians and music. Come celebrate the experience with us and celebrate the legacy of these incredibly influential and inspiring artists as you live out YOUR rock and roll fantasy by performing with them!

As the headliners at Rock And Roll Fantasy Camp, attendees will jam with all of these incredible musicians at the Rock And Roll Fantasy Camp facility in Los Angeles, CA. From beginners to the novice, there is a band for you at this once in a lifetime Rock And Roll Fantasy Camp. There will be master classes on all instruments, themed jam rooms and the final night's performance will be at the legendary Whisky A Go Go on the Sunset Strip.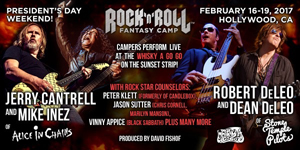 We also have a new focus on our master classes with our amazing counselors such as Vinny Appice (BLACK SABBATH), Peter Klett (formerly of CANDLEBOX), Tracii Guns (LA GUNS) and many more, where you can present your original songs at our counselor roundtable or learn the secrets of working successfully in a band. There are classes on all instruments, practice techniques, showmanship and so much more!
Rock and Roll Fantasy Camp is a non-competitive atmosphere designed for all levels of musicians and music enthusiasts. Participants are placed in bands with like-minded people and skill level to make for an off-the-charts experience. The bands will rehearse under the guidance of a rock star counselor.
Don't get left out! The four-day camp is on sale now at www.rockcamp.com
ABOUT ROCK AND ROLL FANTASY CAMP
For our attendees, this is a life changing experience. Some of the attendees play well and even gave up careers as musicians to become CEOs and lawyers. Some attendees can't play at all. What they all have in common is passion for rock music. At Rock And Roll Fantasy Camp they all get to pursue their passion – and meet, and play with the artists who became the soundtrack of their lives.
David Fishof is the founder and creator of the famed Rock And Roll Fantasy Camp where rock dreams become reality. Past rock star camp headliners have included Jeff Beck, Tony Iommi (BLACK SABBATH), Roger Daltrey (THE WHO), Joe Perry (AEROSMITH), DEF LEPPARD, Alice Cooper, Sammy Hagar, Gene Simmons (KISS), JUDAS PRIEST, Bill Wyman (THE ROLLING STONES), Slash, Bret Michaels (POISON), CHEAP TRICK, Ginger Baker (CREAM), Vince Neil (MOTLEY CRUE), among others.
For additional information, please visit www.rockcamp.com or call 888.762.BAND.