IGNITOR Releases Years Of War Collection Box Set


By Larry Petro, News Monkey
Wednesday, January 4, 2017 @ 9:21 AM


| | | |
| --- | --- | --- |
| | | Set Features Band's First Five Albums |
IGNITOR, the Austin, Texas-based true metal titans featuring iconic vocalist Jason McMaster (DANGEROUS TOYS), have released the limited edition Years Of War Collection box set, which includes five CDs spanning 10 years.

The box set consists of their legendary debut Take To The Sky, Road Of Bones, The Spider Queen, Year Of The Metal Tiger and for the first time ever, a CD version of their classic covers album, Mixtape 85. Also included for a limited time, a live bonus DVD of IGNITOR's performance from the 2005 Keep It True Festival in Germany, as well as a limited edition back patch.

IGNITOR vocalist Jason McMaster has checked in with the following comment: "Finally, you can get the history of IGNITOR's first five music releases, all in one kick ass box set. It is really cool to have all the band's chronological releases in one place including our never before released on CD old school classic covers album Mixtape 85. It was a ton of fun organizing this set with all worldwide true metal fans in mind.

Years Of War Collection includes the following titles (with band comments).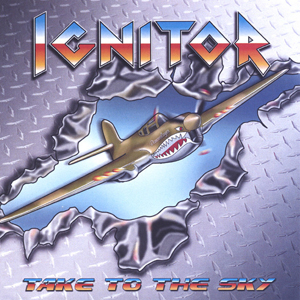 Take To The Sky (2004) - "IGNITOR's first record. It was recorded at the end of 2003 and released through CD Baby. This is where it all began and is an example of a band doing what they love. When Germany's Rock Hard magazine named it "Demo of the Month," we figured we were on to something."
Tracklisting:
"Demon Slayer"
"Execution"
"The Grey Ghost"
"Take To The Sky"
"The Last King Tiger"
"Lean Mean Leather Machine"
Road Of Bones (2007) - "This is IGNITOR's second record, the last to feature Erika on vocals and the only to feature Annah Moore on guitar. It was recorded in the summer of 2006 and released in 2007. This is a great record that never got the chance to be properly promoted. Unfortunately, Erika left the band the week it was released, leaving IGNITOR unable to play until a new singer was found."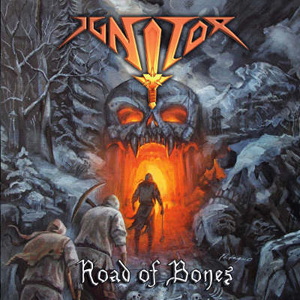 Tracklisting:
"Intro
"Road Of Bones"
"Scarlet Enigma"
"March To The Guillotine"
"Wings Of The Blackheart"
"Hymn Of Erin"
"Phoenix"
"Broken Glass"
"Castle In The Clouds"
"God Of Vengance"
"Reinheitsgebot"
The Spider Queen (2009) - "This is IGNITOR's third record and the first to feature Jason McMaster on vocals and the return of Beverly Barrington. It was recorded and released in 2009. The Spider Queen is a concept album following the traditional "boy meets girl, girl turns out to be a giant spider that's also his mother, boy's grandmother kills girl, boy kills grandmother" format. We still don't know why some people didn't "get" the story. This album diverged a little from the true metal ideal as Batlord was inspired by long form rock 'n roll works including The Rocky Horror Picture Show and Flash Gordon."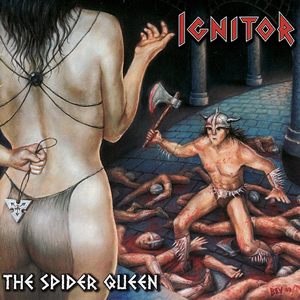 Tracklisting:
"Magnum Opus"
"Evil Calling"
"I Never Knew"
"The Games Begin"
"Angels Descend"
"The Spider Queen"
"Rune Of Power"
"What Love Denies"
"Construct of Destruction"
"My Heart Turns To Dust"
"Dynasty Of Darkness"
Year Of The Metal Tiger (2012) - "This is IGNITOR's fourth record. It was recorded in 2011 and released in the spring of 2012. We really got back to basics on this one: no ballads, a guitar solo in every song, no over-arching conceptual storyline to confuse the instant gratification addicted. Just classic metal by metalheads for metalheads."
Tracklisting:
"Heavy Metal Holocaust"
"Beast In Black"
"Raiders Of The Void"
"Shadow Of The Needle"
"Island Of The Damned"
"The Kaiser"
"We Are Ignitor"
Mixtape 85 (2013) - "This is IGNITOR's last recorded output released in 2012. It is a compilation of IGNITOR playing our favorite classic metal tunes. Super fun and a must have for all metalheads, it embodies the excitement of the old school 80's metal experience."

Tracklisting:
"Deathrider" (ANTHRAX cover)
"Fast As A Shark" (ACCEPT cover)
"Violence And Force" (EXCITER cover)
"Into The Coven" (MERCYFUL FATE cover)
"Witching Hour" (VENOM Cover)
"Hell Bent For Leather" (JUDAS PRIEST cover)
"A Lesson In Violence" (EXODUS cover)
"Highway Star" (DEEP PURPLE cover)
You can order the box set right HERE.











Please log in to view RANTS

If you don't have a username, click here to create an account!