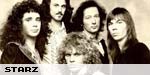 (

Back in the mid-'70s, a group outta New York called Starz were poised to be the next big thing. They were the bridge between Aerosmith and Journey, from Van Halen to Angel. They were produced by Aerosmith knob-twirler Jack Douglas, they opened for everyone from Ted Nugent to Judas Priest to Peter Frampton and they had several minor radio hits, including "Fallen Angel," "Detroit Girls" and "Cherry Baby."
Unfortunately, as fate would have it, they never quite broke though to the big time, despite endless touring, a stellar live show and four strong studio albums. Over the years everyone from Bon Jovi to Motley Crue to have praised Starz as an influence, while newer, underground acts like bay Area punks American Heartbreak cover their tunes. As per the norm these days, the band reformed and has been gigging on the east coast. Recently, they launched a Website and began selling excluisve CDs of old, new and hard to find material.
At Starzcentral.com, in addition to the official albums (which were re-released through Metal Blade a while back), hard-to-find live EPs and solo efforts, fans can score nine previously unreleased CDs worth of material the band has unearthed from the vaults. These CDs feature rare or unreleased live shows, studio outtakes, rehearsals and reunion recordings and remind the listeners what a diverse, dynamic band Starz really were. If hardcore fans complained that their studio efforts lacked the power of their live show, then these CDs more than make up for it and demonstrate what a fireball the band was onstage.
Though Live in Louisville features songs that appeared on Live In Action and Live In America and the 1995 reunion effort, Requiem, it is presented here in it's unedited form and is an absolute monster! This gig (recorded on march 30, 1978) finds the band at the absolute peak of their powers, hauling ass through a blistering hour-plus set of hits like "Cool One" and "Plug It In" alongside fan favorites such as "Subway Terror" and "Boys in Action." We also get treated to obscure cuts such as "Piss Party," guitarist Richie Ranno's blazing "Greatest Guitar Riffs" solo and a cover of "Route 66." Lead singer Michael Lee Smith (brother of Rex Smith) is in terrific form, his Steve Perry by way of Steven Tyler voice in fine form and his stage raps as hilarious as ever. A must for any fan.
The aforementioned Requiem was released in 1992 and featured five Jack Douglas co-produced tunes alongside some live cuts and rare solo numbers. The reunion songs are surprisingly great, with Douglas' production capturing the '70s feel of their classic material (dig the cool backing vocal effects, man). "Vidi O.D." is the best of the lot, a funny dig at the MTV generation, while rockers "Rough & Ready" and "Backstreet Survivor" sound like they could be right off Coliseum Rock or Attention Shoppers!. The rare, live b-side "Texas" finds the band in ZZ Top mode in the '70s, getting' down and dirty via some boogie blues. Live versions of "Fallen Angel," "Hold On The Night" and the awesome "Nightcrawler" round out the old-school stuff, while a Richie Ranno produced rap tune by MC Square, two Ranno solo songs and Hellcats number round out the newer school side (well, new at the time). The real gem here though is the Ranno solo cut "Waitress," a catchy slice of tongue-n-cheek, new wave pomp that could be off a late-'70s Iggy Pop album. A real cool time indeed.
Back In The Day finds the band in the studio at the Record Plant in 1975 cutting their first demo. Though they are rougher and looser than the polished act the albums showcased, this session gives a glimpse into the era of the band when they were slugging it out in the clubs and vying for a record deal. "Fallen Angel" is slower, while "Cool One" cruises along at a shuffle tempo, not the straight-ahead vibe of the later studio version. "Sweet Jeremiah" show they had hit singles in their sights, while a cover of "Devil With A Blue Dress On" proves they were just a bar band at heart. All in all, a great snapshot of a band on the rise.
These are merely three of the nine new releases of vintage Starz music and I encourage you to go score the rest. A DVD is on the way and reviews of more of their fan-club CDs will likely be posted here in the future. Hopefully they will announce more reunion shows and start hitting the rest of the country, as so far the east coast have been the only lucky ones.
* * * *

Please log in to view RANTS



JAG PANZER The Hallowed

THE DEFIANTS Drive

GLORYHAMMER Return To The Kingdom Of Fife

NIGHT LEGION Fight Or Fall

IMMORTAL War Against All

JOE PERRY Sweetzerland Manifesto MKII

BUCKCHERRY Vol. 10

DAVE LOMBARDO Rites Of Percussion

HELLOWEEN, HAMMERFALL In Worcester, MA With Photos!

DARK FUNERAL, CATTLE DECAPITATION, 200 STAB WOUNDS, BLACKBRAID In Houston, TX With Photos!

MR. BUNGLE, MELVINS, SPOTLIGHTS In Portland, OR With Photos!

PANTERA At Welcome To Rockville With Photos!

THE BLACK DAHLIA MURDER, TERROR, FROZEN SOUL, FUMING MOUTH, PHOBOPHILIC In Anaheim, CA With Photos!

ENFORCER Nostalgia

BUZZFEST Featuring GODSMACK, I PREVAIL, HIGHLY SUSPECT, THE STRUTS And Others In Houston, TX With Photos!

SLEEP TOKEN Take Me Back to Eden

UGLY KID JOE, FOZZY, PISTOLS AT DAWN In Houston, TX With Photos!

TESLA, FASTEST LAND ANIMAL, KURT DIEMER In Orlando, FL With Photos!

CATTLE DECAPITATION Terrasite

TYGERS OF PAN TANG Bloodlines

MYSTIC PROPHECY Hellriot

WHITECHAPEL, ARCHSPIRE, SIGNS OF THE SWARM, ENTHEOS In Santa Ana With Photos!

ALCATRAZZ Take No Prisoners

BURNING WITCHES The Dark Tower

ELVENKING Reader Of The Runes - Rapture

CHAOS AND CHARNAGE Tour Featuring SUICIDE SILENCE, DYING FETUS, BORN OF OSIRIS, ABORTED, CROWN MAGNETAR, SANGUISUGABOGG And SLAY SQUAD In Anaheim With Photos!

ENFORCED War Remains

SAVAGE EXISTENCE Savage Existence

BLACK ROZE Penny For Your Sins

WINGER Seven