METALLICA, AVENGED SEVENFOLD, VOLBEAT In Orlando, FL With Photos!


By Travis Failey, Planet Earth Contributor
Sunday, July 9, 2017 @ 9:36 AM


| | | |
| --- | --- | --- |
| | | Worldwired Tour Fires Back Up At Camping World Stadium |
All Photos By Travis Failey/Rocket Sports & Entertainment
The Fourth of July Holiday was extended an additional day in Orlando as METALLICA brought their own fireworks to Camping World Stadium on Wednesday night. Out on the road in support of its platinum release, Hardwired...To Self Destruct, METALLICA, with support from VOLBEAT and AVENGED SEVENFOLD, set the bar for the Tour of the Year. I'm not just saying that because I'm a fan, or because I have been following this band since the mid-eighties, but because that's what the majority of the fans that I spoke to said. In any event, there is no doubt that METALLICA left an indelible impression on the 50,000 plus fans in attendance.
VOLBEAT got the evening's events started in the late afternoon as the brutal Florida sun beat down on the crowd due to the open stadium and minimal cloud cover. VOLBEAT's ghoulish backdrop draped over the front of Lars Ulrich's kit, and boxing ropes covered the extended snake pit "catwalk." They started their set with "The Devil's Beating Crown" off their recent release Seal The Deal And Let's Boogie and played an extended nine song set.
The Danish rock band fuses a combination of rock and roll, heavy metal, and rockabilly, and has been all over terrestrial and satellite radio with their hit singles "Seal The Deal", "Lola Montez", and "The Hangman's Body Count". It's been an amazing run that the Copenhagen foursome has been on over the last five years in the States culminating with the opening spot for arguably the largest hard rock & metal band in the world.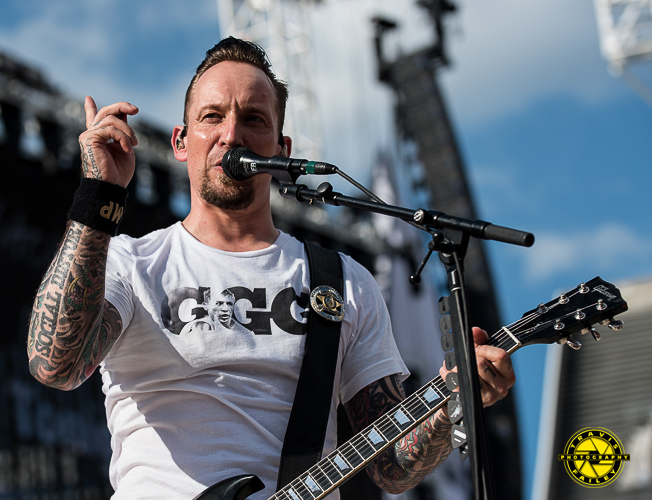 Frontman Michael Poulsen went right to the front of the ring and captured the crowd's attention by playing a set comprised of their Sirius/XM hits. "Seal The Deal" was a crowd favorite and VOLBEAT always brings their Johnny Cash influence with them by playing "Ring Of Fire" as an introduction to "Sad Man's Tongue". Former ANTHRAX guitarist Rob Caggiano was all over the massive stage and fit in perfectly playing off of Poulsen and new bassist Kaspar Boye Larsen. Larsen recently joined the band and went on tour with the guys only 12 hours after the birth of his son. That's what I call dedication!.
VOLBEAT primed the crowd for the modern metal band with classic roots, AVENGED SEVENFOLD, who hit the massive stage to the backdrop of the letters "M & A" in METALLICA's original font. Playing during the day has to be a rarity for the band from Huntington Beach as AVENGED SEVENFOLD has been headlining tours and festivals since it released its breakout album, Nightmare.
Vocalist M Shadows was flanked by the classic metal guitar tandem of Zacky Vengeance and Synyster Gates as AVENGED SEVENFOLD hit the stage during AC/DC's "Back In Black". It was apropos that they would come out to this song as AVENGED SEVENFOLD's stage show and sound has been compared with 's and JUDAS PRIEST's, with their own modern twists. AVENGED SEVENFOLD started its set with the title track from their latest release, The Stage, and hit its stride as the massive crowd joined in with the band during the chorus of "Hail To The King". There were AVENGED SEVENFOLD t-shirts peppered throughout the audience, and some fans held up signs in support of the new "defenders of the metal faith". AVENGED SEVENFOLD didn't win the Revolver Magazine's 2014 Golden Gods Award for Most Dedicated Fans Award for nothing! AVENGED SEVENFOLD also displayed its pyromaniac side as pots of fire rose throughout its set, which included "Buried Alive", "Bat Country" and the title track from Nightmare.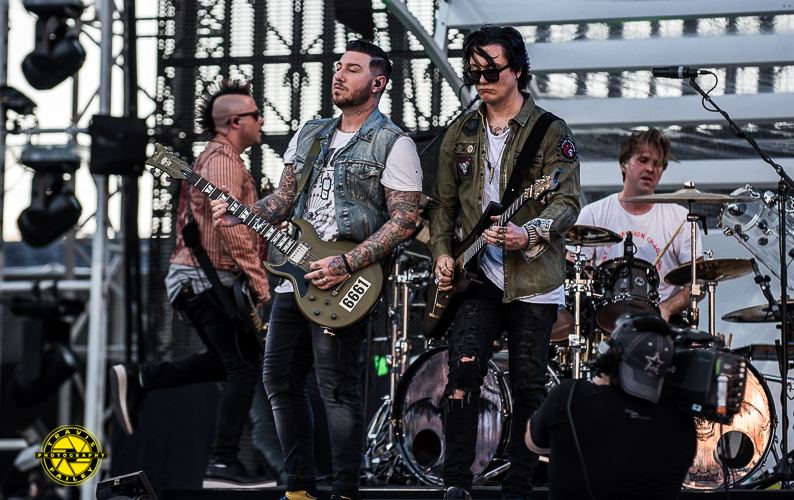 M Shadows was also all over the Snake Pit and the main stage singing directly to individual fans that were melting in the summer heat. He's a great frontman with a wide vocal range and a sound all his own. With Vengeance, Gates, bass guitarist Johnny Christ, and drummer Brooks Wackerman, proved to everyone in the crowd that AVENGED SEVENFOLD deserved to open for METALLICA. As AVENGED SEVENFOLD finished their set with "Unholy Confessions", they departed the stage to THE BEATLES's classic, "A Day In The Life" playing over the p.a. It was another great performance by AVENGED SEVENFOLD, who will be out headlining shows later this year.

Anticipation!!! You could cut the intensity of anticipation with a knife as the almost full moon donned a smile through the dark Orlando sky. As the lights went down, a clip from the classic Clint Eastwood movie, The Good, The Bad And The Ugly, hit the massive screen, while "The Ecstasy Of Gold" theme song led into the Hard Wired...To Self-Destruct video montage and monstrous air balloons inflated at top of the stage.

METALLICA came out to an assault of fire and lights and started its 18 song set with the title track from Hard Wired...To Self-Destruct, and then right into their second single "Atlas Rise". As METALLICA concluded "Atlas Rise", James Hetfield addressed the crowd for the first time, "We don't give a shit what you have done in your life, what you are wearing right now, what color you are or what religion you believe in are, what political shit you believe in, we don't care about any of that. You are here tonight as a member of the METALLICA family. Are you with us?" The crowd responded with a massive roar, after which bassist Rob Trujillo struck the opening chords of "For Whom The Bell Tolls".

Hetfield's comment was refreshing as a lot of bands lately have been using their status as musicians to further their own political and social agenda, which is a decisive move these days. Most fans want a break from politics when they go to a rock show and just want bands to play, not preach.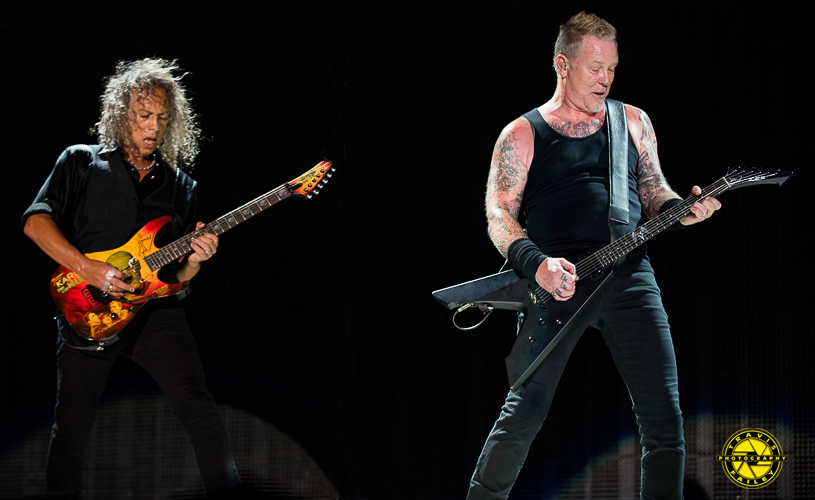 METALLICA's set included a variety of songs that spanned throughout its career with an emphasis on its new album, but it never waned in intensity, except maybe for a moment during "Halo On Fire". I noticed that some of the crowd had their eyes down on their phones, but they were drawn right back in when Kirk Hammett and Rob Trujillo went to the front of the snake pit stage and played solo renditions from "I Disappear" and "Anesthesia (Pulling Teeth)". Trujillo should no longer be regarded as a "hired gun" but as a full-fledged member of METALLICA. During Trujillo's solo, a video of former METALLICA bassist Cliff Burton played on the video screens as a showing of reverence for their fallen mate.

There were so many highlights from METALLICA's set with moments and effects that have never been performed before. Yes, we have seen massive pyro blasts that have reached the top of stadiums like the ones during "Fuel" and "Hit The Lights", but I've never witnessed what METALLICA provided during "Moth Into Flame". A ball of flame skittered back and forth continuously across the massive stage during the performance like it was chasing the band members. It was such an amazing site that even the on-site medical staff pulled out their phones and started shooting video of it.

Another highlight of the many was when the whole band performed their own drum circle using monstrous Polynesian tom drums during "Now That Were Dead". Circle pits formed during the track with one mosher wearing an American flag wrapped around his hand and another wearing a Mars Attacks! shirt from 1996. The pits were many and active throughout the night but also tame, with many of the moshers being in their late 30s and 40s thrashing about, but also cautious to not injure themselves or others in the pit.

Hetfield addressed the crowd again after spotting some young fans in the crowd. He was amazed to find out that the kids were only 4 and 5 years old and welcomed them to the METALLICA family. Hetfield's vocals have been questioned in the past but after tonight's performance, all questions have been answered: James hasn't sounded this good since the And Justice For All Tour.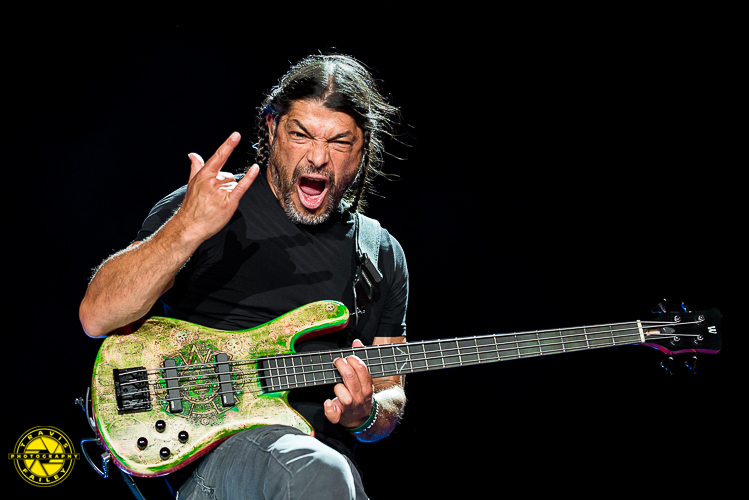 A thunderous boom shook the ground like the recent earthquake in Montana, while the opening salvo of the skin-crawling epic, "One" reverberated throughout the stadium. Another natural disaster took center stage when fire seared across the crowd during the first song of METALLICA's encore, "Fight Fire With Fire".

METALLICA then went old school as a drum riser rose up from the front of the snake pit stage while Hetfield stated "We are going back to the garage!" and crushed their Kill Em All classic "Seek And Destroy". It was a special moment for everybody in attendance, but especially for those fans at the front of the snake pit stage as all four member performed in the small space. On a side note, if you are attending a stop on this tour, the front of the Snake Pit is the perfect spot to watch the whole show.

With its biggest hit "Enter Sandman" concluding its set and as the fans were exiting the stadium, it was confirmed that METALLICA isn't only the biggest and successful band from the thrash metal genre that they helped create, but also the tightest that they have been in years. The chemistry that Lars, James, Kirk and Rob have created is palpable and once again they have created a metal monster that is hardwired and will hopefully not self destruct.

For upcoming tour dates https://www.metallica.com/tour

Check out some more photos from the show!
All Photos By Travis Failey/Rocket Sports & Entertainment




Please log in to view RANTS

If you don't have a username, click here to create an account!






BRITISH LION, CONEY HATCH In Ottawa, Canada

SUNFLOWER DEAD C O M A

SURF CITY BLITZ In California Photo Gallery

TRIVIUM, AVATAR, LIGHT THE TORCH In Portland, OR Photo Gallery

DEVILDRIVER, JINJER In Cleveland, OH With Photos!

CORROSION OF CONFORMITY In Dublin, Ireland

CAULDRON New Gods

STEVE GRIMMETT'S GRIM REAPER In Ottawa, Canada

JUDAS PRIEST, KREATOR In Quito, Ecuador

CAL JAM '18 Photo Gallery

BLOODBATH The Arrow of Satan Is Drawn

STRIKER Play To Win

NIGHT RANGER "Dawn Of Madness" Show In Waukegan, IL

BUTCHER BABIES, KOBRA AND THE LOTUS, SKARLETT RIOT, IGNEA, MAERTYRIUM, In Siegburg, Germany

HOUSE OF LORDS In New Bedford, MA

GRETA VAN FLEET Anthem Of The Peaceful Army

IMPELLITTERI The Nature Of The Beast

ALICE COOPER In Houston Photo Gallery

ICARUS WITCH Goodbye Cruel World

TARJA, STRATOVARIUS, SERPENTYNE In Cologne, Germany

CLUTCH, SEVENDUST, TYLER BRYANT & THE SHAKEDOWN In Portland, OR With Photos!

ACCEPT In Houston, TX With Photos!

U.D.O. Steelfactory

SKULL FIST Way Of The Road

SOULFLY Ritual

ANTHRAX State of Euphoria 30th Anniversary Deluxe Edition

FIFTH ANGEL The Third Secret

STEVE GRIMMETT'S GRIM REAPER In New Bedford, MA

ANAAL NATHRAKH A New Kind of Horror

PRIMAL FEAR Apocalypse

BEHEMOTH I Loved You At Your Darkest

DORO Forever Warriors, Forever United

SLASH FEATURING MYLES KENNEDY AND THE CONSPIRATORS In Houston, TX Photo Gallery

BILLY MORRIS AND THE SUNSET STRIP Holdin' All The Aces

VINCE NEIL In Houston, TX Photo Gallery

DEE SNIDER For The Love Of Metal

UNLEASH THE ARCHERS, STRIKER, HELION PRIME In Houston, TX W/Photos!

DREAM CHILD Until Death Do We Meet Again

SCORPIONS, QUEENSRYCHE In Tampa, FL With Photos!

HUMBLE PIE Live At The Ottawa CityFolk Festival

BEHEMOTH Album Listening Party In Los Angeles For I Loved You At Your Darkest

THE DEAD DAISIES, HOOKERS 'N BLOW In Ottawa, Canada With Photos!

DRAGONLORD Dominion

STONE BROKEN Ain't Always Easy

BRANT BJORK Mankind Woman

KORPIKLAANI Kulkija

BRAINSTORM Midnight Ghost

SLEAZY WAY OUT, INSUFFICIENT FUNDS In Ottawa, Canada

DEEP PURPLE, JUDAS PRIEST In Jacksonville, FL W/Photos!

HELLOWEEN In Worcester, MA With Photos!