M.O.D. Busted, Broke & American

By Nathan Dufour, Great White North
Monday, July 24, 2017 @ 10:59 AM

| | | |
| --- | --- | --- |
| | | |
M.O.D.
Busted, Broke & American
Megaforce Records (2017)




It is 2017 and there is a new album from M.O.D. Let that sink in, because Busted, Broke & American was never supposed to happen, according to the press release that accompanies the promo. I have been sitting on this for a while and know this is no scoop on a to-be-released album - I had issues with the sentence making and feelings having about the album.

Growing up I enjoyed S.O.D. a whole lot, and still do, but never took the time to explore M.O.D. very much. I always viewed them as the slightly older, drunker, and more blatantly misogynistic, racist, and homophobic alt-right (is that still a viable descriptor?) uncle you see every year or so who almost makes a valid point and then meanders into meaningless blathering. S.O.D. is arguably the same thing, but a little slicker lyrically and musically. Or so I thought.

Billy Milano has a big mouth and is unapologetically Republican in his views. Being Canadian I think that approximates being very, very Conservative almost to the point of trying to turn clocks back on social progress. Luckily, Milano does not, at least overtly, let this influence much of Busted, Broke & American insofar as I can tell. The man is articulate and intelligent while also continuing a tradition of being patently offensive; just check out 3rd track "You're A Fucking Dick" for proof of that. He is also profoundly broken, and continues to wave the flag of Hardcore Punk and a staunch and urgent sense of individualism.

The thing that carries crossover, and punk generally, is not only a very precise sound in terms of guitar sound, that almost anemic and thin yet still somehow beefy tone with pinches and the odd squeal, but also lyrics that make the listener think. Alternately, the lyrics can be asininely offensive or just plain stupid. Usually, though, in the case of crossover, it is the former.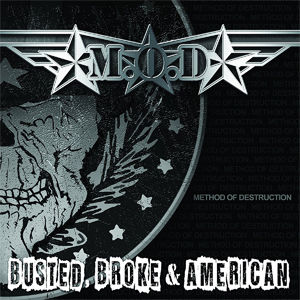 It may be age creeping in, surliness and disaffection or just more general world awareness, but it seems to me that on Busted, Broke & American Milano hits not only on entitlement while also preaching personal freedom on the title track while balancing that against self deprecation on "Billy Be Damned". Elsewhere we find "Shattered Dreams & Broken Glass", a heroic, almost MANOWAR-esque ode to true Hardcore and dammit, it smacks of elitism but at the same time the sentiment of knowing your history very much hits home (yes, METALLICA influenced every band you like, NWOAHM). And on occasion, depth is found without any lyrics at all. "All Out Of Bubblegum" is short, to the point, and a beautiful instrumental that is pretty progressive insofar as the basic trappings of crossover go but what it does most effectively is provide an excellent bridge to the final track of the album, "Go Go Revolution".
A call to arms for basic decency in a world that has been going insane for the last forever, "Go Go Revolution" is a stinging indictment against intolerance while advocating a very street level for of, well, revolution. Milano also encourages the younger generation to question their parents (and he is a grandfather) and further encourages everyone to, essentially, care. Care about everything, everyone, and basically do better and be better by whatever means are necessary. I made mention earlier of Milano's politics because he is not shy about them, but from my eyes and ears, Busted Broke & American is more about coming together than separating people, and about tolerance (something conservative minded persons do not have a good track record of, at least in my experience).
In terms of overall music, I dunno man, it's crossover thrash so circle pit in your living room with your pets and loved ones. To borrow from the press release, because I can't phrase it better: Busted, Broke & American is hardcore punk and it is indeed the shit.
3.5 Out Of 5.0
Pick up your copy of Busted, Broke & American in the KNAC.COM More Store right HERE.