12 STONES Picture Perfect


By Daniel Höhr, European Correspondent
Monday, August 7, 2017 @ 10:38 AM


| | | |
| --- | --- | --- |
| | | |
12 STONES
Picture Perfect
Cleopatra Records, 2017




Perhaps the biggest audience 12 STONES singer Paul McCoy has reached so far, at least on this side of the Atlantic, was when he appeard as guest vocalist on the EVANESCENCE hit "Bring Me To Life" and was also featured in the video, which used to be on high rotation on TV over here in Europe in 2003, when music TV could still be bothered to show actual music videos. Sadly, his band, whose music is usually labelled post-grunge and alternative metal, have never had a huge following over here in Europe but perhaps their new album, Picture Perfect, released on July 14 on Cleopatra Records, will change this.

Since their formation in 2000, the Louisiana-based band has not been terribly prolific in terms of album releases. Their discography includes five studio albums while the list of their past band members is considerably longer. Through the last seventeen years, Paul McCoy and lead guitarist Eric Weaver have been the backbone of the band. They are joined by Sean Dunaway on drums and David Troia on bass on Picture Perfect and, as if to make up for keeping their fans waiting for a new abum for five years, the new release contains not fewer than fourteen modern rock tracks, stylistically the sort of thing you would expect from 12 STONES.

Right away the opener is a killer – quite literally, in a way, because that's what it's called: "The Killer". Its short and crispy two minutes and thirty-nine seconds are packed with heavy riffing, hypnotic rhythms and an anthemic hook line in the chorus. "Blessing" is also based on a solid guitar riff and features a catchy sing-along chorus, the effect of which is boosted by anything but subtle harmony vocals that make the chorus sound huge. "Voodoo Doll" is a relentless rock 'n' roll stomper that must be a killer live while the balladesque "Nothing To Say" provides some thoughtful and reflective moments before the album regains momentum with "Time", whose BEATLES-esque middle part comes as a bit of a surprise amidst the grinding riffing that dominates the song.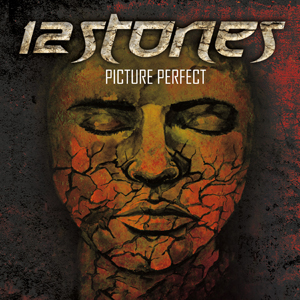 The title track, "Picture Perfect", comes across as a bit constructed and less organic than the other songs on the album despite the originality of the parts it is composed of. "Save Yourself" alternates between laid-back moments and powerful and crunchy guitars that invariably lead to a massive, uplifting chorus. "Lerlene" is a bona fide rock ballad culminating in a powerful guitar solo with a lot of heart but also a lot of balls. "Memphis" brings back the hypnotic riffing but leaves me entirely unimpressed, probably thanks to its generic nature. "Hey Man" kicks off with a heavy metal riff that continues throughout the verse. The song slows down for the chorus, which has a compelling melody made up of falling intervals, before it picks up tempo again with the initial metal riff, thereby producing a great effect. The following mid-tempo rocker "How Long" is also a tad generic but the lead guitar part in the intro and the verse save it from being skipped.
"Hello Suicide" is reduced to acoustic guitars and vocals and is bound to bring tears to your eyes, not only because of its topicality but mainly by the fragility of the vocal line. The album resumes an almost dull normality with "Anthem For The Underdog", which isn't exctly the most inspired track on the album. The final "We Are One", however, is. Bursting with energy and catchy hooks, the three-minute track is a fiery and surprisingly positive end of a good album which is crammed with power and energy, catchy and anthemic melodies, excellent and emotive lead guitar work as well as many a thoughtful and fragile moment.
There are definitely fillers amongst the fourteen tracks on Picture Perfect, so less would certainly be more in this case. Still, the other songs make up for the odd moment of mediocrity and so you are left with an exciting and highly recommended album.
4.3 Out Of 5.0
Grab a copy of Picture Perfect in the KNAC.COM More Store right HERE.




Please log in to view RANTS

If you don't have a username, click here to create an account!