DRIVE IDEFI (A Tribute To David Earl Taylor And Rick Chavez)


By Alex Yarborough, Orlando Contributor
Thursday, December 14, 2017 @ 1:16 PM


| | | |
| --- | --- | --- |
| | | |
DRIVE
IDEFI (A Tribute To David Earl Taylor And Rick Chavez)
2017 20th Century Music




'80s metal fans may remember Houston-based power/prog metal band DRIVE from "I Need The Nights", a song which appeared on the 10 Best From The West (1987) compilation album and received airplay on KNAC. The song helped to break the band, and facilitate the recording of their classic 1988 album Characters In Time on Rampage Records. This impressive debut album received rave reviews throughout the industry. The band went on to release a follow-up album, Diablero, in 1992, but the exploding grunge scene cut the band's career short after that.

DRIVE consisted of vocalist David Earl Taylor, guitarists Rick Chavez and Mercy Valdez, bassist Michael Anthony Guerrero and drummer Valentin San Miguel. (Valdez was replaced in the lineup by Mike Conde after the debut album). Tragically, David Earl Taylor died in a car accident in 2009, and guitarist Rick Chavez passed away earlier this year. Now, 20th Century Music is paying tribute to their legacy with these unreleased songs from the halcyon days of the band. Some are fairly raw demo versions, and that's okay. These are all the original recordings recorded over 20 years ago.

The first two songs were originally intended for the Diablero album, but they didn't make it to the final release by Zoo Entertainment. "Inherit The Wind" is a real treat, and captures the spirit of the band well. From the soaring harmony chorus, to the stellar guitar solo and blistering drums, there are plenty of great moments on this track. "Insanity" is a mid-tempo song with an uplifting chorus and a crafty, noodling solo. The next two songs, "Otra Vez" ("Once Again") and "Pandilla" ("Gang") are sung in Spanish. (The English versions originally appeared on Diablero). "Otra Vez" is more or less a ballad, while "Pandilla" features some Spanish flavor and acoustic flamenco guitar accents that give way to a blistering electric lead guitar.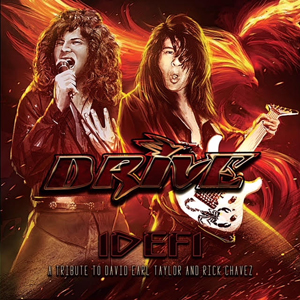 "U12B" follows with a compelling vocal, while "U Or Me" is a driving track that would probably have found a place on Diablero. "Under The Spanish Sun" begins with an acoustic interlude before turning into a forceful, emotional track. Taylor's vocal is spectacular on this standout track. Title track "IDEFI" follows with a fat riff from Chavez and a shattering wail from Taylor. There's a reason the album is named after this bluesy rocker. Take a listen to Rick Chavez's solo on this song. "Woman" is rough around the edges, and feels like a proper remix would bring this mid-tempo anthem to another level. "Not Yet" and "Enemy Wind" are huge, successful songs that harken back to the band's glory days, and with a little polish, could easily have been on the band's debut album. The last two tracks are anomalies, but demonstrate the range DRIVE had. "Me And My Carnal", with its Latin-flavored guitar and percussion, sounds like something SANTANA might release. "Fool" reminds me of LED ZEPPELIN in parts. Both songs feature Rick Chavez on lead vocals.
If you're a fan of DRIVE, you'll definitely need this album to complete your collection. There is an impressive amount of material here that clocks in at over 70 minutes. Also, fans of early QUEENSRYCHE and FIFTH ANGEL will find plenty to like on IDEFI.
4.0 Out Of 5.0




Please log in to view RANTS

If you don't have a username, click here to create an account!